Posted - December 2, 2012 | Updated : August 27, 2015
Previous: Legion of Super-Heroes v.2
Legion of Super-Heroes v.7
Hostile World
Thoughts About the LSH v.7 Hostile World
I've read the seven issues in the Hostile World collecton several times and I've read several reviews on the internet - most of them were negative. My initial reaction to the feedback was to go along with the crowd and find out something not to like - until I caught myself doing it. Bottom line is : I like this collection.
I like it, first of all, because of Francis Portela's art. Gorgeous, gorgeous Portela art except for issue 5; and I'm not complaining about that issue because the art is by the legendary Walt Simonson. So art, apart from some small nitpicks, is topnotch.
Writing? Paul Levitz. The Legion writer, for heaven's sakes. I cant' believe how many people are dissing Levitz in the internet. DC simply hired the guy who knows the Legion most to write about the Legion. They got an expert to give us our monthly dose of Legion goodness, and I for one, am very grateful for that. I trust Levitz more than any other writer to write about the Legion with a very strong sense of Legion history and character.
Let me make my case - go with me as I go through the highlights of this collection :
Issue 1 : Renegade World
Paul Levitz begins the new series with an action scene showing an old established Legion sub-team : The Legion Espionage Squad. The Squad has always been led by Chameleon Boy but I noticed that the membership has changed. Let's take a look at the team :
The current iteration of the Legion Espionage Squad
There's Dragonwing (off to the left wearing the dragon pattern material), Phantom Girl, Chameleon Boy, Ultra Boy and Chemical Kid. It's later made clear that the kids - Dragonwing and Chemical Kid - are along partly to get them used to Legion missions. So we are really looking at the three senior group members : Chameleon Boy, Phantom Girl and Ultra Boy as the core team. This is a familiar matrix; the last three-man team I remember is Chameleon Boy, Shrinking Violet and Colossal Boy? See the pattern? Cham is always leader; one member is built for stealth (Phantom Girl, Shrinking Violet) and the last member is always a strong Legionnaire (Colossal Boy, Ultra Boy), for cases when the team's cover gets blown.
I immediately notice some delightful art details, the first is how much care Portela has given to giving the planet Panoptes a lush, alien jungle background. Look at these fine examples.

Beautiful and lush jungle details
The second is the eye-catching rendition of Phantom Girl with that excellently designed costume. I'll create a mini gallery of Phantom Girl right here with images drawn from all seven issues of this collection. Enjoy :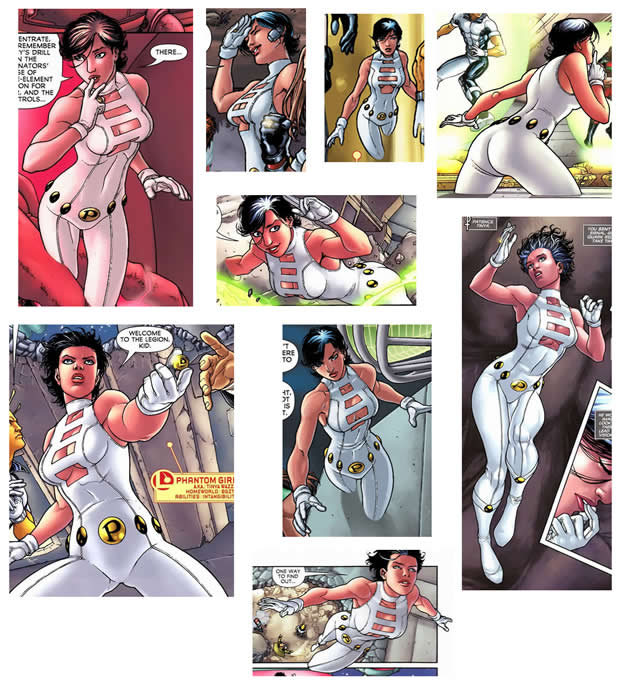 Can't have too much Phantom Girl!
Speaking of Colossal Boy, it's made clear this issue that he is no longer part of the Legion - having gotten a job in the Star Fleet instead. Wow. On one hand I'm glad moves like this can happen, that no member is sacred. On the other hand, I'm going to miss those Colossal Boy visuals.
We leave the Espionage Team for a while as the comic segues to the Legion headquarters and this impressionable two-page spread :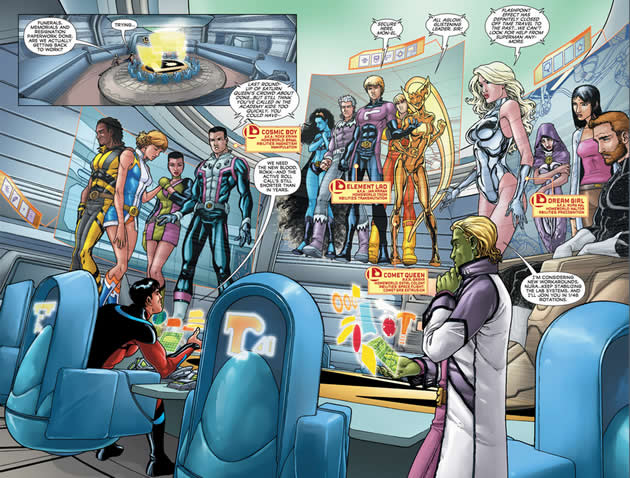 Key to a good LSH issue is how 31st century technology is rendered by the artist
It has been mentioned before by a fan, that a substantial part of the success of Legion of Super-Heroes is how much time and effort the artist spends in envisioning and rendering the future. Even a casual reader can see if an artist only spent a half hour before lunch on creating the backgrounds or if real care was made on this very important aspect of world building. The two-page spread above shows that we, as Legion fans, are in good hands with Portela doing the art. The legion HQ looks fantastic, but even better is the way the video communications setup is rendered - truly futuristic and impressive, and - most importantly - wonderful to look at. Except for one little detail. This :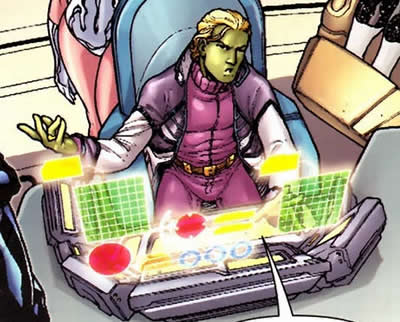 The high-tech dash looks to much like a candy counter
I think the user interface is way too colorful and candy-like. I would suggest that the interface be flattened with a luminous mono-colour display like those in the Iron Man movies.
I would also like to point out that my second reading of this issue and this scene in the LSH Headquarters has made me aware of subtle references to the sense of loss the team is feeling because of the lost Legionnaires. One indication is in the two-page spread above: just look at the expression on Star Boy's face on the right side.
Another thing to look out for in this issue is the excellent character development of two Legionnaires : Mon-El and Brainiac 5. They have four pages here but through the script, Levitz manages to convey a surprising amount of depth. Brainiac's natural scientific tendencies and blunt straight-forwardness (tactlessness?) comes across loud and clear in his dialogue with Mon-El. In four pages Mon-El gets mini-critiques from Brainiac 5, Cosmic Boy, then a final, more aggressive comment from Brainiac 5. In all three moments, Mon-El, currently Legion leader, is revealed to have his own opinion of the situation and very gently but resolutely "sticks to his guns". Now, that's a leader. I like Mon-El.
On a less subtle note, the kids blow the Espionage Squad's cover which open's things up to some action panels. Let's end the review with a fantastic shot of Ultra Boy :
Ultra Boy turns on his invulnerability
Issue 2 : Hostile World
The Legion Espionage Squad's cover is blown and they have been challenged openly by armed soldiers. Not a problem for the Legionnaires. Resistance against the Legion escalates alarmingly by the arrival of a Daxamite. A what, you say? A Daxamite. Daxamites are like Kryptonians - like Superman - under the right situation they have the power of Superman. Mon-El, the Legion's most powerful member, is a Daxamite. Most Daxamites don't achieve this level of power because to Daxamites lead is like Kryptonite. But this Daxamite, the one called Renegade, has used a serum to get over his lead-based weakness. Add to that he seems to be a nationalist-fanatic-military-a-hole-type and the team has got a situation.
Cham, team leader, immediately goes to plan B, or rather, plan U. As in Ultra Boy - the heavy hitter they brought along in case something like this happens. Ultra Boy is powerful, but not against a Superman-level foe. Everyone, except the ghostly Phantom Girl is captured. P.G. immediately calls Legion HQ for help. As a result we are given information on who among the Legionnaires can successfully go up against a full-powered Daxamite. There are only two. Here's the first: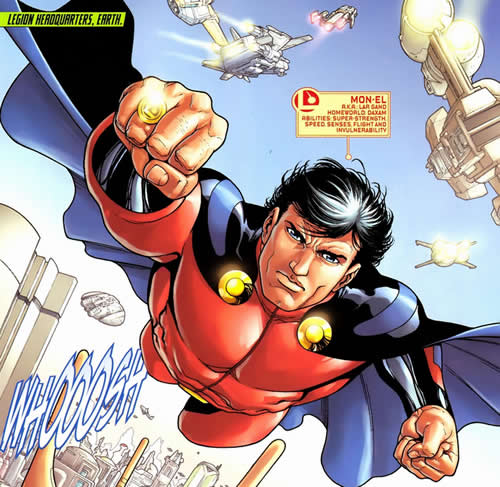 Mon-El
And here's the second :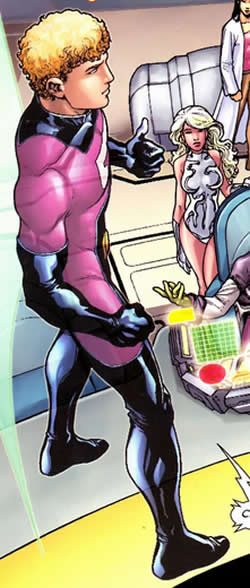 Element Lad
Before Mon-El arrives, writer Paul Levitz does a little bit of tension building. The Legion Espionage Squad is totally helpless against Renegade - they can't even whisper without his super-hearing picking up on it. He's the answer to what if Superman becomes as villain? Anyway, they cut it really close before the cavalry arrives. Mon-El smashes in to take on Renegade. The look on Phantom Girl's face when the most powerful Legionnaire runs interference is priceless :

Phantom Girl sees Mon-El arrive for the rescue
We are treated to an incredible one-page fight scene. Just look at this :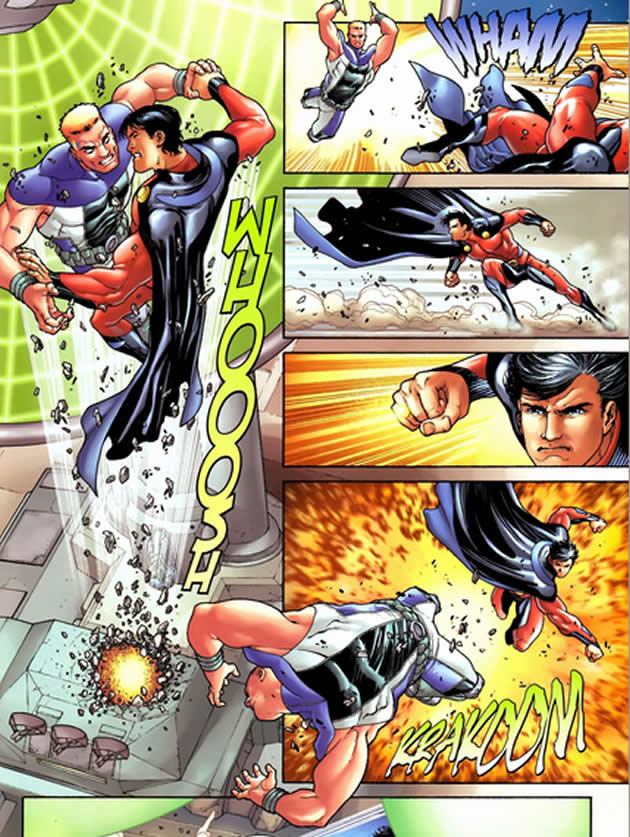 The best fight scene in this collection
I can almost feel the blows.
With that, Renegade is restrained - for now.
The other parts of the issue feature Brainiac 5 being Brainiac 5 - experimenting on Glorith in the multi-lab and taking care of team organization while Legion leader Mon-El goes after Renegade. We also have an ill-advised attempt by Polar Boy to attract Comet Queen - how you can get it on with somebody seemingly made of metal and fire I have no idea.
Issue no. 2 ends with the prime movers of events since the first issue, as Dominator ships fill the skies over Panoples.
Issue 3 : Shadow War
Shadow War begins with the sky full of Dominator ships and showcases Phantom Girl's inherent "invincibility" :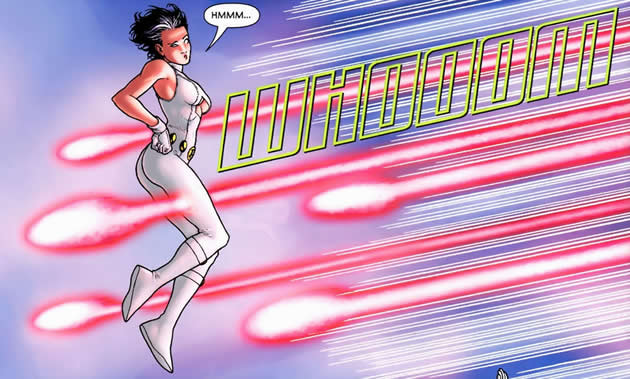 No one can hurt Phantom Girl
I'm also very impressed by the intricate design Francis Portelo renders as we go inside a Dominator ship. The panel below exudes menace, technological ability and, most importantly, a well thought out adversary for our tale.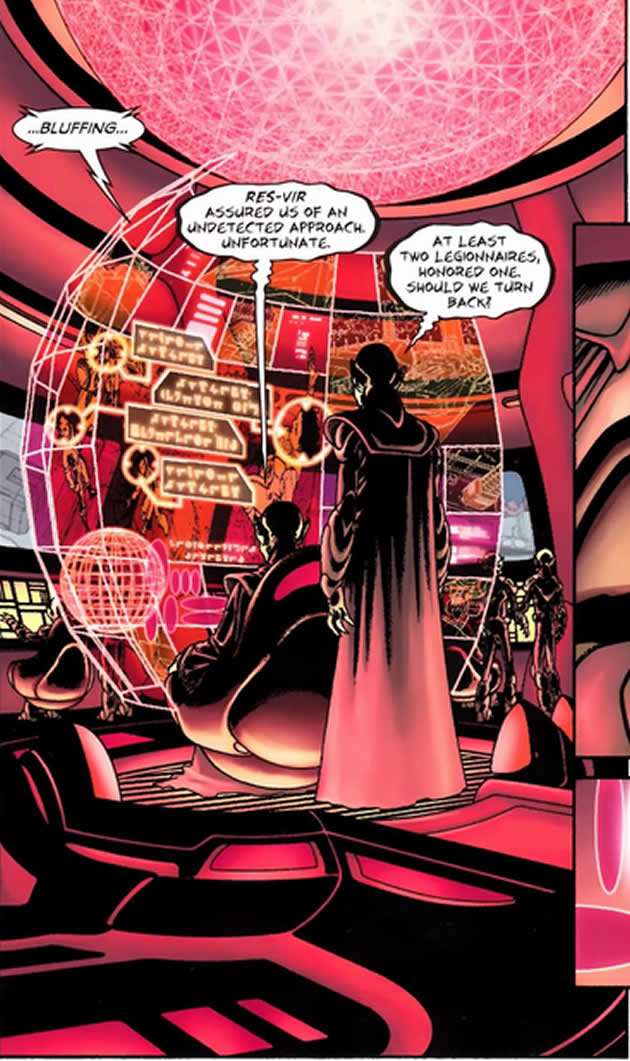 Inside a Dominator ship
The Dominators looming over the United Planets' watchworld of Panoples is a move tantamount to invasion, so the Legion is fully justified in going up against the Dominator ships - which were the first to fire against the Panoples ground station anyway. Once again Phantom Girl phases through the ships and uses her power and Brainiac 5's technical training to systematically take down ships. I'm very quick to dismiss Phantom Girl as beautiful but not very powerful, specially with her hiding out against Renegade in the previous issue, but she is simply smart and mature - she knows what her power can do and what it can't and acts accordingly.
I don't know whether Levitz and Portela mean to do it, but sometimes I'm looking at a Legionnaire and I can't place their race. Most of them all used to be white but take a look at Cosmic Boy and Shrinking Violet in this panel.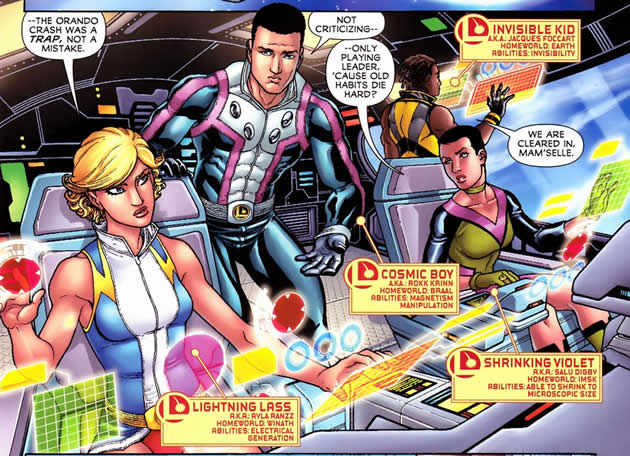 Race does not matter
I can't place them, and this isn't the only panel that is like that. Refreshing, really, it's the 31st century on a multi-planetary government, race should be a thing of the past and with the ambiguous races Portela is portraying that seems to be the case. I'm all for it.
Dominator ships aside, both Mon-El and Ultra Boy continue to have problems with Renegade. Thankfully, Mon-El is only the first wave; the others arrive and what a beautiful single-page pinup Portela gives us here :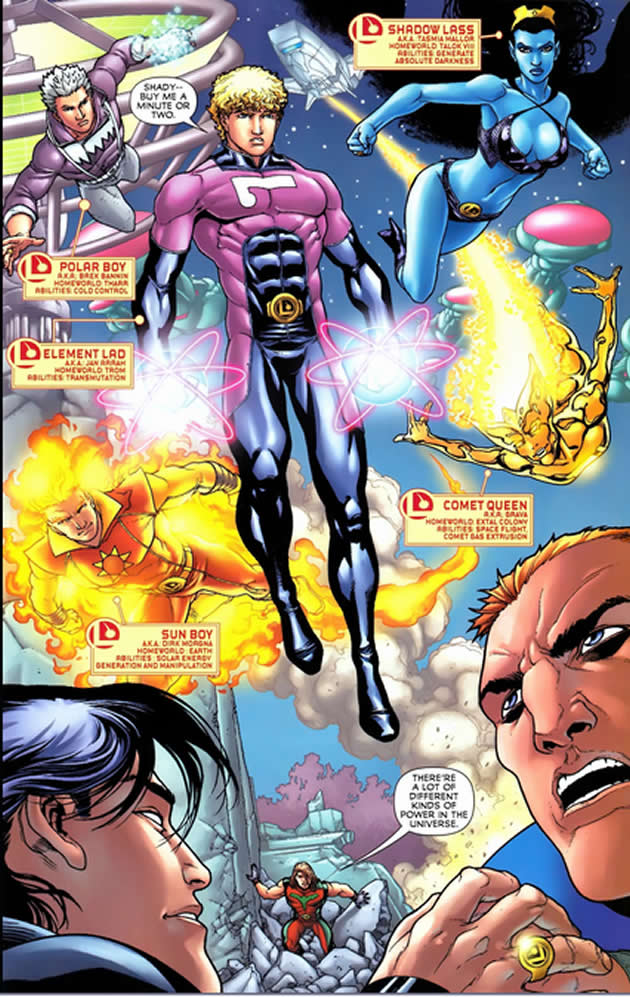 Just beautiful
With Legion forces piling up, the Dominator ships move back to their space sector confident that they will be able to handle any pursuers. We leave the issue with the Panoples base damaged but several Dominator ships have been destroyed and Renegade held captive.
Issue 4 : Not What They Seem
Reading the issues which follow this collection point to issues 1 to 4 as being the first story arc in what will prove to be the continuing attempts by the Dominators to encroach on the United Planets. The arc all ends here in issue 4 as the Dominators retreat from their beachhead on planet Panoples.
In the DC universe, Inertron is the equivalent of Adamantium - the strongest substance in the universe. Element lad can transmute Inertron and this is what they use to bind Renegade. It's ineffective against the Daxamite, whose natural power, already immense, has been boosted by the Dominators. What is effective is the chemical mastery of Chemical Kid, who manages to be the key to at last taming the mad Daxamite. But it is not this that impresses me the most, what is impressive is the cool, savvy mentoring that Element Lad gives to Chemical Kid in front of a rampaging Renegade. Just check out these panels :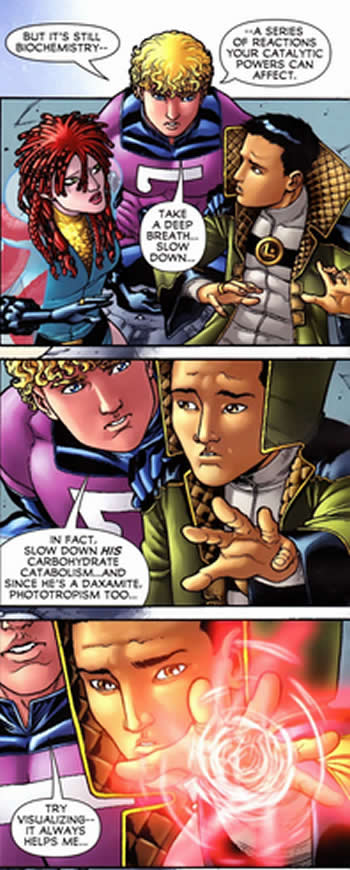 Element lad teaching Chemical Kid
Renegade has been the single toughest opponent to the Panoples team for some time now. With him finally down, I'm loving Phantom Girl's reaction to the whole thing. Kudos to Portela for attention to detail.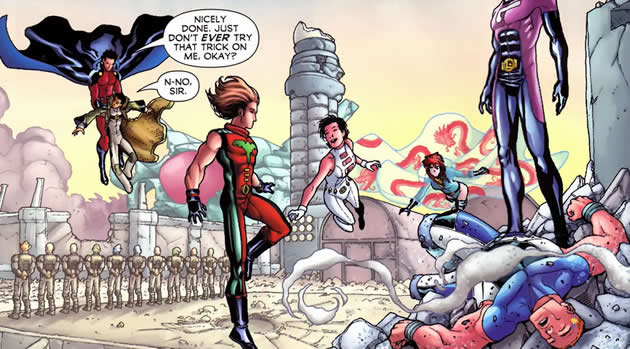 That was a hard takedown!
I love it that even with the Legion Espionage Squad down, the Legionnaire who seems to be their permanent leader, Chameleon Boy, will not give up. He has infiltrated one of the Dominator ships, allowing Levitz to start highlighting Dominator culture. Two things from this panel : (1) Dominator society is broken down into castes with strict and specific functions and (2) the castes are set apart by being very different physically. In this panel we view an obvious ruler and warrior caste relationship. Interesting.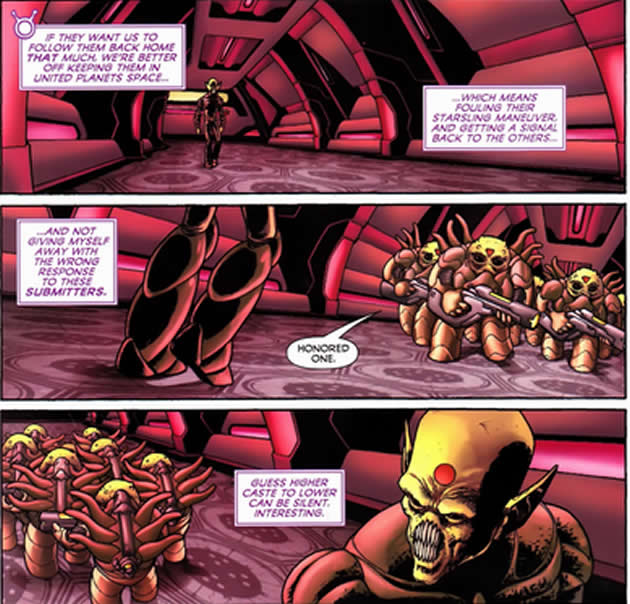 A stratified, ruthless society
I just love this panel - must be the lighting.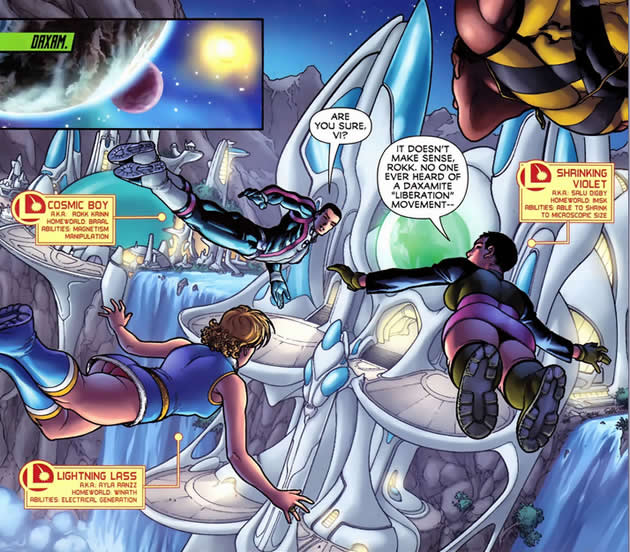 Over Daxam
While one team handles Panoples and its near space environs another Legion team is sent to Daxam to figure out the mystery of Renegade. While in Daxam the team meets no less than writer Paul Levitz himself. Check it out.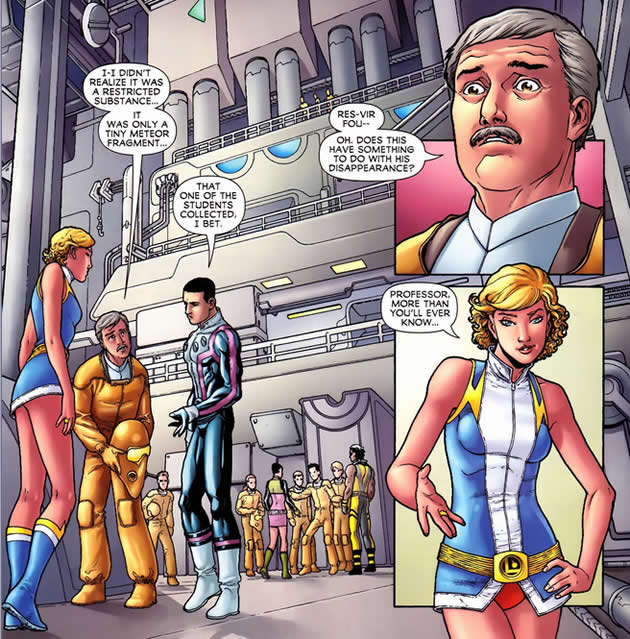 The Legionnaires don't know it, but the guy they're talking to is mightier than Darkseid!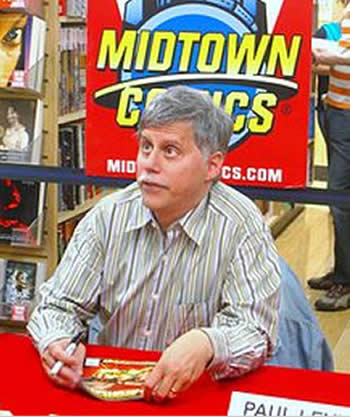 The real Paul Levitz
Back in space, the Legion goes in pursuit of the Dominator fleet. Let's check out the Legion team :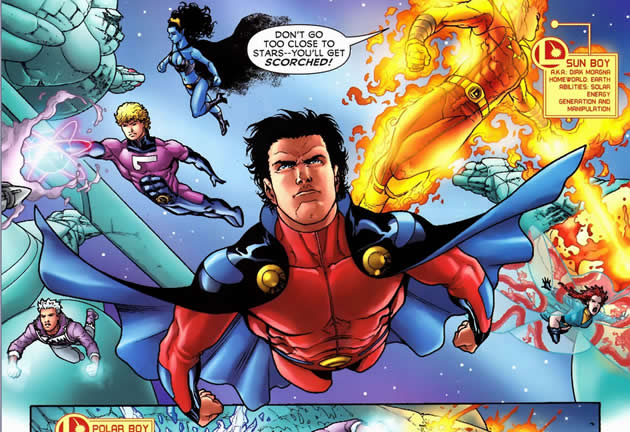 Against the Dominators
This panel pretty much arranges everybody according to power levels, with the most powerful in the most prominent position. Mon-El on the spearhead position flanked by Sun Boy and Element Lad who follow him in the power rung. Of the three figures following, I consider Polar Boy to be the most powerful in the offense closely followed by Shadow Lass. Dragonwing, I'm not expecting much.
The fight itself is pretty lopsided (boring?) with the Dominators having no other option but to retreat.
We are four issues in, into the new volume of Legion of Super-Heroes and what do we have so far? We have an overarching Dominator storyline centered on Panoples and the appearance of Renegade. Aside from that we spend a lot of time looking at the character of Braniac 5 while he works with Glorith and interacts with people in Legion headquarters. Interspersed between these two bigger segments are the usual out takes featuring different members of the Legion.
This is a logical break because next issue is a day-in-the-life tale plus a change of artist.
Issue 5 : One Day, A Thousand Years From Now
Ladies and gentlemen its Walt Simonson!
For those of you who don't know who Walt Simonson is, the art change would probably both be jarring and unwelcome. From an aesthetic point of view, Simonson's stylized, slightly rough, thick-lined art doesn't show up well compared with Portela's delicate lines. One thing though, Simonson has a stronger grasp of anatomy and dynamic drawing than Portela.
For those of us who know Walt Simonson nothing more need be said than "Ladies and gentlemen its Walt Simonson". This is the comicbook god who gave me and many other comics fans one of the best Thor runs ever. Other fans point to his Orion work. Bottom line is, this art style brings to mind many joyful comics moments and I welcome issue 5 with open arms.
So this issue is a page per hour of the day and nearly a page per character - a real roller coaster. Here are some highlights:
Shrinking Violet and Lightning Lass are a couple.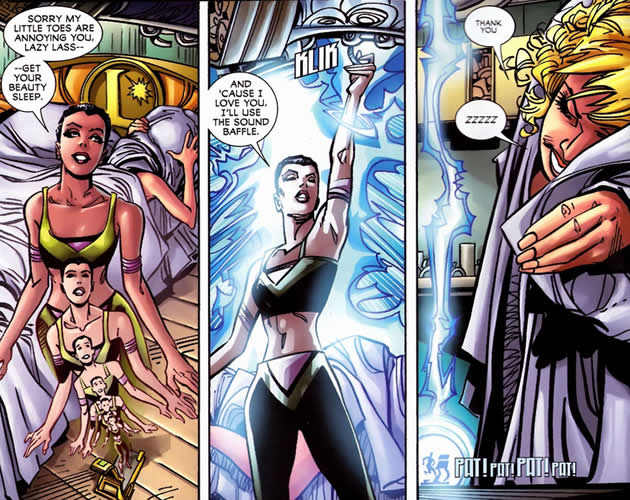 Shrinking Violet and Lightning Lass in their room
Glorith's excellent (Asgard!) room design.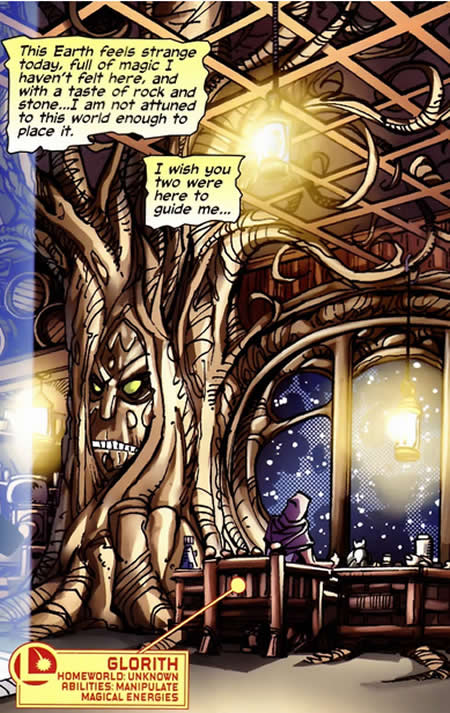 Simonson gives Glorith an Asgardian room
The Legion Hall of Heroes now has the statues of the 'Legion Lost' members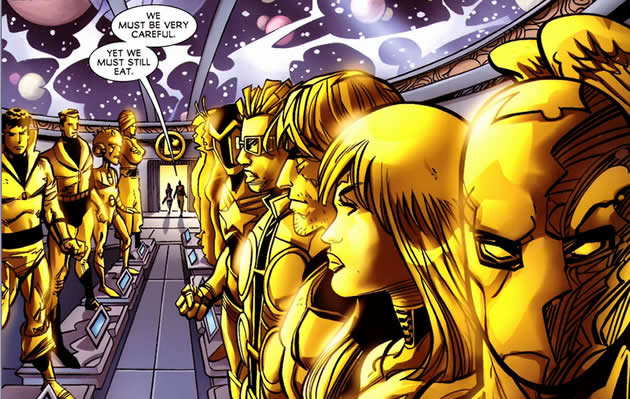 Notice Wildfire and the rest of Legion Lost?
I realized that the whole concept of stones was put in to cater to Simonson's desire to illustrate Stonehenge. There's a bit of a disconnect to the 'stone segments' of this story : Dreamy dreaming of stones, Mon-El and Dreamy searching for stones using Computo, and the finale with Sun Boy welcoming the sunrise in Stonehenge. Apart from that I really enjoyed the 'break' we had this issue with the new approach and the fill-in by Walt Simonson as artist.
Issue 6 : Dragon & Phoenix
Coming up is a two-issue focus on Dragonwing. I'm glad for the closer look at this newest of Legionnaires but so far, I have not warmed to her at all.
I'm amazed that from having a mostly planetary viewpoint we start to focus in this issue on an Earth nation : China. And we are presented with a significant part of China being on fire. China on fire. And we are presented, in a milieu of planetary fanatics, seemingly archaic nationalist fanatics. Nationalist fanatics in the 31st century. Chinese nationalist fanatics in a China partly on fire. For a story set in the future this is, well, very trendy. Why does China have to be on fire? According to the story its because of the rampant pollution brought about by past Chinese governments. I hate to bring this up, but since the Industrial Revolution, is China the only country to cause heavy pollution as a price of increased economic growth? No, but its the only one that's burning. Interesting. Not that I'm not impressed by the Sea of Fire, I mean, take a look at this magnificent visual: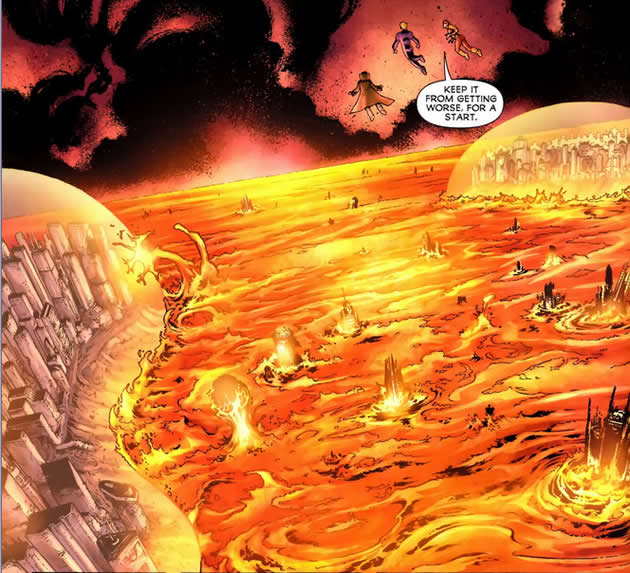 The Sea of Fire
Once again I'm impressed by the mentor-student relationship between Element Lad and Chemical Kid. The Kid has a reputation of being difficult but I suppose circumstances are holding him in check, that, and the fact that Element Lad, every bit the veteran Legionnaire, is so composed in front of seemingly any crisis. Here's a stunning panel of both of them underneath the lava as they attempt to fix a machine designed to fight the pollution.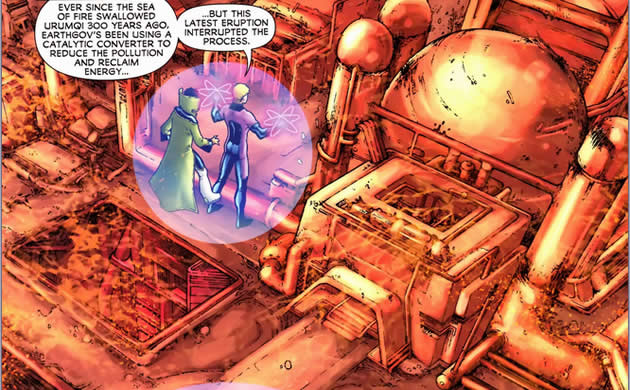 Underneath the Sea of Fire
The scene changes to show Dream Girl and Star Boy doing monitor duty. Is it me, or is Dream Girl showing more tolerance toward Star Boy? I recall numerous occasions just like this in older versions of Legion of Super-Heroes when Star Boy would start to act all romantic and Dreamy would bite his head off. I interpret this as a fortunate mellowing on Dream Girl's part; all to the good I say.
Ah, look at this rendition of futuristic urban China. Amazing. Elevated sidewalk concept.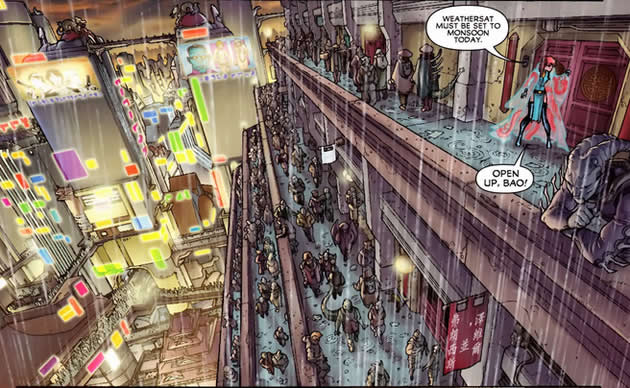 Great rendition of a futuristic "sidewalk"
The core of this issue is Dragonwing's search for her older sister - Bao. Bao, it turns out, has joined a group of nationalist fanatics. This group surgically attaches 'modifications' to their bodies as a form of power enhancement. Here's a nice shot of them :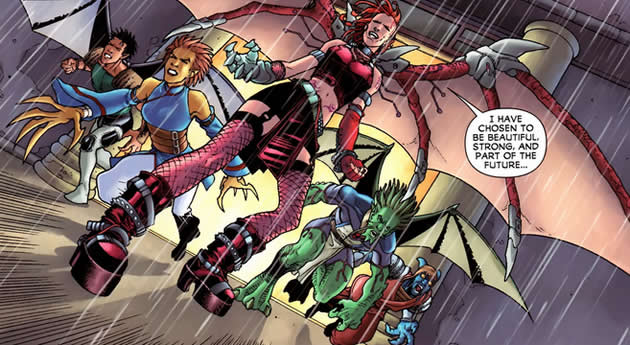 Boa and her allies
Their whole vibe, actually the whole China vibe in this issue reminds me of 'Blade Runner' and that image comic, Cyber Force were the cyborgs also practice human mechanical augmentation.
It's a skirmish alright, but Dragonwing is not alone. Chameleon boy turns into a delightully monstrous creature and starts knocking the gang about like a bunch of tenpins.

Go Chameleon Boy!
Then right before the end, we have one of the lamest villains to come down the LSH pipe in years : Phoenix. As in 'the Phoenix fire of China's rebirth'. C-O-R-N-Y.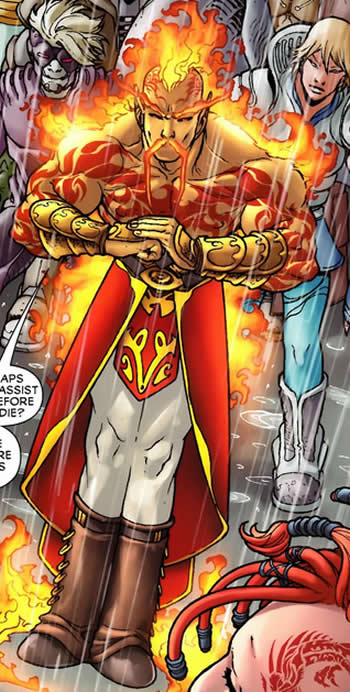 Lame-o, I mean, Phoenix
He looks good though, wonderful design. On to the concluding issue of the arc and the last issue of this collection . . .
Issue 7 : Phoenix Rising (blech!)
We begin the issue with my least favorite panels of the collection : Phoenix thrashing Chameleon Boy. I would have paid extra to see the opposite. I don't like Cham getting beaten but I have a bigger pet peeve than that. We are shown Phoenix flying carrying Cham who is in 'Dragon' form up to the sky; then we get another panel later in the issue showing Cham being dropped to the streets - evidently defeated. But we don't see the fight. Where's the fight scene? What is Phoenix's power? How good was it that Chameleon Boy couldn't change to another form and fight back? I want to see the fight scenes specially when one of my favorites get clobbered.
I've seen Dragonwing use that green flame breath (acid/fire breath) of hers against the soldiers in Panoples, then against her sister, all with seemingly little or no effect. At last we have some results :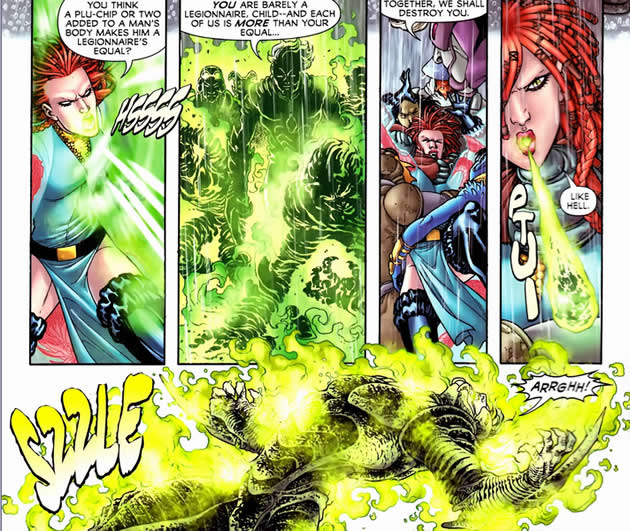 Dragonwing shows her bite!
It seems that the breath is ineffective but the spit is very lethal.
So here we come to what I think is the core of issues 6 and 7. With Chameleon Boy defeated, no other Legionnaire in site, facing Phoenix, a foe much more powerful than her, surrounded by a gauntlet of foes including her sister, having her green Lysol spray as a weapon (it might as well be), Dragonwing is offered a choice. Basically : Join up or die. It's a very Luke Skywalker moment don't you think? What it all brings home is that in Dragonwing we have a Legion die hard. She simply says no and, well, there's nothing for it, she's going to die - because, quite frankly, everybody's resistant to green smoke.
Naturally, Levitz isn't going to let a potential Legion die hard just die so we have the timely intervention of the LSH. Comet Queen comes in and Harmonia does what Chameleon Boy can't - she beats Phoenix. That was so painful I'll say it again : Harmonia does what Chameleon Boy can't - she beats Phoenix. Absolutely disgusting. More than that, the pattern recognition software running in my brain reminds me that this plot device is exactly the one that was used in issue 2 when the Legion Espionage Squad couldn't handle Renegade and another team had to come in for the rescue. If not outright lazy, that's pretty uncreative writing, sorry to say. Plus its the second time the others had to come in and rescue a team were Chameleon Boy is the senior Legionnaire. Speaking of Chameleon Boy . . .
Just as the comic,the collection and Dragonwing's adventure comes to a close we get the last few panels, which is pure emotional dynamite.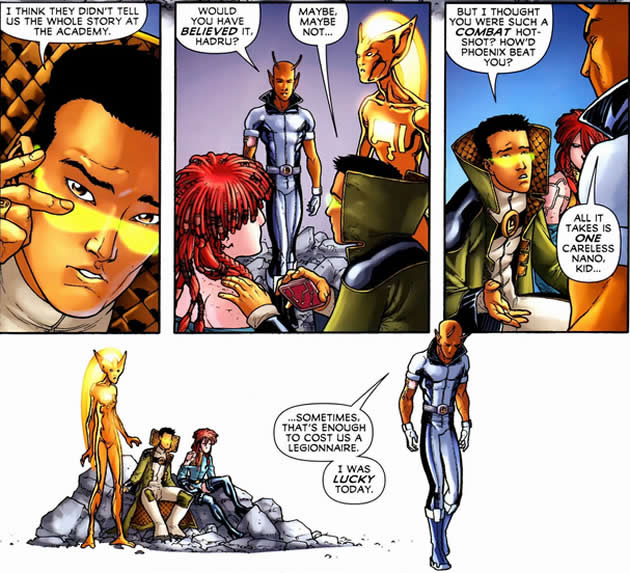 Humble pie for a Chameleon Boy
Wow. Did you see that? There you go. I mean, put yourself in Chameleon Boy's shoes. He's a veteran, even legendary Legionnaire. Permanent leader of the Legion Espionage Squad. Senior, teacher level. He's in front of these kids, Dragonwing and Chemical Kid and he gets taken out. Let it be noted that enough of the punk is left in Chemical Kid to stick Cham's nose in it too. This is an embarassing, painful moment and Cham's body language says it all. This is also one of those things that really happen in life. Your in a pedestal, your the teacher, maybe showing off a bit, then, Bam! You're not such hot stuff after all. Ouch.
And that's the collection.