Sandman 8-16
How To Hunt A Nightmare
Is the Sandman story getting better from the first volume? I say yes, because this second collection doesn't have the terrible violence we saw in Preludes & Nocturnes, the one set in the diner. I love how everything clicks together like a puzzle and how Gaiman is able to draw from the greater DC Universe. We have Lyta from Infinity Inc. as well as Hector Hall, the future Dr. Fate. We also see connections to what we've read before. Like Nada, the unfortunate 'lost love' Morpheus encounters in Hell in the previous volume. Her entire back story is told here. We also have that poor girl Lucy, from the diner, also being mentioned here.
The overarching concept in this collection is the result of a census of the inhabitants of the Dreaming which Lucien conducts on behalf of Morpheus. The census reports that four major inhabitants are missing: Brute and Glob who used to reside in Sandman's palace; the Corinthian, a nightmare creature created by Morpheus; and Fiddler's Green, an entire place within the Dreaming. All the issues in this collection are about Sandman tracking them down. While he's at it, he rescues an abused boy, breaks up a convention of serial killers and encounters a rare phenomenon called a Dream Vortex.
Posted by Pete Albano - October 24, 2011
Did you like this post?
---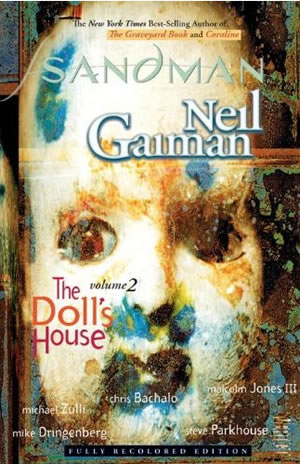 Amazon Prices
The Sandman, Vol. 2: The Doll's House

My Comic Shop Prices
Sandman TPBs
Sandman comic books
---