Conan 4
There's something to growing old gracefully
Conan is captured and the story moves to Hyperborea. The first glimpse we have is wonderfully foreboding : A stone bridge arching over to a grey tower with orange fires blazing through high windows. Beneath are mist-wrapped chasms and in the background stone cliffs rising to the sky. Read Conan and go to these places.
After the all-male craziness of last issue we get a gorgeous barbarian girl at last : Iasmini of Turan in her sheer outfit is a welcome site indeed.
As I was clumsily trying to foreshadow in my commentary from last issue, the gray giants are not the Hyperboreans. The giants are part of a mindless slave army - hapless men that have gone under some gruesome process to become thralls. The Hyperboreans are far worst, and even more tragic than their slaves, they are people who refuse to die. You know, the be-young-forever crowd. They inevitably grow tired of their long lives and commit a form of ritual suicide. Tragic figures.
Posted by Pete Albano - January 16, 2012
Did you like this post?
---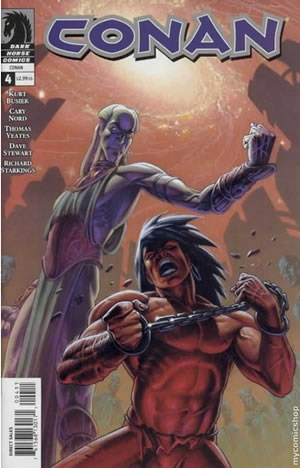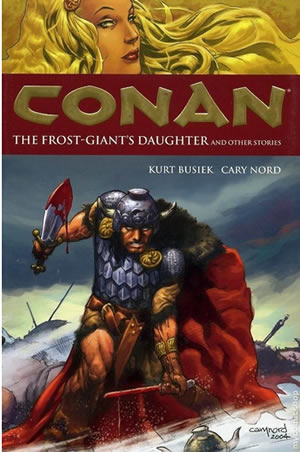 Amazon Prices
Conan Volume 1: The Frost Giant's Daughter and Other Stories (Conan (Dark Horse))

My Comic Shop Prices
Conan comic books
Conan TPBs
---