Hack/Slash the Series 3
No, this is not a campaign against virginity
Big problem. Remember Vlad? Also known as the Meatman. He has to follow into a demonic dimension where Hack has gotten kidnapped from last issue. In order to do that, he has to lose his virginity. This is a bit of a problem because Vlad has light green skin and he isn't the best looking guy around. I don't think he's half as bad looking as this comic would want us to think - but then again, one of my favorite hero's is the Thing.
So Vlad has to lose his virginity fast for Hack's sake. He contacts some old friends whom he and Hack helped out some time ago. One of them is this gorgeous girl who, as a last option, is perfectly willing to take a red-eye flight to 'do' Vlad herself, after all she owes our monster hunters a lot. I find this detail particularly arousing. Naughty.
Anyway, Vlad, surprise, surprise. Needs no such help and manages to get laid on his own thank you. And no, it's not by paying a prostitute.
Posted by Pete Albano - January 10, 2012
Did you like this post?
---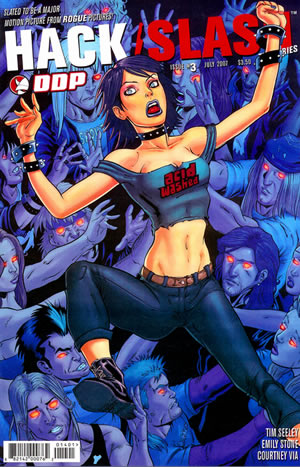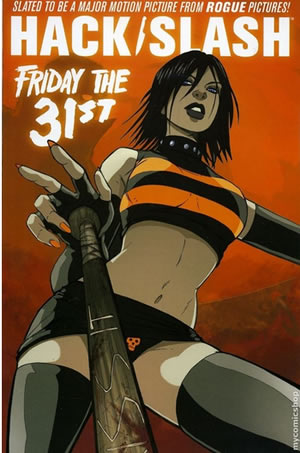 Amazon Prices
Hack Slash Volume 3: Friday the 31st TP

My Comic Shop Prices
Hack/Slash the Series comic books
Hack/Slash the Series TPBs
---