Hack/Slash the Series 4
I've had the sex!
The big problem last issue : How can Vlad get laid, is now followed by the big mystery : Did Vlad get his cherry popped?. What does sex mean? Sex means the penis has entered the vagina. Vlad has no idea what a vagina is, though, from what transpired last issue, he might actually have penetrated one. It's a big mystery until the demonic bad guys puts this to the test. I love their expression when their witchy little spell didn't work on Vlad and our hulking friend shouts : "I've had the sex!". It's a beautiful moment, the best yet in Hack/Slash, because it comes in the middle of a vicious fight between Vlad and the cursed rock band Acid Wash.
Putting even more weirdness in the fire are bunch of tentacled monsters with sexual appendages attempting to impregnate Hack and her friend Georgia, these monsters being summoned by no less than Elvis. Yup, you read that right.
Hack Slash is a wild ride.
Posted by Pete Albano - January 10, 2012
Did you like this post?
---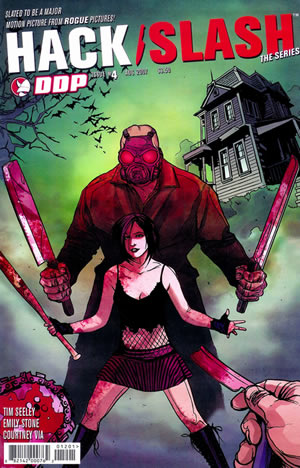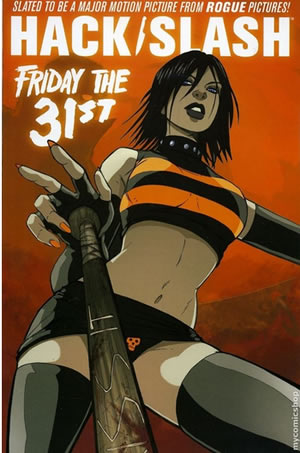 Amazon Prices
Hack Slash Volume 3: Friday the 31st TP

My Comic Shop Prices
Hack/Slash the Series comic books
Hack/Slash the Series TPBs
---