Hack Slash the Series 5
The character sketches in this issue serves to deepen Hack/Slash the Series
This is the beginning of a series called Tub Club. The issue presents the reader with three subplots only one of which is directly related to the story arc. Let's begin with that first.
Tub Club looks to be like its going to be about zombies, specifically, a reanimated former Ms. America. No, it's not a sexy zombie either, it looks a bit gross. But tell that to David who's been obsessed with Ms. America Emily Cristy since he was a kid. Now, in adulthood, David is a doctor, and guess what falls on his lap? Emily Cristie's zombified remains. It's like one plus one equals two. This is the sub plot that will grow into a story arc taking the next four issues.
The other two subplots are character sketches which give us greater familiarity with the denizens of Hack Slash the Series.
The second subplot involves Chris and Lisa, two people Cassie and Vlad rescued and who are now an informal support team for the pair. Chris and Lisa have a burgeoning love affair, or is it lust affair? The usual velvety mush until Kyle appears. Kyle is Lisa's ex and he's a major-level jerk. It's the kind of situation I've always fantasized about NOT having : You like a girl, you're unfortunately not feeling like an alpha dog (Chris is unemployed), her ex marches in and attempts to humiliate you in front of her. Man, those are tense filled pages; I think, all things considered, Chris handled himself quite well.
The third, and last, subplot is my favorite : it involves Cassie and Vlad's relationship. Vlad, huge as he is, has a respiratory issue, which needs better care than sleeping in the back of the van. Problem : Cassie has no money for a motel room. This is a touching, quiet chapter in the lives and adventures of our Hack/Slash pair and illustrates nicely the nature of their relationship. It explains a lot of the underlying reasons for the dynamics between them in upcoming issues.
All in all, this issue feels like the calm before the storm.
Posted by Pete Albano - January 10, 2012
Did you like this post?
---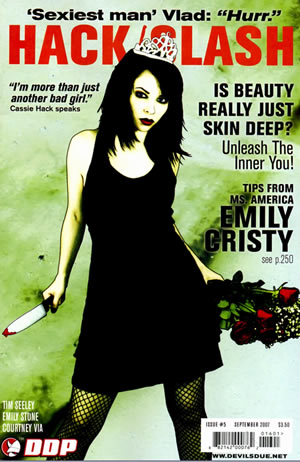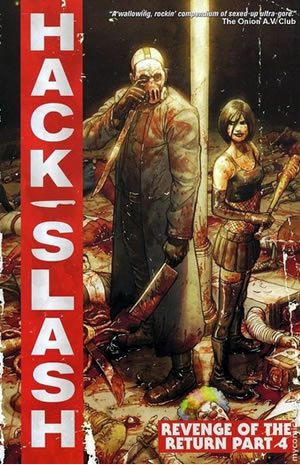 Amazon Prices
Hack / Slash Volume 4: Return of the Revenge Part 4 (v. 4, Pt. 4)

My Comic Shop Prices
Hack/Slash the Series comic books
---