Hack Slash the Series 8
Hot and bloody girl on girl action
Emily Cristy, the Ms. America/Zombie, makes her appearance at last in this issue. There's a government team hot on her trail. Cristy is the catalyst for the lesbian blood cult in Franco-Belle College and the link is made between this cult and Elizabeth Bathory.
Countess Elizabeth Bathory, also known as the Blood Queen, is a 16th century serial killer accused of the murder of young women. How many? over 700 - holy shit! The Countess reportedly bathed in the blood of her victims in order to stay young. She was ultimately imprisoned without food or drink in a room of her castle - they walled it in, talk about grisly endings.
Anyway, this issue presents visuals of some girl on girl action that's pretty much as close as you can get without being labelled porn. Even Cassie shows her lesbian tendencies as she fantasizes about Georgia.
The cliffhanger ending promises a conclusion for the next issue.
Posted by Pete Albano - February 18, 2012
Did you like this post?
---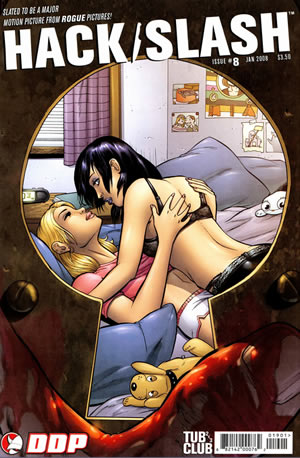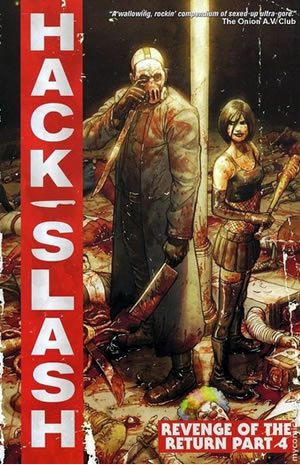 Amazon Prices
Hack / Slash Volume 4: Return of the Revenge Part 4 (v. 4, Pt. 4)

My Comic Shop Prices
Hack/Slash the Series comic books
Hack/Slash the Series TPBs
---