Bacon and Mushroom Pasta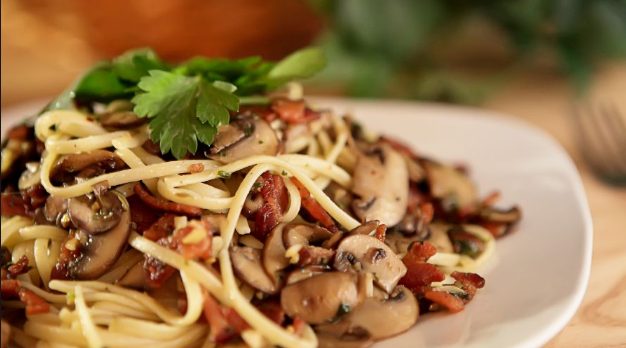 Ingredients
500g fettuccine
350g cooked bacon, cut into bite size
2 tbsp butter
1 tsp crushed garlic
1 medium onion, finely chopped
250g fresh mushrooms, sliced
1 cup of cream
1/2 tsp dried basil, crushed
1 1/4 cup evaporated milk
salt and pepper to taste
chopped fresh parsely
Cooking Instructions
Cook fettuccine according to package instructions.
Put butter in a large skillet, then saute garlic and onion
Add mushrooms, dried basil and bacon.
Gradually add evaporated milk and cream.
Season to taste with salt and pepper.
Put cooked fettuccine in a large bowl or platter, pour in the sauce and the chopped parsely then mix and combine all together.