Broccoli in Oyster Sauce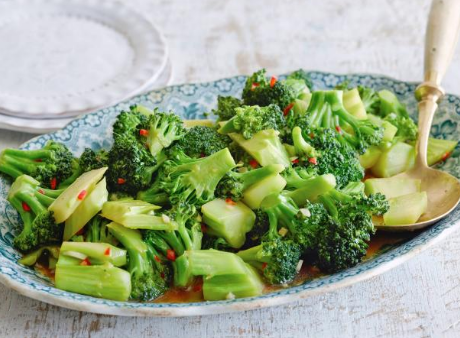 Ingredients
1 pound Chinese broccoli (gai lan)
1-inch fresh gingerroot, cut into thin slices
2 tablespoons Oyster Sauce
3 tablespoons Chicken broth
1 tablespoon Chinese rice wine or dry sherry
1 teaspoon cornstarch
2 teaspoons water
4 tablespoons (1/4 cup) water
2 tablespoons soy sauce
1/2 teaspoon sugar
1 teaspoon sesame oil
Cooking Instructions
Prepare the broccoli – Cut off the hard stems at the bottom, then wash and drain thoroughly.
Cut the stalks and leaves into roughly 1-inch pieces.
Cut the ginger into thin slices.
Combine the oyster sauce, chicken broth, and Chinese rice wine or dry sherry in a small bowl.
In a separate small bowl, combine the cornstarch and 2 teaspoons water.
Heat the wok.
When the wok is hot, add the ginger slices. Stir-fry until aromatic (about 30 seconds).
Turn heat down to medium and add broccoli.
Add the 1/4 cup water, soy sauce and sugar.
Cover and cook for until the broccoli stalks are tender but still firm (5 – 6 minutes).
Remove the cover and push the broccoli up to the sides of the wok.
Add the sauce (the oyster sauce, chicken broth and rice wine or dry sherry mixture) in the middle.
Add the cornstarch/water into the sauce, stirring continually to thicken.
When the sauce has thickened, stir it into the broccoli. Stir in the sesame oil. Serve hot.