Calamares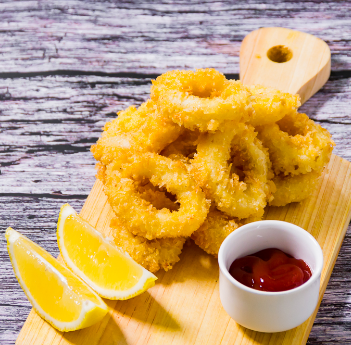 Ingredients
vegetable oil, for deep frying
1 pound clean squid with tentacles, bodies cut into 1/3 to 1/2-inch-thick rings
1 cup all purpose flour
1 cup semolina flour
salt and freshly ground black pepper
2 cups marinara sauce
2 lemons cut into wedges
Cooking Instructions
Pour enough oil into a heavy large saucepan to reach the depth of 3 inches.
Heat over medium heat to 375 degrees F.
In a medium bowl, combine flours, salt and pepper.
Working in small batches, dredge the squid in the flour mixture to coat.
Carefully add the squid to the oil and fry until crisp and golden brown, about 1 minute per batch.
Using a slotted spoon, transfer to paper towels to drain.
Serve with marinara sauce and lemon wedges.