Ceviche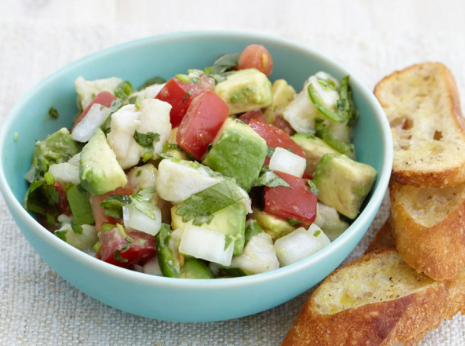 Ingredients
1 pound fresh red snapper fillets
3/4 cup freshly squeezed lime juice
1 large tomato, cored, seeded, diced
1 small red onion, finely diced
2 bunches cilantro leaves, roughly chopped, about 1 cup
1/2 cup bottled clam juice
2 serrano chiles, stemmed, thinly sliced into circles
1 1/2 teaspoons salt
Cooking Instructions
Cut red snapper into 1/2-inch cubes and place in glass or ceramic dish.
Toss with 1/2 cup of lime juice. Cover and marinate in refrigerator 15 minutes.
Drain and discard lime juice.
Transfer fish to medium bowl.
Stir in remaining 1/4 cup lime juice, tomato, onion, cilantro, clam juice, chiles, and salt. Chill at least an hour, or up to 1 day, for flavors to blend.
Serve in tall chilled goblets with spears of romaine lettuce and/or tortilla chips, or in soup bowls lined with the lettuce leaves.