Clam Chowder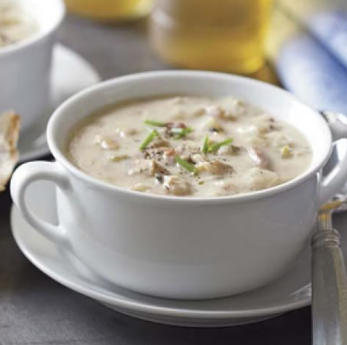 Ingredients
2 slices bacon, cut into 1/4-inch pieces
1 large yellow onion, diced
2 tablespoons butter
1 tablespoon flour
2 cups water
4 medium russet potatoes, peeled and cut into 1/2-inch cubes
1 1/2 teaspoons salt
ground black pepper, to taste
2 cups half-and-half
2 cups canned minced clams, drained, juice reserved
Cooking Instructions
In large saucepan, over medium-high heat cook the bacon until almost crisp.
Reduce the heat to low, add 1 tablespoon of the butter, the onions, and sauté until soft, about 5 minutes.
Be careful not to brown the onions.
Add the flour and cook for 2 more minutes.
Whisk in water and reserved clam juice, and once combined add the potatoes.
Season with the salt and pepper, increase heat to medium, bring to a simmer, and cook uncovered until potatoes are tender.
Reduce heat to very low, pour in half-and-half, add the rest of the butter, and clams, and cook until heated through. Do not boil! Turn off heat, adjust seasoning, and serve hot.