Cream Mussels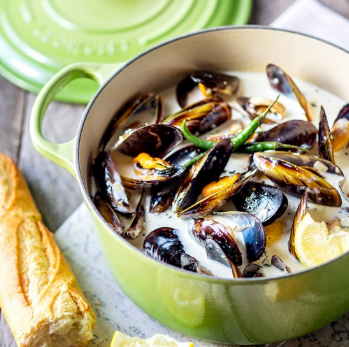 Ingredients
900g Fresh mussels
25 g butter
1 onion finely chopped
4 cloves garlic finely chopped
250ml of double cream
250ml of dry white wine
Salt and pepper
Fresh parsley to garnish
Cooking Instructions
Clean the mussels.
Melt the butter in a saucepan and then add the onion and garlic, fry gently for a few minutes.
Then add the wine and bring to the boil, add the mussels.
Put the pan lid on and cook for up to 5 minutes until the mussels are open.
Add the cream and season to taste, heat through and then you are ready to serve.