Fettucine Alfredo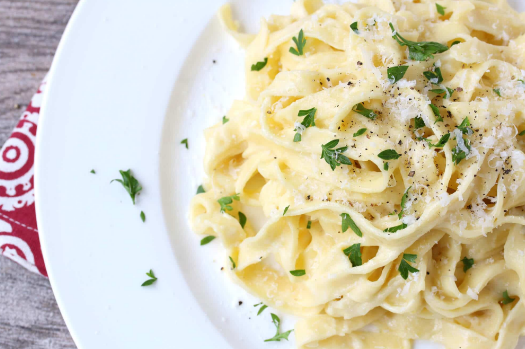 Ingredients
4 tablespoons of butter
1 1/2 cups heavy cream
1 tablespoon salt
1/2 pound of homemade fettuccine 2 egg yolks
1 cup freshly grated Parmigiano-Reggiano cheese
1/2 teaspoon black pepper
Cooking Instructions
In a large sauté pan add butter and cream, turn the heat on to medium and cook until cream and butter are melted together.Turn off heat.
Bring a large pot of water to a boil. Add 1 tablespoon of salt and the fettuccine. Cook until al dente.
Strain pasta and add to pan with butter and cream.
Turn the heat on medium. Add the egg yolks, Parmigiano-Reggiano cheese and black pepper. Stir vigorously, mixing the egg yolks and cheese in and coating all of the pasta with the sauce.
Sprinkle with additional cheese and serve.