Kani Salad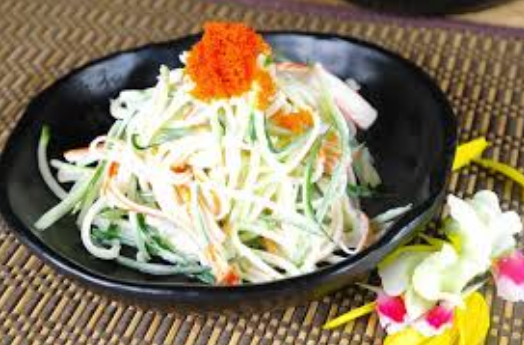 Ingredients
2 cucumbers, peeled or unpeeled and seeds scooped out
1 carrot, peeled
a bunch of lettuce , torn into bite-size pieces
2 fresh ripe mangoes, thinly sliced
100 to 150 grams of kani kama (imitation crab sticks), pulled apart into thin shreds
1/3 cup of Japanese mayonnaise
a drizzle of sesame seed oil
Tobiko (orange-colored flying fish roe), optional as it is quite expensive
Cooking Instructions
Thinly slice the cucumbers and carrot, and julienne (cut into matchsticks).
Alternatively, use the shredder commonly used for making buko salad.
To serve, you can toss the cucumbers, carrot, lettuce and mangoes with the Japanese mayonnaise, drizzle with a little sasame seed oil and top with tobiko.
If you want a prettier presentation, line each salad bowl with torn lettuce, scatter some carrot, cucumber and kani on top, drizzle the mayonnaise in a spiral, sprinkle with sesame seed oil and top with tobiko.