Laing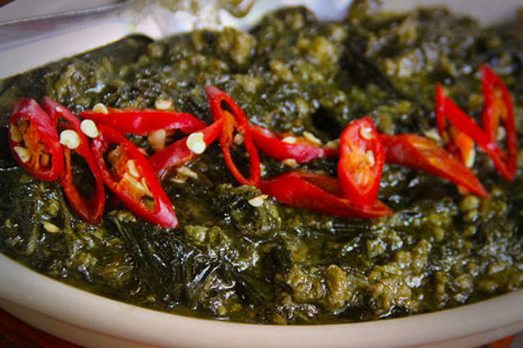 Ingredients
20 pieces of gabi leaves with stalks (wilted or dried)
2 large coconuts, grated
1 cup water
1 tablespoon oil
1 tablespoon garlic, chopped
1/2 onion, chopped
1 tablespoon ginger, minced
1/4 kilo pork liempo, diced
1/4 cup hibe, soak in water then drain
4 pieces siling labuyo, chopped
1/2 cup alamang
Cooking Instructions
Peel the skin off the gabi stalks then cut into bit-size sections.
Add warm water to grated coconut.
Squeeze the water/coconut mixture to extract coconut cream or gata.
Saute onion, garlic and ginger.
Add in the gabi stalks, hibe, sili, and alamang.
Put the mixture in the gabi leaves then roll them tightly.
With the gabi leaves in a saucepan pour in the coconut cream.
Serve when the gabi becomes tender.