Lasagna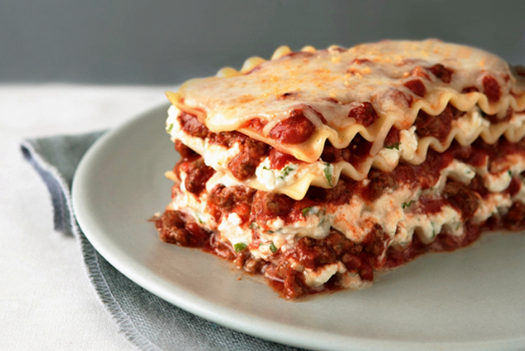 Ingredients
2 tablespoons olive oil
1/2 medium yellow onion, chopped fine
1-1/4 pound ground beef
1 pound ricotta cheese
2 large eggs, beaten lightly
5 cups marinara sauce
4 cups shredded mozzarella cheese
3/4 cup freshly grated Parmagiano-Reggiano cheese
1 pound lasagna noodles
Cooking Instructions
Preheat oven to 375°F.
Heat olive oil in a medium sautè pan over medium heat.
Add onion and cook until soft and translucent about 5 minutes.
Add ground beef and cook until browned through about 10 minutes.
Place ricotta cheese and eggs in a bowl, and stir togetehr until well combined.
Bring a large pot of salted water to a boil.
In 3 batches add the lasagna sheets to the boiling water and cook until just under al dente.
Remove the noodles from the pot using a slotted spoon, place in a colander, rinse under cold water to stop the cooking and spread out on clean kitchen towels.
Spread 1 cup sauce over bottom of a baking dish.
Cover with a layer of 3 to 4 lasagna noodles, overlaping slightly to fit. Spread 1/3 of the ricotta mixture on the noodles, top with 1/3 of the cooked ground beef.
Sprinkle 1 cup of the mozzarella over the ground beef.
Top with 1 cup of the marinara sauce, sprinkle 1/4 cup of parmaggiano-reggiano and top with a layer of lasagna noodles. Repeat this 2 more times.
Cover the final layer of lasagna noodles with the remaining marinara sauce and sprinkle remaining cup of mozzarella on top.
Cover baking dish with aluminum foil, place in oven and cook for 60 minutes.
Remove foil and cook until cheese is melted about 5 minutes more.
Remove from oven and let sit 15 minutes before slicing and serving.