Lo Mein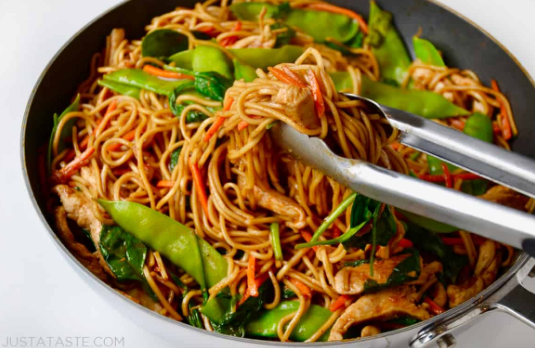 Ingredients
3 dried Chinese mushrooms
1/2 pound Chinese noodles
3 tablespoons peanut oil
1 onion, chopped
2 cups cabbage, shredded
1 small zucchini, cubed
3 tablespoons light soy sauce
1/2 cup reserved mushroom soaking liquid
1 teaspoon honey
1/2 teaspoon salt
Cooking Instructions
Soak the Chinese mushrooms in 1 cup of hot water for 30 minutes.
Meanwhile, bring 4 quarts of waqter to boil in a large pot.
Stir in the noodles and cook 3 minutes, just until tender.
Drain, rinse in cold water, and toss with 1 tablespoon of peanut oil. Set aside.
Remove the mushrooms, but strain and reserve 1/2 cup of the soaking liquid.
Trim and discard the mushroom stems.Coarsely chop the caps and set aside.
Combine the ingredients for the sauce in a small bowl. Stir to dissolve the sugar and set aside.
Place ;a wok over medium-high heat. When it begins to smoke, add the mushrooms, onion, cabbage, and zucchini. Stir-fry for 2 minutes.
Pour the sauce over the vegetables.
Add the reserved noodles and stir until heated through, about 3 minutes.
Serve immediately.