Lumpiang Sariwa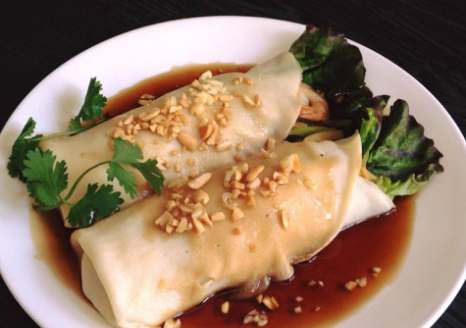 Ingredients
2 tablespoons oil
2 tablespoons garlic, minced
1 kilo ground pork
1/4 teaspoon soy sauce
1/4 teaspoon sugar
3 pieces tofu, diced
1 kilo carrots, shredded
1 kilo baguio beans, shredded
1 kilo cabbage, shredded
1 kilo sayote (chayote), shredded
1 kilo togue (bean sprouts)
lumpia (spring roll) wrappers
1 lettuce
1 cup ground peanuts
1/2 cup sugar
1/2 cup sugar
1 tablespoon soy sauce
2 cups broth
1 teaspoon salt
2 tablespoons cornstarch in water
4 garlic cloves, crushed
Cooking Instructions
Combine peanuts and sugar. Mix.
Saute garlic and ground pork in a saucepan.
Season with soy sauce and sugar.
Add tofu and vegetables. Set aside.
Blend sugar, soy sauce, broth and salt in a saucepan. Boil. Add cornstarch and water mix then garlic. Set aside.
Place a lettuce leaf on every lumpia wrapper.
Put filling into wrapper top with ground peanuts and sauce.
Roll up and serve with extra sauce on the side.