Menudo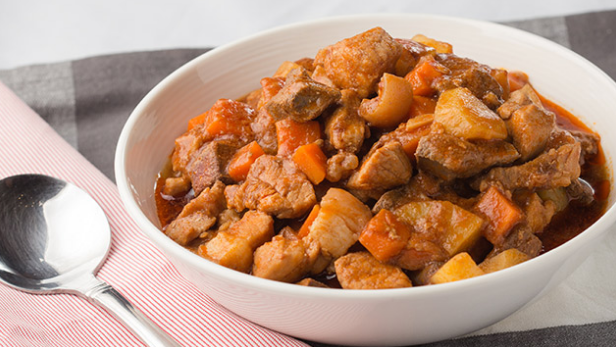 Ingredients
1/4 cup oil
1 tablespoon atsuete seeds
3 cloves garlic, crushed
1 onion, chopped
1 tomato, chopped
1/2 kilo lean pork, cubed
1/4 kilo liver, cubed
2 pieces chorizo bilbao, cubed
1 red bell pepper, cubed
1/2 teaspoon paprika
1 cup water
2 potatoes, cubed and fried
1 small can green peas
1/4 cup raisins
salt and pepper to taste
2 tablespoons grated cheese
Cooking Instructions
Heat oil in pan and cook atsuete until color is extracted. Remove seeds.
Add garlic onion and tomatoes to saute.
Add pork and cook until brown.
Add liver, chorizo, pepper, paprika and water.
Simmer until pork is almost tender.
Add potatoes, green peas, raisins and seasonings.
Cook until tender then add the grated cheese.