Minestrone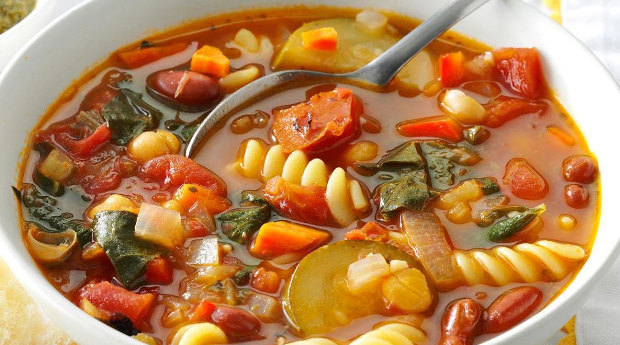 Ingredients
1/2 cup olive oil
2 cups onion, chopped
1 clove garlic, minced
1 cup celery, chopped
4 tablespoons parsley, chopped
1 can tomato paste
2 cups beef broth
9 cups water
1 cup cabbage, chopped
2 carrots, sliced
2 teaspoons salt
1/4 teaspoon pepper
1/8 teaspoon sage
1 can kidney beans
1 squash, sliced
1 cup green beans
1 cup elbow macaroni
grated parmesan cheese
Cooking Instructions
Heat oil in pan.
Add garlic, onion, celery and parsley to pan.
Add tomato paste, beef broth, water, cabbage, carrots, salt, pepper, and sage to pan.
Bring to boil.
Lower heat then simmer for one hour.
Add kidney beans, squash, green beans, and macaroni.
Serve with grated parmesan cheese on top.