Nasu Dengaku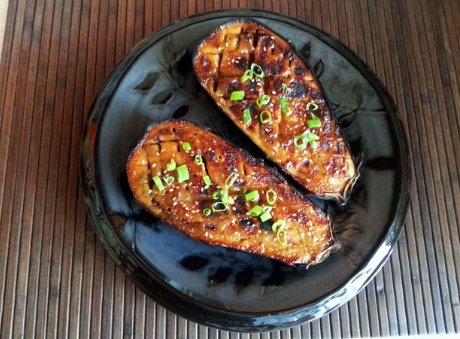 Ingredients
1 cup dashi
2 tablespoons sugar
2 tablespoons mirin
1/2 cup miso
2 teaspoons cornstarch
1/4 teaspoon white pepper (optional)
4 small Japanese eggplants, cut in half lengthwise
vegetable oil, for brushing
sesame seed
Cooking Instructions
For the sauce, whisk the dashi, sugar, mirin, miso and corn starch together.
Heat over medium heat stirring until the sauce thickens.
Take it off the heat and add the yuzu whisking it in to the sauce.
For the eggplant, slice them in half lengthwise and score a criss-cross pattern into them to help retain the sauce.
Brush with oil and grill on a BBQ or under a broiler until the tops are a dark brown and the eggplant is cooked.
Give the sliced sides a good coating of sauce, sprinkle with sesame seeds then put under a broiler to get a little caramelization (be careful, this sauce will burn quickly).
Serve immediately with some rice.