Nikujaga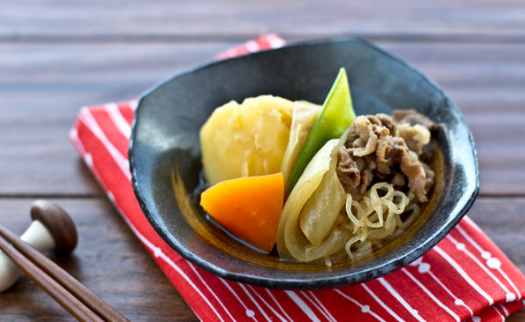 Ingredients
6 oz thinly sliced beef or pork loin, cut into about 2 inch lengths
4 potatoes, peeled and cut into quarters
1 onion, cut into wedges
1/4 lb carrot, peeled and cut into bite size chunks
1/2 package shirataki noodles, cut into 3 inch lengths
2 cup dashi soup
2 Tbsp mirin
2 Tbsp sugar
4 Tbsp soy sauce
1 Tbsp vegetable oil
Cooking Instructions
Heat 1 Tbsp of vegetable oil in a deep pot and saute the meat on high heat until it changes color.
Add onion, carrot, potato, and shirataki in the pot and saute together.
Pour dashi soup stock and bring to a boil.
Turn down the heat to medium and skim off any foam or impurities that rise to the surface.
Add sugar, mirin, and soy sauce and put a drop-lid.
Simmer until vegetables are softened and the liquid are almost gone.