Pancit Palabok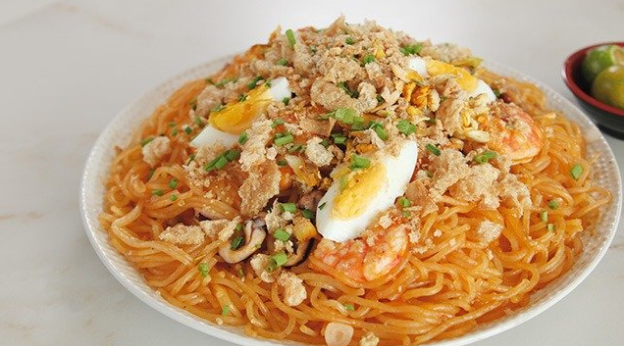 Ingredients
1 kilo bihon, soaked in water until softened then drained
1/4 cup atsuete seeds soaked in
1/4 cup water
2 cups shrimp juice
6 tablespoons all-purpose flour
1/2 cup water
salt or patis and pepper
1 cup cooked pork, cut into strips
2 pieces fried tokwa, cubed
1/2 cup flaked tinapa
1/2 cup pounded chicharon
2 eggs, hardboiled, then sliced
1/2 cup boiled and shelled shrimps
1/2 cup finely chopped spring onions
1 tablespoon fried garlic
Cooking Instructions
Strain atsuete then combine atsuete water with shrimp juice in a saucepan.
Disperse flour in water then add to the pan.
Bring to a boil, stir until thick.
Season to taste. Set sauce aside
Boil water in pot.
Place noodles in bamboo strainer.
Dip in boiling water then cook until tender but firm.
Drain an transfer to platter.
Top noodles with sauce.
Over the sauce arrange the pork and tokwa pieces.
Sprinkle with tinapa and chicharon.
Garnish with sliced egg, shrimps, spring onions, and garlic.
Serve with kalamansi.