Pesto Pasta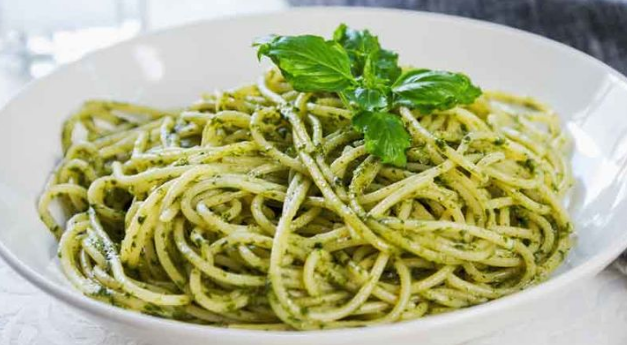 Ingredients
45 leaves freshly picked basil (about a packed cup)
1/4 cup grated aged pecorino or tuscan
1/3 cup grated Parmigiano
2 cloves of garlic
2/3 cup the best olive oil
1/2 teaspoon salt
1/2 cup pine nuts
1 pound (500 g) spaghetti
Cooking Instructions
Create the pestomix salt, garlic, nutmeats and basil and grind the mixture
When the mixture is ground, add the cheese, a bit at a time, continuing to grind, and when it is all worked in, add the oil in a slow stream, stirring with a wooden spatula. The mixture should have a creamy consistency
Chop the garlic, basil, nutmeats, and salt then transfer it to a bowl and stir in the grated cheese and the oil.
Cook a pound of pasta in lightly salted water, and just before you drain it stir two tablespoons of hot water into the sauce.
Pour the sauce over the pasta and serve.