Pinakbet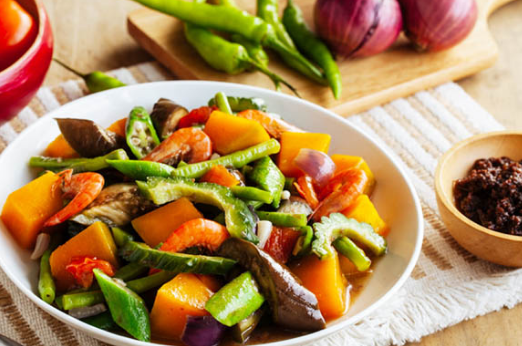 Ingredients
oil
1/4 garlic
2-3 tablespoons bagoong or to taste
1 cup water
1 medium-size ampalaya or bitter gourd, quartered
1 medium-size squash, cubed
3 pieces round eggplant, quartered
5 pieces okra, halved
4 pieces tomato, sliced
1 small onion, sliced
1 small ginger, sliced
Cooking Instructions
Heat up the oil in a wok or deep pan.
Add the crushed garlic, ginger and bagoong. Mix.
Add the "hard" vegetables first: ampalaya, eggplant, squash and onion. Mix lightly to give them time to soften.
Add the rest of the vegetables.
You'll know its cooked by testing the squash with a fork. If the fork comes in easily the dish is ready.