Pork Rillettes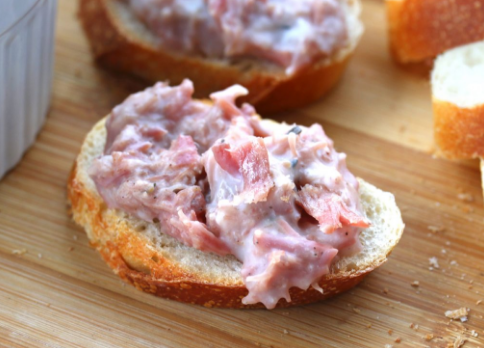 Ingredients
1 1/2 pounds lean pork, cut into cubes
3/4 pound pork fatback
1/2 pound duck legs
3/4 cup water
1 1/2 teaspoons chopped fresh thyme
1 1/4 teapoons salt
3/4 teaspoon pepper
1 dried bay leaf
Cooking Instructions
Preheat an oven to 325F.
In a large baking dish, mix together all the ingredients, cover with foil or a lid, and cook it for 3 hours, until the meat is falling apart. Add more water, if necessary, to keep the meat from drying out.
Remove from the heat and allow the meat to cool in the dish for 30-45 minutes, until it is just warm.
Remove the bay leaf and bones, and shred and stir the meat and fat with a large fork until it resembles a chunky, creamy spread.
Chill the pâté for at least 24 hours before serving.