Ratatouille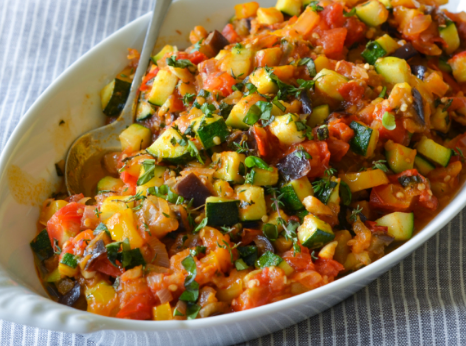 Ingredients
2 1 lb. eggplants, cut into cubes
1 3/4 teaspoons plus ¾ teaspoon salt, divided
2 1/2 lbs. peeled tomatoes
5 cloves garlic, crushed and chopped
1/2 teaspoon ground black pepper
1/3 cup loosely packed, chopped fresh basil
3/4 cup loosely packed, chopped flat-leaf parsley
1 1/2 lbs. white onions, thinly sliced
3 red or yellow bell peppers, cored, seeded, and chopped
2 lbs. zucchini, cut lengthwise and then into ½-inch slices
1/3 cup dry white wine
Cooking Instructions
Place a single layer of paper towels on 2 large plates. Place the cubed eggplant onto the plates and sprinkle with 1 3/4 teaspoon salt. Allow the eggplant to sit for 20 minutes.
In a large saucepan, cook the tomatoes, garlic, black pepper, basil, and parsley, uncovered, over medium heat.
In a large skillet, sauté the onions and bell peppers in a small amount of olive oil over medium-high heat for 10 minutes, stirring occasionally, until the vegetables are very lightly browned. Remove the skillet from the heat and transfer the browned vegetables to the tomato mixture.
Pat the eggplant dry with a fresh paper towel and add it, along with the zucchini to the tomato mixture.
Cover the pot and cook the stew over low-medium heat for 45 minutes, until the vegetables are tender.
Add the white wine and ¾ teaspoon salt and cook for an additional 5 minutes.