Refried Beans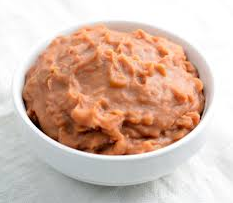 Ingredients
2 1/2 cups of dry pinto beans (about 1 lb or 450gm)
3 quarts of water
1/2 cup chopped onion
2 Tbsp pork lard, bacon fat, or olive oil
1/4 cup water
Salt to taste
Cheddar cheese
Cooking Instructions
Rinse the beans in water.
Put beans into a pot and cover beans with at least 3 inches of water - about 3 quarts for 2 1/2 cups of dry beans.
Bring to a boil and then lower heat to simmer, covered, for about 2 1/2 hours.
The beans are done when they are soft and the skin is just beginning to break open.
Strain the beans from the cooking water.
Add the onions and lard/fat/oil to a wide, sturdy frying pan on medium high heat.
Cook onions until translucent.
Add the strained beans and about a 1/4 cup of water to the pan.
Using a potato masher, mash the beans in the pan, while you are cooking them, until they are a rough purée.
Add more water if necessary to keep the fried beans from getting too dried out.
Add salt to taste.
Add a few slices of cheddar cheese, or some (1/2 cup) grated cheddar cheese if you want.
When beans are heated through and the cheese melted, the beans are ready to serve.