Risotto Milanese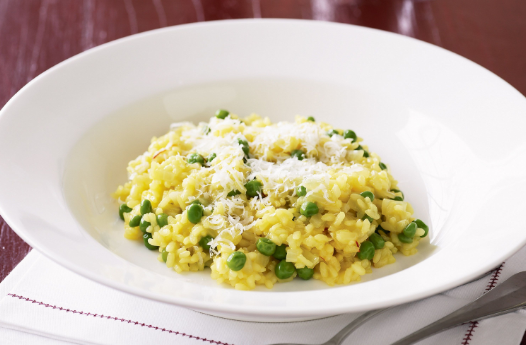 Ingredients
3 cups (600 grams) short grained rice, e.g. Arborio, Carnaroli or Vialone Nano
1 1/2 quarts (1.5 liters) good meat broth, boiling hot
2/3 cup (120 grams) unsalted butter
2 1/4 ounces (70 grams) beef marrow, minced
A small onion, finely sliced
1 cup (250 milliliters) dry white or tannic red (not oaky) wine, warmed (if possible)
A packet of saffron pistles
2 1/3 cups (120 grams) grated Parmigiano
6 sheets real gold leaf (quite optional, as garnish for a truly extravegant meal)
Cooking Instructions
Place the saffron pistils in a bowl to steep with some of the meat broth.
In a casserole, simmer the finely sliced onion and the beef marrow in half the butter over an extremely low flame for about 10 minutes; the onion should become translucent but not brown.
Remove the onion and marrow with a slotted spoon and set them aside.
Sauté the rice over a moderate flame for 7-10 minutes, stirring constantly lest it stick and burn.
About a minute before the rice is done, return the onion mixture to the pot.
Stir in the warmed wine, and cook, stirring, until it has completely evaporated.
Then stir in a first ladle of the hot broth, and once most has been absorbed, another, stirring and adding liquid until the rice is almost at the al dente stage.
Stir in the saffron pistils, the remainder of the butter, half the cheese, turn of the flame, and let the risotto sit covered for a minute.
Then serve it, either as a bed for ossibuchi alla milanese or as a first course, with the remainder of the cheese on the side. If you are serving the risotto with the gold leaf, divvy it into individual portions in the kitchen and carefully lay a sheet of gold over each. Note: When you add the wine, it is very important that it be warm, because the addition of cold liquid will shock the rice and make it flake.