Spaghetti Aglio e Olio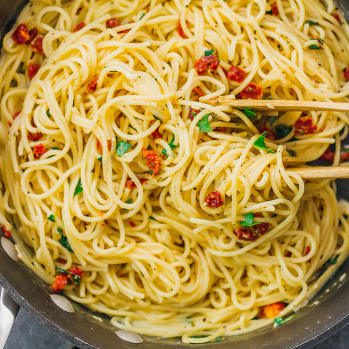 Ingredients
1-2 cloves of garlic, minced
1/2 a dried chili pepper, crumbled
1/3 cup olive oil
1 pound spaghetti
Cooking Instructions
Bring a pot of lightly salted water to a boil and add the spaghetti.
Meanwhile, mince the garlic, crumble the red pepper, and sauté them in the oil until the garlic begins to brown.
Turn off the heat.
When the spaghetti are done, drain them well, transfer them to a bowl, and stir the sauce into them.