Spaghetti Al'Arrabiata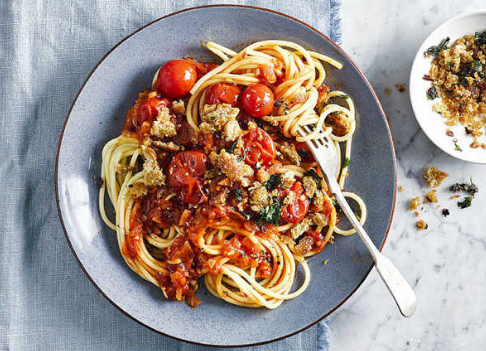 Ingredients
500g spaghetti
4 tomatoes
200g lardons ot chopped bacon
4 tablespoons olive oil
1 clove garlic
1 onion
3 or 4 fresh basil leaves
Salt & pepper
Chili (fresh or powdered) to taste
Cooking Instructions
Bring a large pan of water to the boil.
Peel and dice tomatoes, then saute in olive oil along with chopped garlic and onion. Add lardons.
Once water is boiling, add pasta and cook according to instructions on packet.
Stir tomato mixture regularly, cooking gently. Add chilli.
Once pasta is tender, strain and place in serving dish.
Add basil leaves to sauce at last minute, leave to simmer for a minute, then serve over pasta.