Spaghetti and Meatballs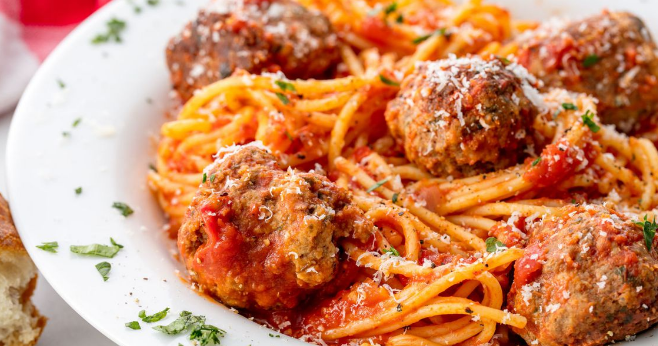 Ingredients
1/2 pound ground beef
1/2 pound ground pork
1/2 pound ground veal
3 slices of Italian bread soaked in milk or water then squeezed dry
1/2 medium onion, finely chopped
2 tablespoons of parsley, finely minced
1 teaspoon of garlic powder
1/2 cup grated Pecorino-Romano cheese
2 eggs
vegetable oil
1/3 cup olive oil
3 cloves of garlic, halved
1/2 medium onion, chopped
2 28 ounces cans of plum tomatoes with puree, crushed
2 basil leaves
1/2 teaspoon oregano
salt and pepper to taste
1/4 cup of water
1 pound spaghetti
Cooking Instructions
Combine all ingredients for the meatballs, except vegetable oil, in a bowl.
Gently knead the mixture with your hands without squeezing it.
When all the ingredients are evenly combined shape it gently into balls about two inches in diameter.
In a saute pan large enough to hold all the meatballs in a single layer, heat up enough vegetable oil to come a quarter of an inch up the sides.
Add the meatballs and place pan in oven pre-heated to 450 degrees Fahrenheit and brown on all sides.
Heat olive oil in a heavy pot over medium heat.
Add garlic and onion and cook until onion is translucent.
Add tomatoes, basil, oregano, salt & pepper and water.
Bring to a boil then lower heat to a simmer.
Simmer for 45 minutes then add meatballs.
Continue simmering for another half hour.
While the sauce is cooking, bring a large pot of water to a boil. Add 1 tablespoon of salt and the spaghetti.
Cook uncovered over high heat until Al dente.
Drain pasta, put back in pot add some of the sauce to the pot and mix it up.
Serve pasta spooning meatballs and remaining sauce over top.