Spaghetti Marinara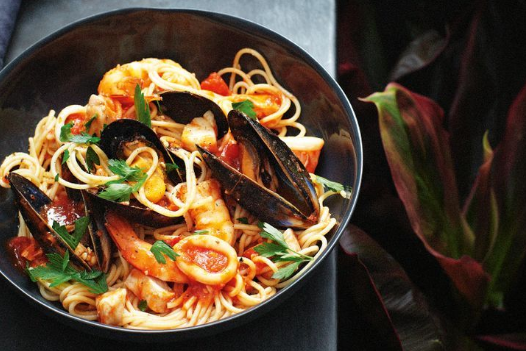 Ingredients
300 grams raw prawn, head and shell on
1/2 kg mussel, cleaned
1/2 head of garlic (5~6 cloves), finely chopped
800 grams bottle tomato cooking sauce(puree)
500 grams dried spaghetti
1 fresh chili (discard the seed, finely chopped)
olive oil
knob of butter
sea salt and black pepper to taste
1/2 tbsp sugar
a handful of italian parsley(or flat-leaf parsley)
Cooking Instructions
In a medium hot fry pan, drizzle some olive oil and a knob of butter, fry the finely chopped garlic and chili for about 3 minutes.
Put in the mussel and raw prawns and stir fry on high heat for about 5 minutes.
All mussels should open; discard closed mussels.
Pour in the tomato cooking sauce, sugar, sea salt and black pepper.
Reduce hit and simmer for 30 minutes while stirring.
Heat a pot of water and add a tablespoon of salt. Add spaghetti and cook al dente.
When pasta is cooked, toss through the sauce and served with a small handful of parsley and lemon wedges.