Spaghetti Puttanesca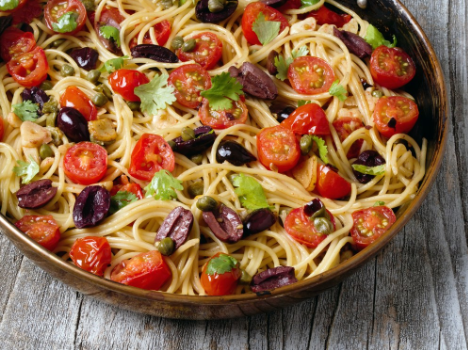 Ingredients
2 tablespoons olive oil
1 clove of garlic, chopped
6 anchovy fillets, chopped
1 35 oz can imported italian plum tomatoes, crushed with their juices
1 tablespoon capers
12 gaetta olives, pitted
1/2 teaspoon of oregano
freshly ground black pepper to taste
1 pound Linguini pasta
Cooking Instructions
Heat olive oil in a pan and cook garlic and anchovy until lightly browned.
Add crushed tomatoes including juices. Bring to a boil.
Lower heat and simmer.
Add capers, olives, oregano, black pepper, and 1/2 cup of water.
Simmer for 20 minutes.
While the sauce is cooking bring a pot of generously salted water to a boil.
Add the Linguini and cook uncovered over high heat until al dente.
Add pasta to sauce and toss. Serve.