Tomato Soup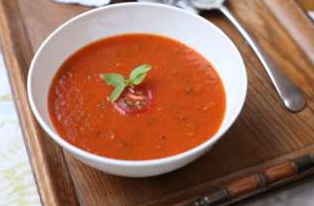 Ingredients
2 tablespoon unsalted butter
1 yellow onion, diced
1 clove garlic, halved
1 (28-ounce) can whole, peeled, Italian plum tomatoes
2 cups chicken broth
1 teaspoon sugar
1 bay leaf
1/2 cup heavy cream, divided
salt and freshly ground black pepper to taste
1 tablespoon freshly sliced chives
Cooking Instructions
Melt butter in a saucepan over medium heat.
Add the onion with a pinch of salt.
Cook, stirring occasionally, for about 10-12 minutes until the onion is soft and golden.
Add tomatoes (do not drain) to the saucepan and use a wooden spoon, or potato masher to break into large chunks.
Add garlic, sugar, bay leaf, and 2 cups chicken broth, and bring up to a simmer. Simmer for 30 minutes.
Remove from heat, and take out the bay leaf.
Carefully puree the soup in small batches in a blender until very smooth.
Return the soup to the saucepan; place over medium-low heat, and bring back to a simmer.
Add the cream, reserving 2-3 tablespoons for the garnish, and stir to combine.
Season with salt and freshly ground black pepper to taste.
Place the remaining heavy cream in a small mixing bowl and whisk vigorously for 1 minute or until slightly thickened and frothy.
Ladle the hot soup into bowl, and drizzle over some of the whipped cream.
Garnish with chives and serve immediately.