Tomb of Dracula 4-6
Want To Be Young Forever? Be A Vampire!
Issue 4 :
Have you ever seen a movie where the supporting actor was so good that the lead was eclipsed? This is what happens here. Ilsa Strangway, introduced in issue 3 has taken over issue 4, pushing aside the enigmatic Count.
This issue allows us to experience the many ramifications of Ilsa's decision to want to become a vampire. In the issues to date, Gene Colan's art was always center stage but this time Archie Goodwin's script deserves equal billing. The story just flowed, plot was tight and scene changes smoothly done. I love the addition of the magic mirror and Dracula's introduction to the dangers of that modern day invention - the flashlight. Not exactly a done-in-one issue, since it begins with the last several pages of the previous issue but the best one yet.
Issue 5 :
It's the second time Dracula is depicted in the cover carrying a woman. If you take look a the cover gallery, this is the most popular cover motif for Tomb of Dracula and an effective symbol for the popular mix of horror and sexuality that forms part of the attraction of the genre. Apart from that this is a superbly composed cover. Layout is balanced and the red theme just works.
The legendary DC writer and creator or the golden-age Flash, Gardner Fox, takes over the writing chores form Archie Goodwin, and Mr. Fox takes us and the Count to places never visited by Bram Stoker himself. As Dracula and the unwilling Taj falls into the late Ilsa Strangway's mirror they arrive in a strange and dangerous land where once again we are treated to a display of the Count's hideous strength. Gardner Fox's creativity makes this issue into a roller-coaster ride as we are next taken to the Transylvanian past where Abraham Van Helsing is still alive and the object of the Count's revenge. Another vampire. Lenore is introduced, and with that I am happy to award four stars to this breathtaking tale.
With this issue and the last garnering four stars the series is really beginning to take off at this point.
Issue 6 :
Well, just when I thought that the art or writing was on a role we get the Moorlands Monster. I think Gardner Fox overplayed his creative hand here as the Moorland Monster really comes out as a bad fit for a Dracula comic ; and the origin of the beast is unconvincing.
Posted by Pete Albano - April 28, 2011
Did you like this post?
---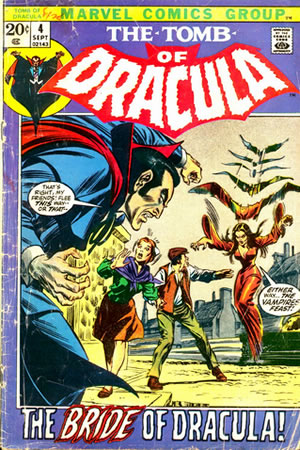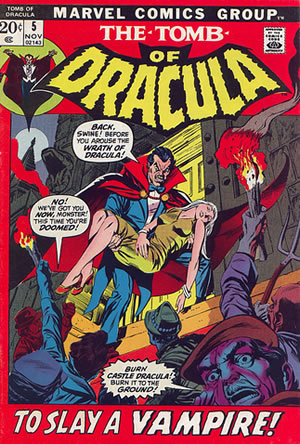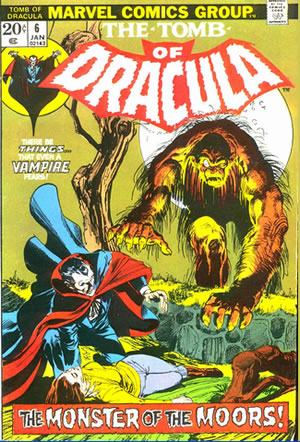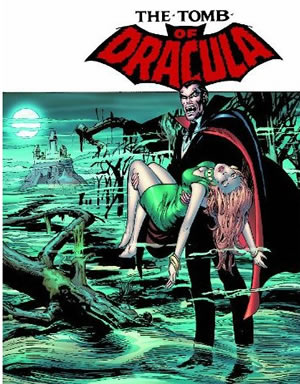 Amazon Prices
Tomb of Dracula Omnibus, Vol. 1

My Comic Shop Prices
Tomb of Dracula Omnibus HC
Tomb of Dracula comic books
Here's what the Tomb of Dracula Omnibus looks like :
---
Other TOMB OF DRACULA Stories
---