Note : The following review contains spoilers.
The Walking Dead No. 56
Cover Date : Dec 2008 | Writer : Robert Kirkman | Artist : Charlie Adlard
Letterer : Rus Wooton | Colorist : Cliff Rathburn
Translator : Aubrey Sitterson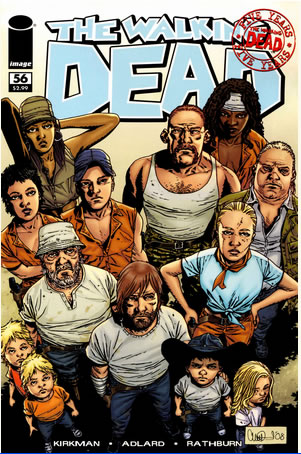 I'm very late to the party. As you see on the cover, 'The Walking Dead' has been around for five years; only reason I picked it up is because of the hype. Being talked about by one blog is one thing, by multiple blogs, okay, that's something. Being selected as an example of good comics again and again in reviews, blogs, websites and youtube videos makes me want to check it out.
So I got this one issue, issue no. 56. Thumbed through it. Black and white; good but not exceptional art; so-so cover. First thing I did was set it aside for a week or so, until one night when I wanted to read something.
I sat there going through panel after panel until the last page. The read was fast, smooth and immersive. When I finished I looked up and thought: "I'm going to report in my website that this comic is mindblowingly good".
And so there it is. The Walking Dead is mindblowingly good. Actually I wouldn't know if the Walking Dead is mindblowingly good. Here's something I do know: The Walking Dead no. 56 is mindblowingly good.
But why? Why is it good?
Robert Kirkman's script allows us to see the internal dialogue that his characters are having with themselves as the plot unrolls. This internal dialogue isn't always understandable, which rings true, since there are times when I don't know what is exactly going on inside me, why I am doing something. Sometimes I fly off the handle and this too is demonstrated in this issue as a deeply personal event. It's a complex business, being human, and Kirkman demonstrates this complexity - there is truth in the writer's voice as he tells his tale.
And the truth is a compelling page-turner. There is no overt intent from the writer to impress and surprise or build tension. But one is surprised, and impressed, and tension is built as a natural consequence of an accurate portrayal of character within the plot.
This is great storytelling and it deserves the hype.
Get your copy here .
YOU MIGHT ALSO LIKE
Posted by Pete Albano - January 17, 2011
Comicbook elements presented at comicsrecommended.com are republished within a fair use context. Each image is © by their creators or comics publisher