Posted - November 4, 2017
Previous: Brightest Day 1 Second Chances
Brightest Day No. 2
Nuclear Options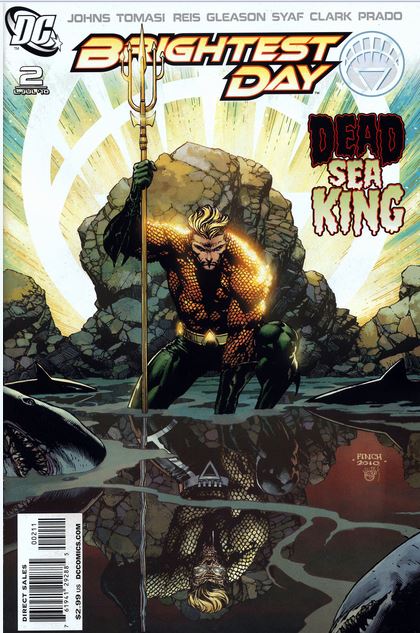 The last time we saw Jason and Ronnie they were unable to split into their individual identities from their Firestorm persona. Professor Stein and the Atom are on hand to help. Here is the Atom in special armor literally going into Firestorm - diving into the heart of the firestorm, so to speak.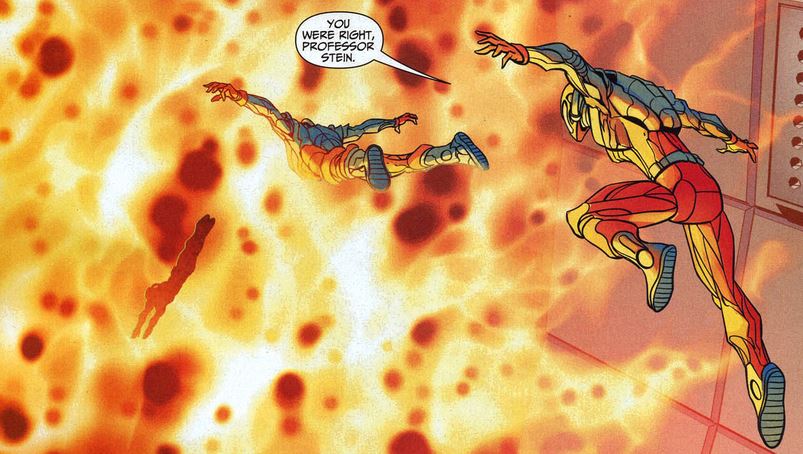 With explosive results.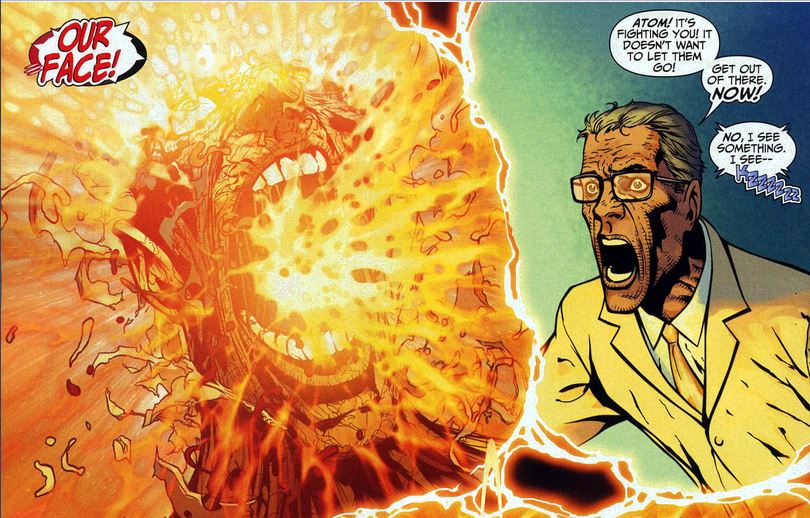 The Firestorm part of Brightest Day is spiraling down into crisis mode.
After the multiple murders from Black Manta last issue we have another one. Even worst than before, it is a young mother murdering her family. What gives? This young 'mother' is no human. She is a Martian and in the same way that Aquaman's return has 'awakened' Black Manta this Martian has also been 'awakened'. J'onn J'onzz has some trouble headed his way.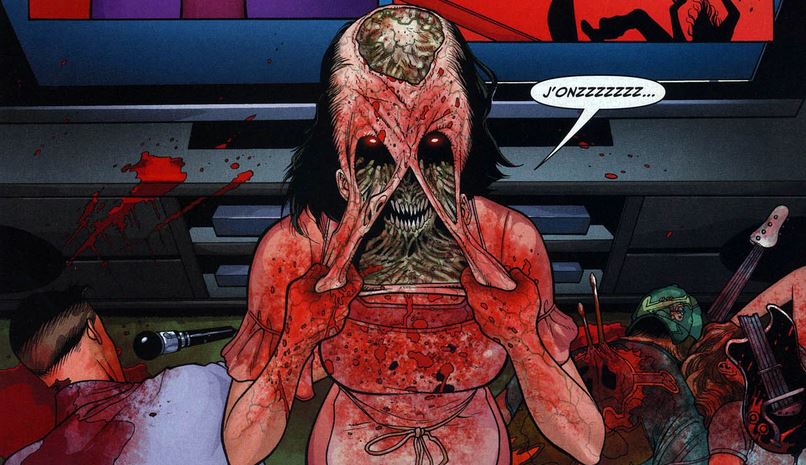 Yecch.
The last time we saw the Matian Manhunter he was headed back to Earth. He has arrived and visits the grave of the man who originally summoned him to Earth, Saul Erdel. In a chilling yet fascinating panel J'onzz goes into the coffin of the late scientist and retrieves a picture of Erdel's daughter.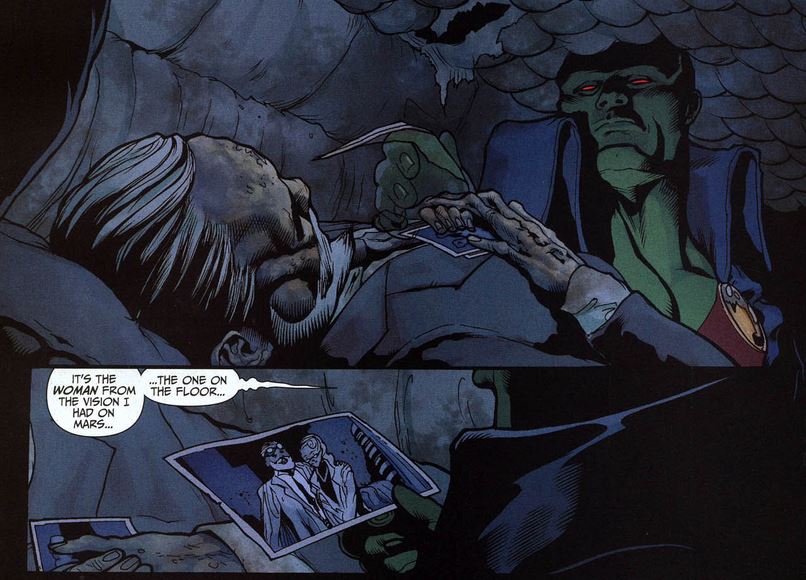 Melissa Erdel is now very old and senile but J'onn needs to know something from her. He takes the form of her father.

Melissa tells J'onn that his was the second summoning - the summoning of a hero and defender. The first summoning summoned a monster - the creature we saw ripping her human disguise off from her and murdering her human family.
I am touched by the kindness and gentleness J'onn shows Melissa.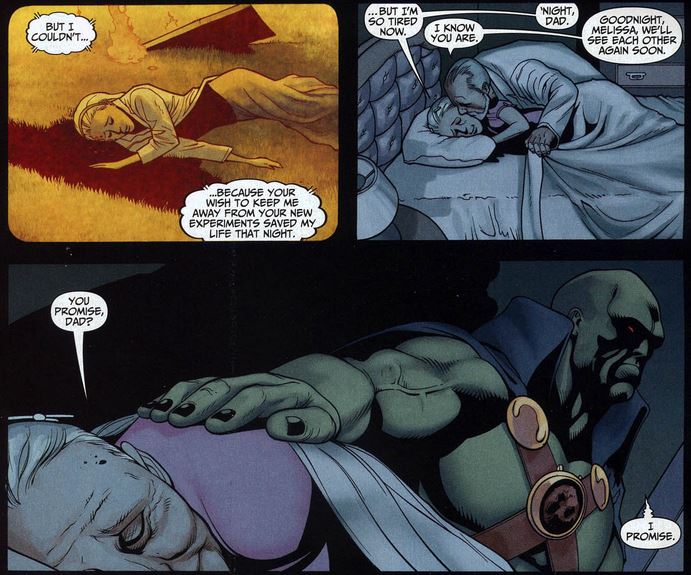 The last time we saw the Hawks they had failed at intercepting the bones of their former selves. We start with a beautiful one-pager.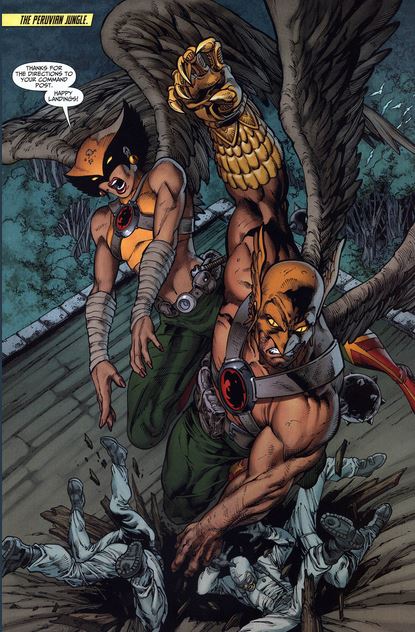 They become aware of Hath-Set. He is looked upon by the Hawks as a sort of jailer/torturer. A man who has trapped them in an endless cycle from which they cannot rest. We leave Hawkman as he swears to kill Hath-Set.
The White Lantern has been teleporting Deadman all over the place. With instruction to 'fight' the White Lantern sets Deadman on a collision course with the Anti-Monitor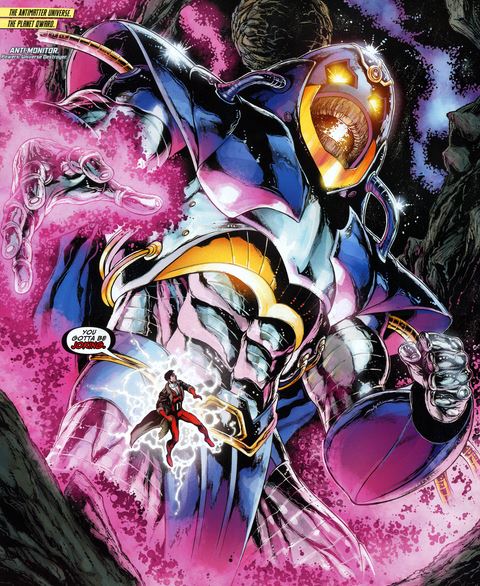 So that's what the White Lantern is, the embodiment of crazy' - the white light should have picked the Joker as emissary instead of Deadman.
Next: Defenders 84 Battle Royal