Posted - October 23, 2016
Previous: Incredible Hulk 107, Iron Man 19, Ghost Rider 12
World War Hulk
Heroes for Hire 11, X-Men 1, Gamma Corps 1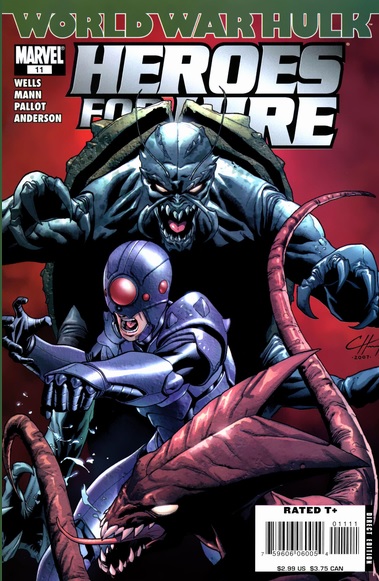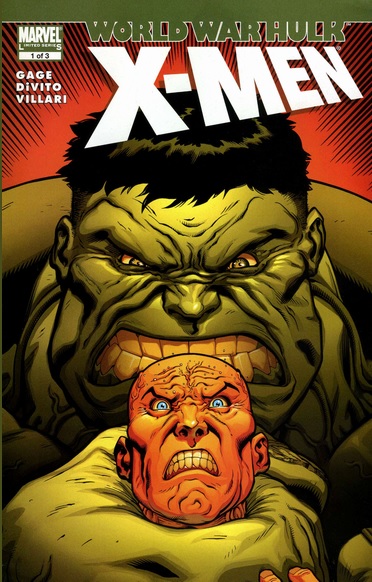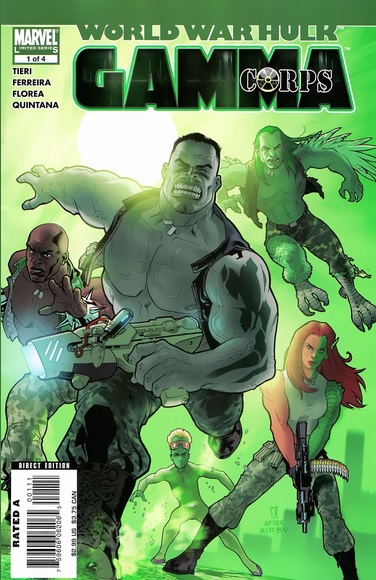 Let's start the article with some spice.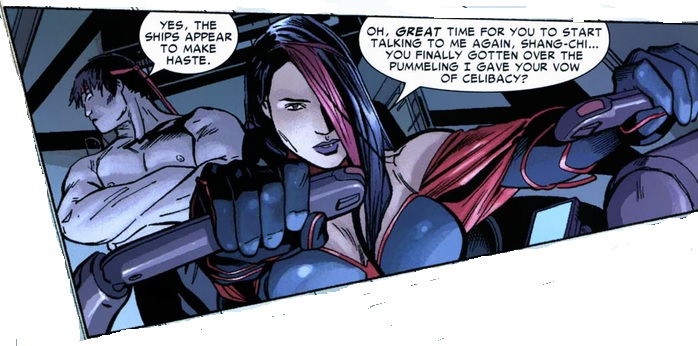 I love it: "Pummeling I gave your vow of celibacy". The one talking is Tarantula. I know nothing about her. The Tarantula I know is the one a love to hate. He's a guy and a Spider-Man villain and I talk about him in my Spectacular Spider-Man article. Hopefully this one doesn't have those damn pointy shoes. Anyway the one she's talking to is the legendary Shang-Chi, Master of Kung Fu. Shang-Chi has a vow of celibacy? C'mon! This is Fu Manchu's son. I have my doubts about the identity of the girl though.
So the group lands in New York where some kind of infestation is going on. They encounter some S.H.I.E.L.D. personnel who go all bureaucrat on them. I'm getting board at hearing the protocol and looking at the suits an ties when, whoa! She pops up?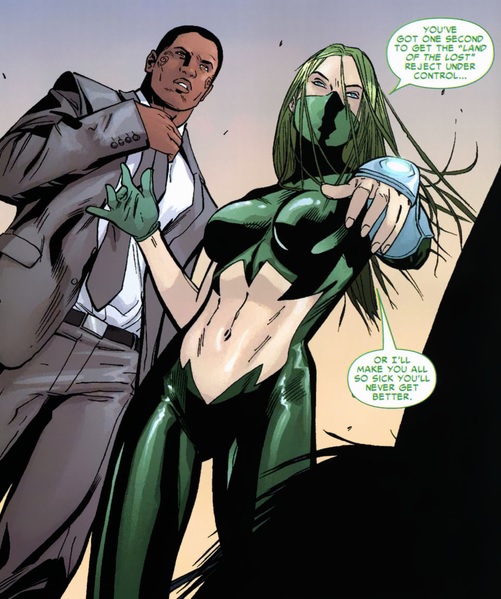 Who is this? And why is her dialog bubble green?
Her name is Scorpion and she immediately gets into a disagreement with Tarantula. Scorpion, Tarantula, I love it.
They almost get to it but not.

By now the Hulk has landed, the big green guy has given his famous New York speech and everybody knows about it - except the these so-called Heroes for Hire. Funny panel this.

Humbug has an interesting opinion.

Hmmm, I think he's talking about the Brood Warbound - uncreatively also named 'Brood'. Imagine if you ware part of a group of alien adventurers and your name among them is 'Human'.
This is a great shot of the entire team reacting after being asked if they are heroes.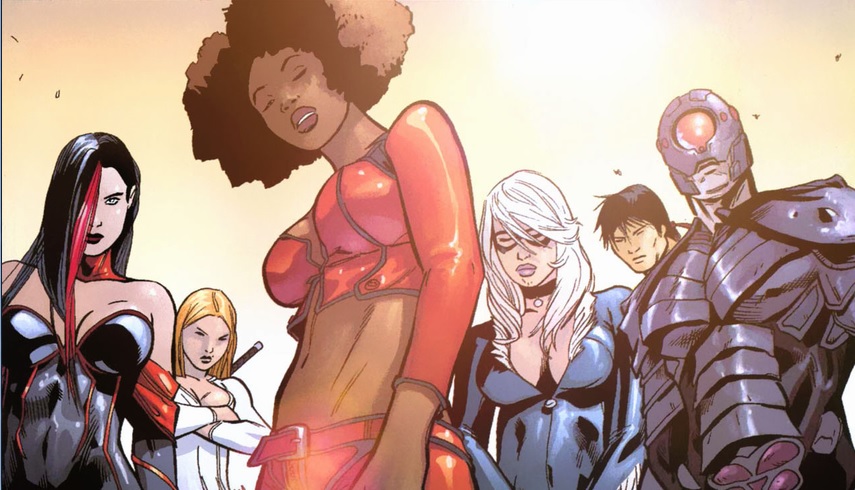 Dead silence is the response. These guys happen to be the phiosophical descendants of one Luke Cage - the original Hero for Hire. They'll help, of course, but I attribute the silent response to their view of a job with no payment prospect. I like them, they're practical.
Trust Paladin to be the most practical.

I've been reading Paladin since the days of Marvel Team-Up. This guy deserves his own series, he's interesting enough.
So the seemingly insectiod Humbug is the weirdo of the group - and you really have to be out there to be the weirdo of this group and Shang is the, to borrow a phrase from American Pie, the "goody goody two-shoes choir girl priss".
So they do discover Brood starting to colonize the planet.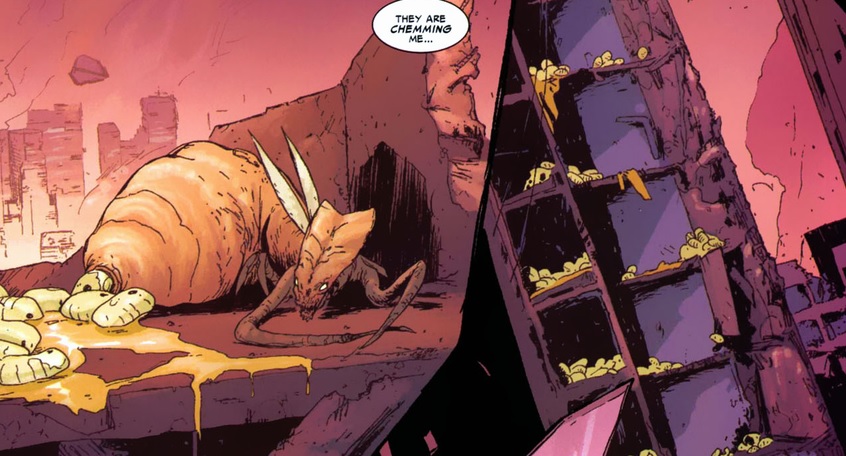 Black Cat gets motherly over an insectoid whom Humbug promptly kills and tears apart, taking care to drench himself and his teammates with the inscetiod's, um, fluids. The explanation: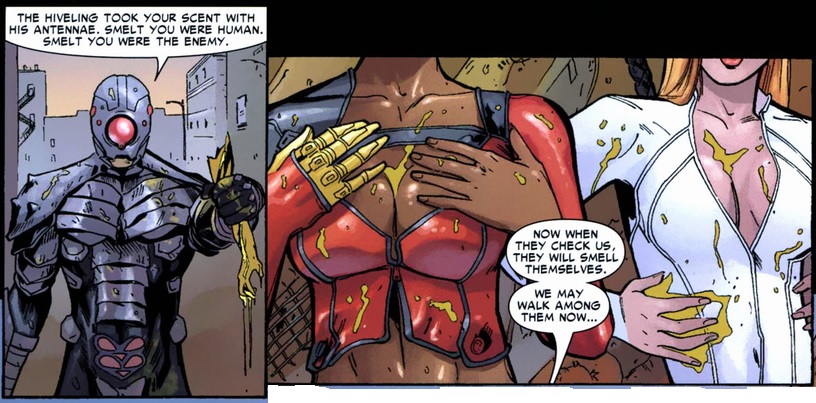 Yup, it's going to be that kind of adventure.
We leave this tale for now, there is a second story in this issue of Heroes for Hire. Let's check that one out.
Oh, it's a Scorpion adventure.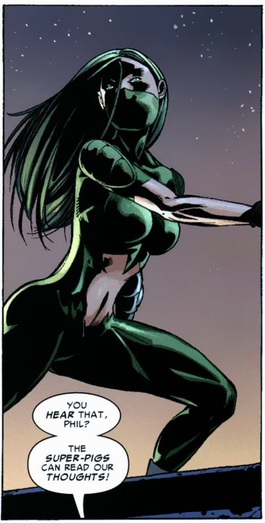 Now we know what she can do. Here's a demo.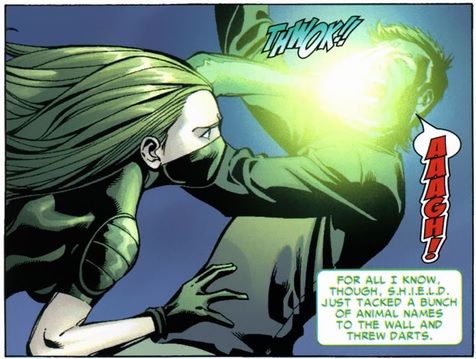 I suppose Scorpion is too cool a name for only Mac Gargan - the original Spider-Man foe - to have use of it.
Scorpion handles some thieves quite readily but she is overwhelmed by Paladin.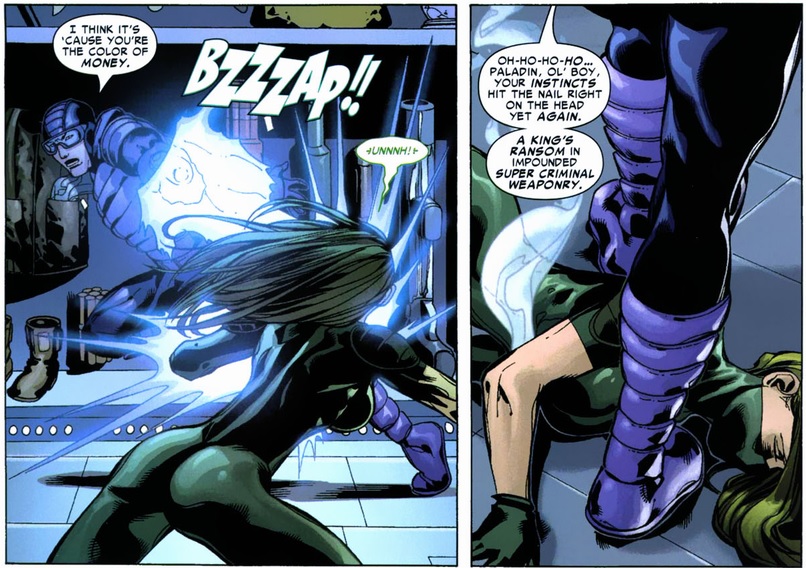 Spoke too soon.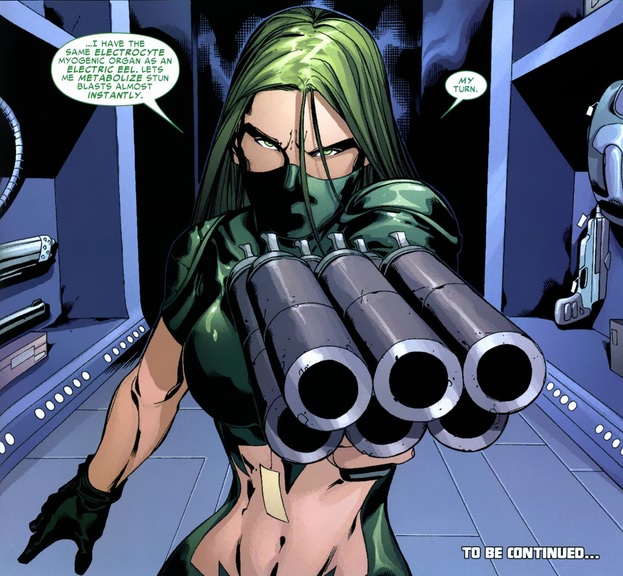 Cliffhanger ending and really ridiculous looking gun.
Before we begin the next story it is worthwhile to note that Professor X, although a member of the Illumninati, was not present when the decision to forcibly exile the Hulk was made.
Tony Stark asks an interesting question but we don't get an answer just yet.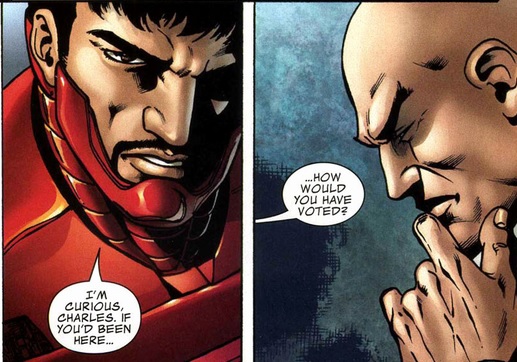 Here we get a panel showing Cerebro.

It seems that M Day has not only decreased the mutant population, it apparently has also made it less likely for mutants to be born. I'm all for that because, this way, mutants will be all the more special.
Here's the Professor's interesting reaction to that fact.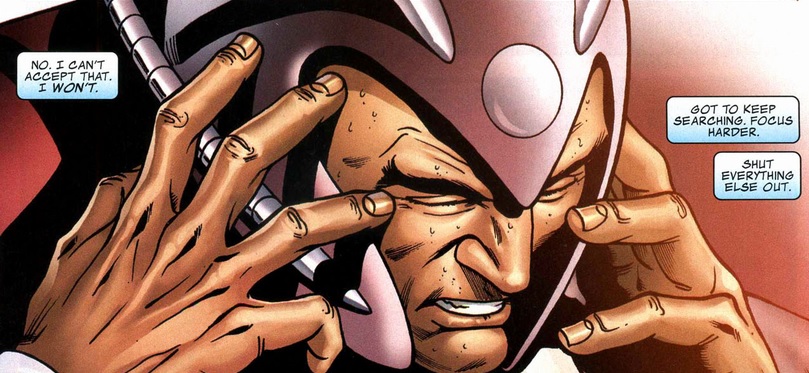 Denial. Faced with a reality that is hard for us to accept don't we all react the same way? I'm like this because, I don't have a game plan for the new reality that I'm facing. So I deny it and stay safe in my mental coccoon. Sometimes reality can be unacceptably brutal.
Here is my fave X-Man the Beast supervising students in training.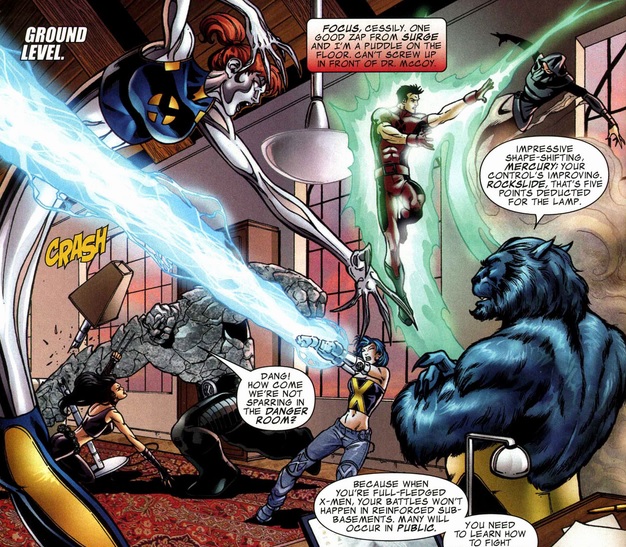 I had a negative reaction to the Warbound Korg because he looked too much like the Thing but I think this Rockslide is very cool. I hope he meets Ben.
The X-Mansion is being guarded by the Sentinels at this time (I don't know what Mark the Sentinels are anymore, I stopped counting at Mark II). Anyway, there's a very impressive panel of the Sentinels taking off.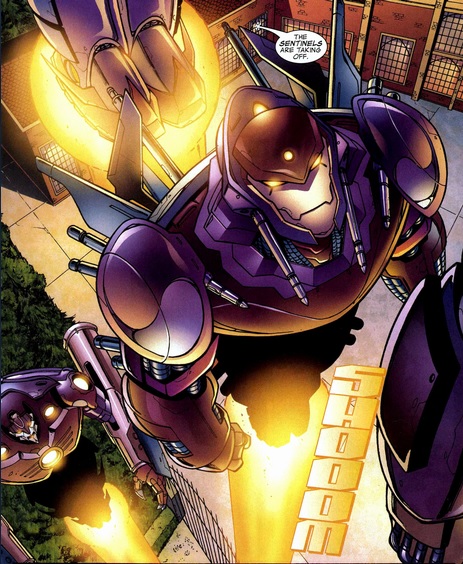 So one moment the X-Men were watching the Hulk's New York arrival on tv, the next moment the Beast looks really scared.

And he should be because he's looking at the window at this.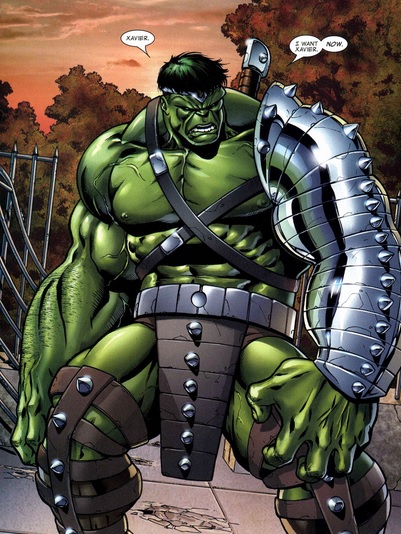 It's one of those 'shit happens' moments.
One big question: How come the Sentinels left and then the Hulk arrives?
Here is Dr. McCoy's interesting take on some versions of the Hulk.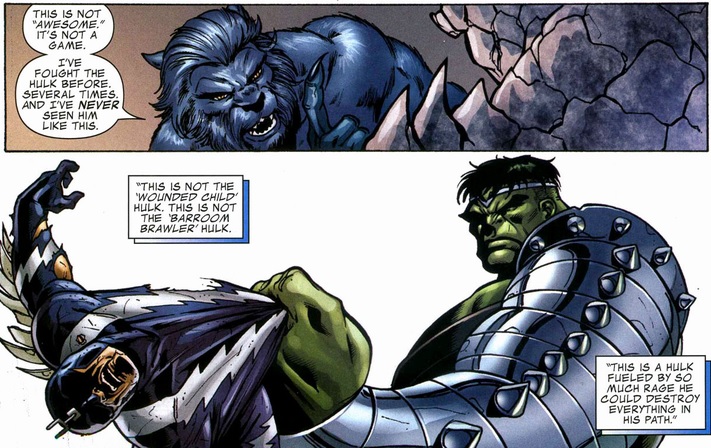 The Beast is not handling things well.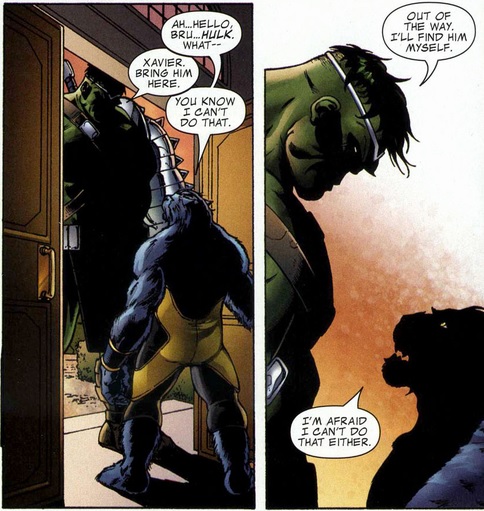 I've had my blunders on the communication side so I can relate. Anybody who thinks the next panel will be violent raise your hand.
And here we go.

Okay, with the Beast getting hit all that's left are some of the more senior students. What a lopsided fight. Somebody call Wolverine; or better yet the Phoenix Force. Magneto. Magneto would be good.
Look the Hulk knows these are just students so he tries to give them a fair chance.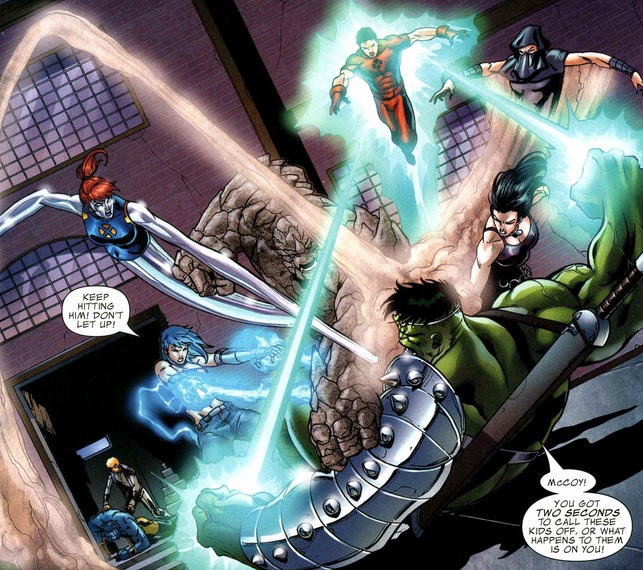 Ok, so here's Hank McCoy's prize tactic right here.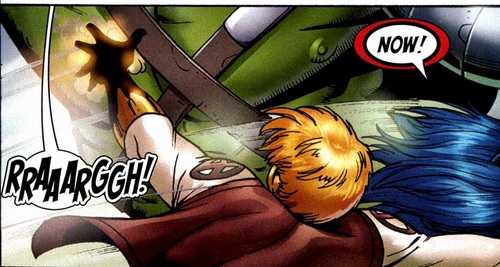 The young mutant has a 'death touch' that, presumably, would override the Hulk's healing factor. Let's see if this works out.
I love this cool mutant power although I don't know exactly what it is.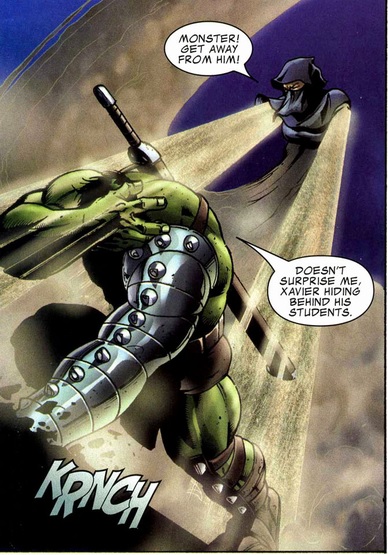 Whatever it is, it gives good visuals.
It's futile but it's still good to see Beast get a shot in.
The Beast is essentially a super-powerful animal. Think one of the big cats or a gorilla. The problem with the Beast is we see him in X-Men, The Avengers or The Defenders. Books like that. Books were his powerset doesn't compare very well to say, Colossus, or Thor, or Doctor Strange. So most of the time, these books focuses on McCoy's smarts. And that's a shame. I think the Beast should be given Marvel Knights-type of books. Plots that are aligned more to the likes of Daredevil or the Punisher. Given those street-level books the Beast's physical power can really shine. I hope it happens one day.
The following two panels would be horrible except for Rockslide's dialog which suggests that having that done to him isn't such a big deal.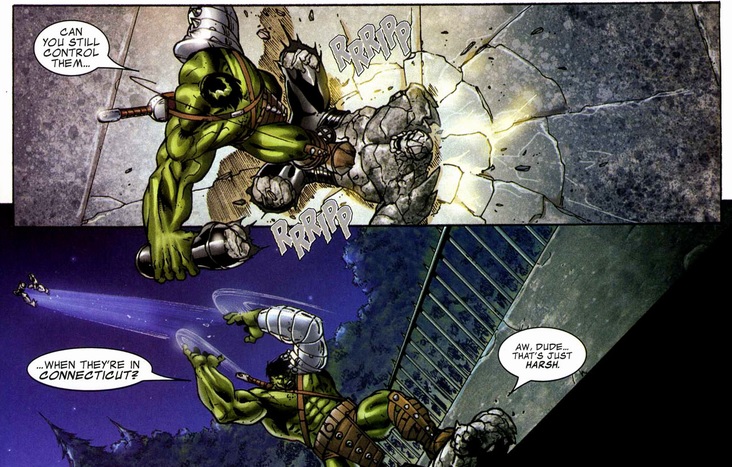 X-23 is it? The first real hit against the Hulk.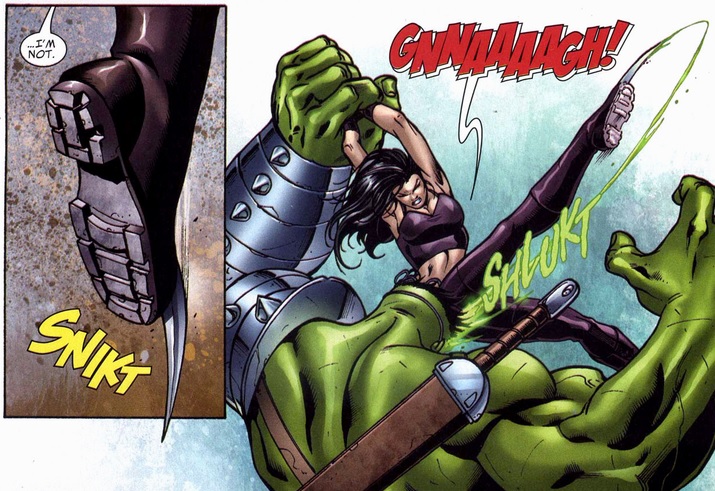 So the fight goes on and on and, of course, Hank and the kids are slowly, slowly losing. Just when all hope is lost: Uh-oh, looks who's here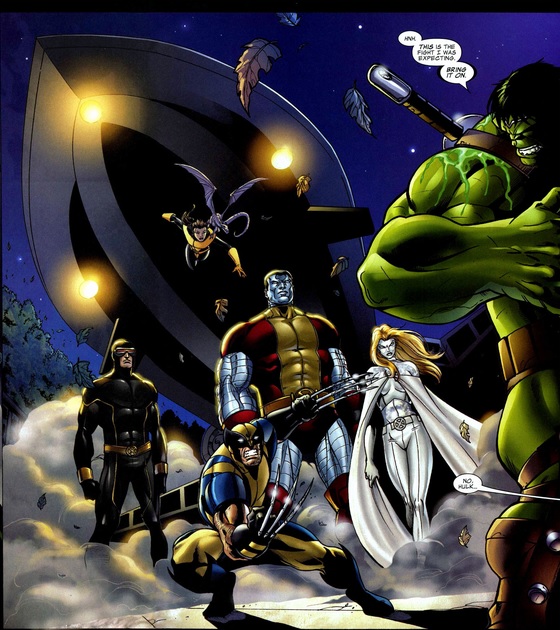 Yes! Damn, look at how gigantic Colossus looks.
So Iron Man was asking this question a while back but now the stakes are really high.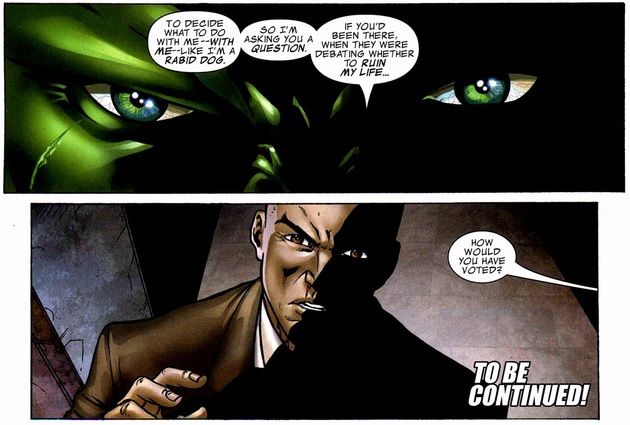 Okay Professor, this is easy, even if the answer is 'yes'. Say 'no'. We don't get to find out now though. We're left with a cliffhanger.
Let's head on over to the interestingly titled Gamma Corps
Oh look at the handset - a Nokia 3310. It was the dawn of the cellphone and that's a magnificent dinosaur.

And here we have another classic - Thunderbolt Ross demanding the destruction of the Hulk.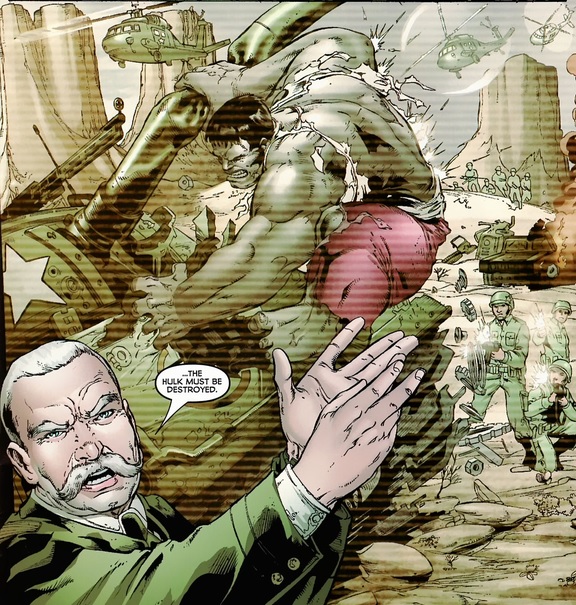 Well, Banner is here.

Look at the panel above. To me that's big - your boss calls you a milksop to your face in a meeting. That's the stuff resignations are made of. Or, more depressingly, if you really need your job - definitely three or four beers after work.
So we're definitely going through a flashback; looks like this Gamma Corps thing is a retcon.
So one of the scientists, not Banner, has an interesting idea: Study the Hulk for his immune system and wipe out human disease. And on a related note: Sharks don't get cancer; plus they're easier to catch than the Hulk.
Hear this exchange?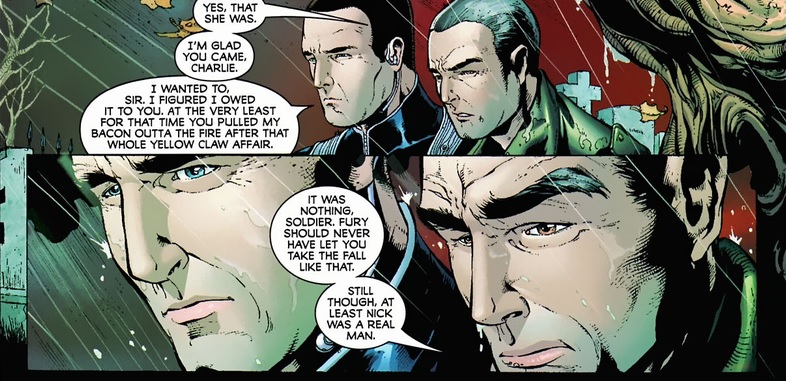 I have absolutely no idea what they're talking about; and I love it. I have a feeling they're talking about something that happened in a corner of the Marvel Universe and a comicbook or comicbooks have that story; but I've never read. I love how big and rich this Universe is and each year adds more depth and breadth to it. Man, all those comics.
This guy, General John Ryker, he's wanted by S.H.I.E.L.D.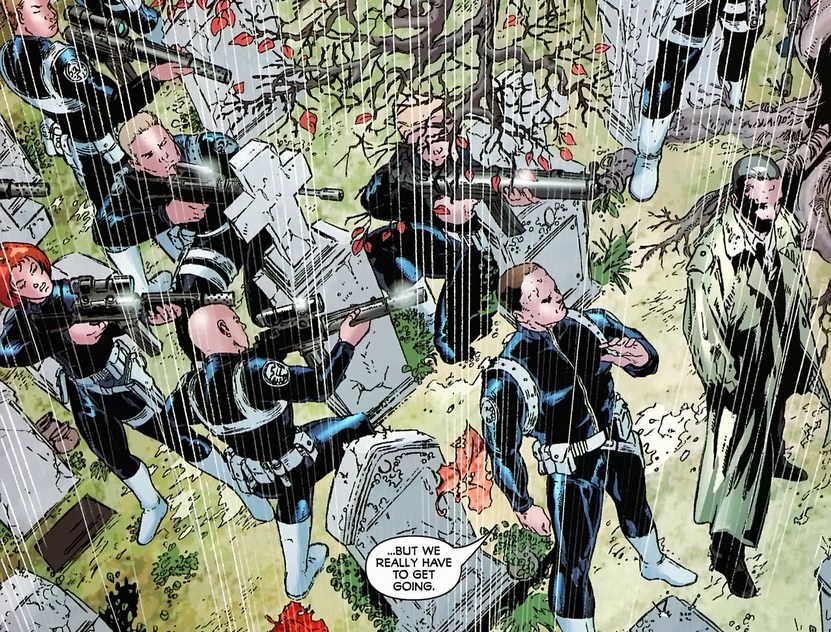 He's wanted so badly they've come to nab him during his wife's funeral. Well, either General Ryker is extremely powerful or S.H.I.E.L.D. is extremely paranoid. They even have a bazooka pointed at what seems to be a regular human being. Incidentally, this funeral is occurring at around the time the Hulk arrives in New York.
General Ryker, in exchange for freedom, offers Charlie, the head of the S.H.I.E.L.D. agents, a solution to the 'Hulk problem'. It's enough for Charlie to call off the arrest. In the undertone of both these gentlemen is a jealousy of Tony Stark, current S.H.I.E.L.D. director and good-looking rich playboy. I mean, what's not to hate?
I have a real awe of guys who don't fold under torture.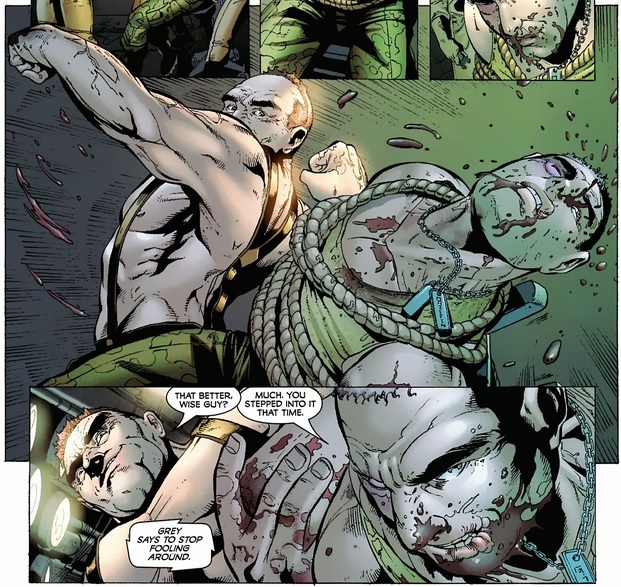 As for me, give me a little love tap and I'll confess to anything right after pissing my pants and throwing up on you. Also, the guy in the panel above is being tortured by A.I.M. I'm mildly surprised, I would have expected A.I.M. to go the 'truth serum' rout, that would be more 'egghead' - fits their image.
Just when they're about to shoot him, the guy goes Hulk.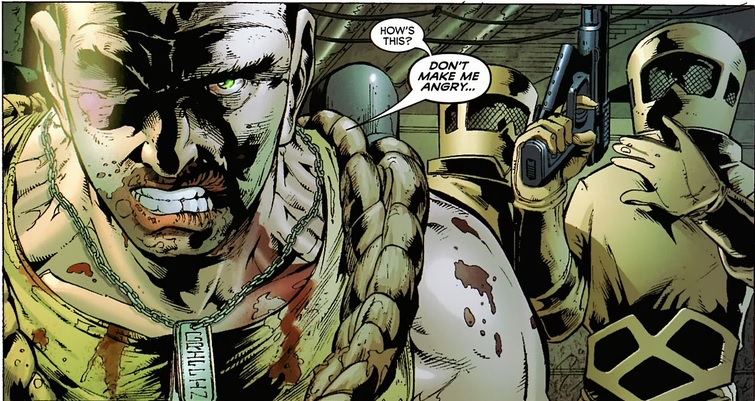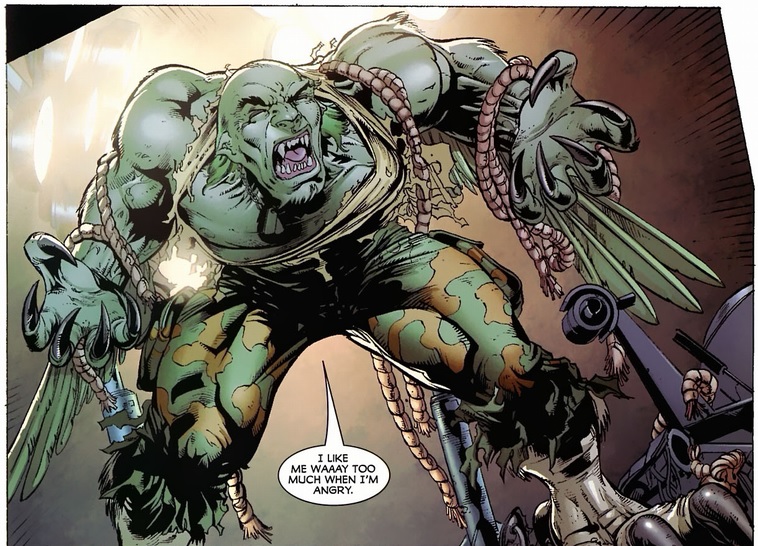 Impressive. Look at those claws. Good but this guy doesn't look tough enough to tackle the most legendary gamma monster of them all. Powerset includes some kind of gamma phlegm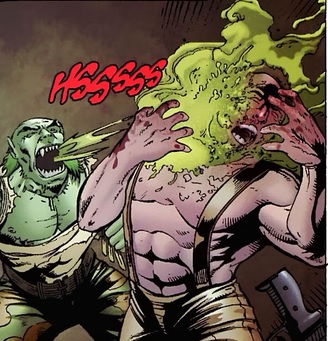 Disgusting. And thoroughly enjoyable in that disgusting sort of way.
Shortly after dispatching his torturers, this gamma monster encounters a small army.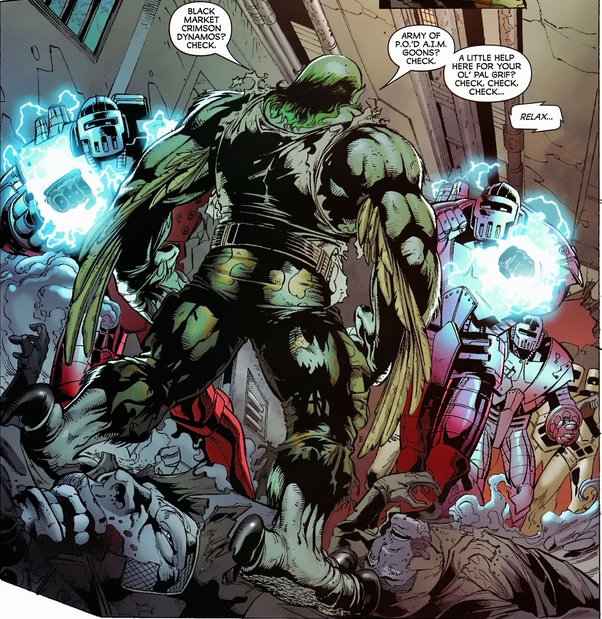 Multiple Crimson Dynamos. I thought the Crimson Dynamo was unique. No matter the armor is no match for this guy's strength.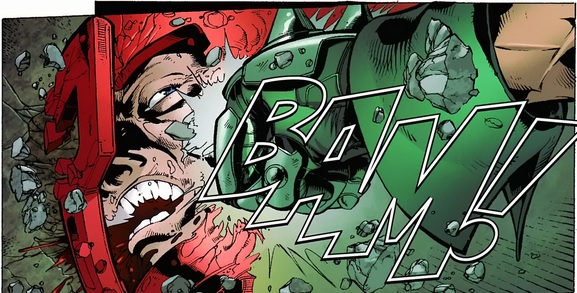 Oh, thank God. At long last: a panel full of names.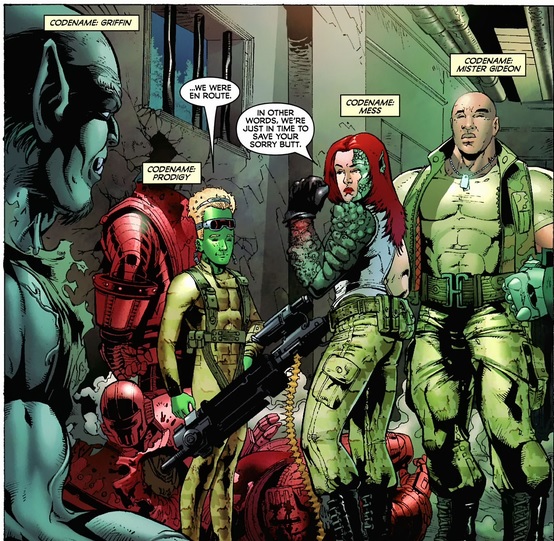 The gamma monster's name is Griffin. Fits.
Here's the team leader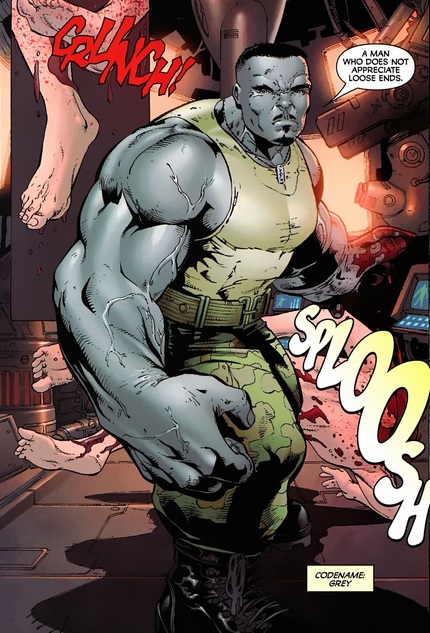 Obviously, a homage to the grey Hulk and also Brian Ross, son of Thunderbolt Ross. The General will also become the Red Hulk. Ironic isn't it? A family that has hunted the Hulk for so long become 'Hulks' themselves.
The team hears that the Hulk just arrived and this is their reaction.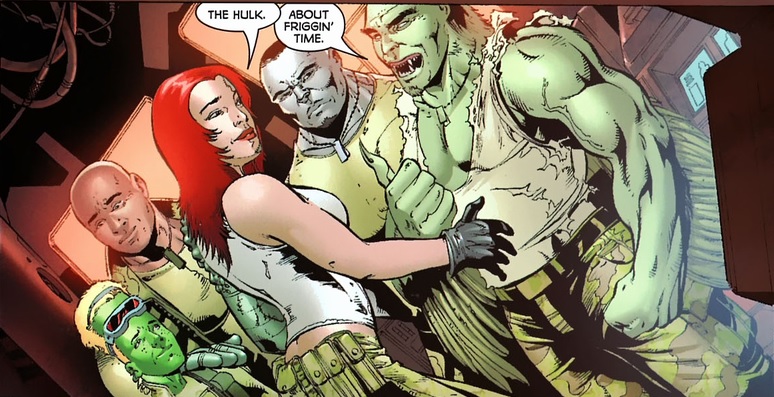 So obviously this team is General Ryker's Hulk solution.
You can see right now that the Hulk is going to mop the floor with this delusional idiots.
We leave Gamma Corps as they climb into their really nice plane to get their ass kicked.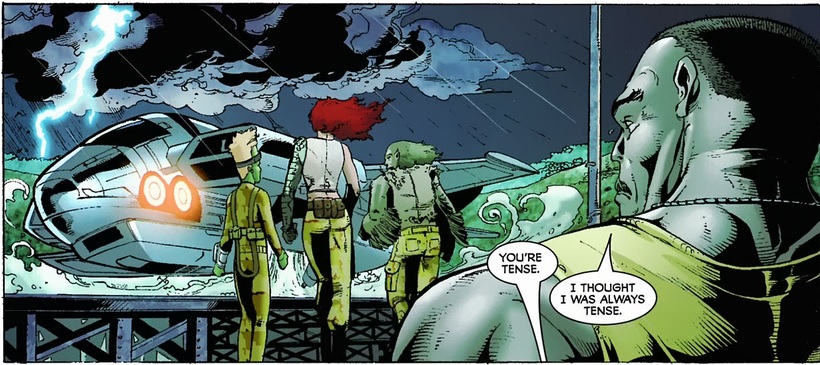 Next: Frontline 1, Avengers The Initiative 4, Irreedemable Ant-Man 10