Posted - October 31, 2016
Previous: Heroes for Hire 11, X-Men 1, Gamma Corps 1
World War Hulk
Frontline 1, Avengers The Initiative 4, Irreedemable Ant-Man 10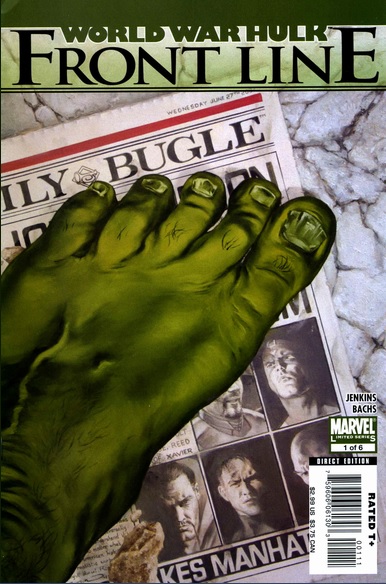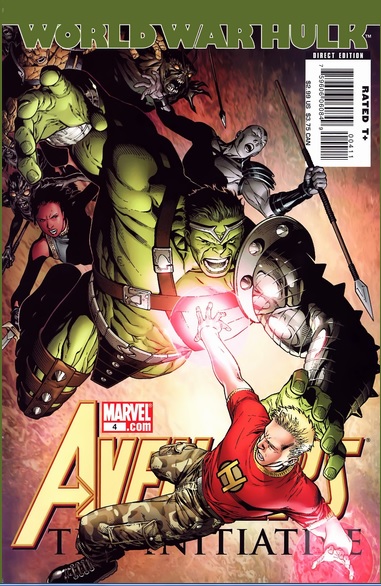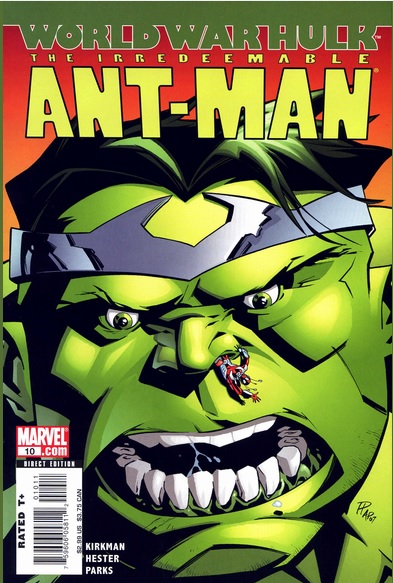 For those of you who've read Civil War, this is a treat, as we welcome back Ben Urick and Sally Floyd; definitely my favorite journalists in the Marvel U. J. Jonah Jameson is a close second (yup, I like the curmudgeon).
Look at this.

Back to the reality of the newsroom. You can almost smell the place.
And now a little flashback panel.

Eighteen plus four; that would be twenty-two hour days. An exaggeration I'm sure. I mean, two hours to sleep? 'Critical acclaim doesn't pay bills', now that's believable. Depressing but believable. Incidentally, Frontline is secretly funded by J. Jonah Jameson. I know, right?
I'm showing the panel below simply because of the incredibly detailed art.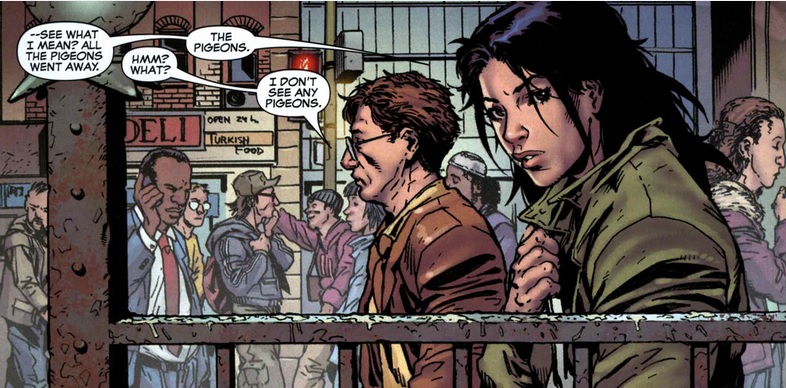 Just beautiful. When I see panels like this I feel respected by the artist - in this case Ramon Bachs.
And here's how the Frontliners see the arrival of the Hulk.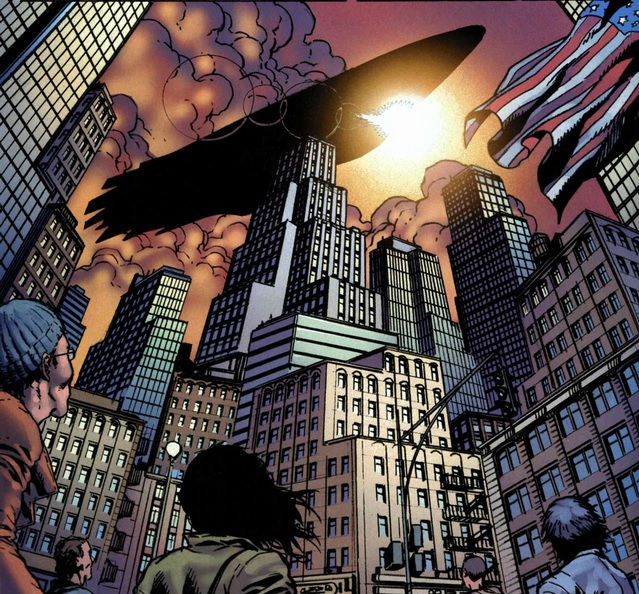 To date, over the course of World War Hulk this incident has been shown several times. All the others have been good but this is the best one so far.
It's a terrible crisis for New York City but it's like Christmas for Ben Urich.

Here's an interesting fact.

Ben should make that two hours. This Hulk is the strongest iteration ever thanks to the direct correlation between the Hulk's anger and his strength.
The danger is dire and real and imminent so Ben gives his staff a choice.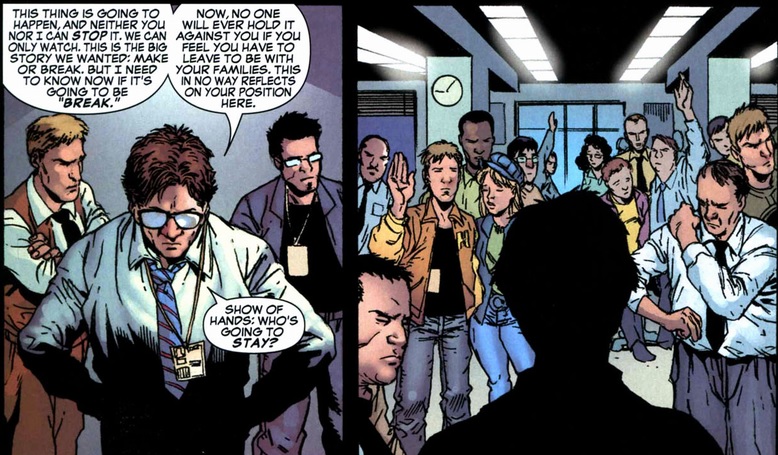 I'd be getting out myself. No job is worth my life.
Ben is staying (of course). His wife (Mabel? Doris? - her name was in Daredevil Born Again.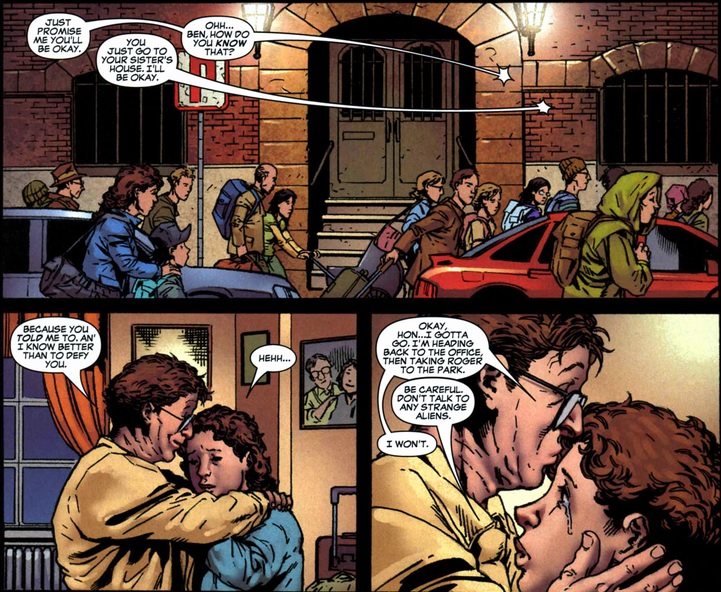 It's tough being Ben's wife. Back in the Daredevil story a nurse/assassin tried to hang her in the shower.
Over at Central Park, Ben is witness to the arrival of the Warbound.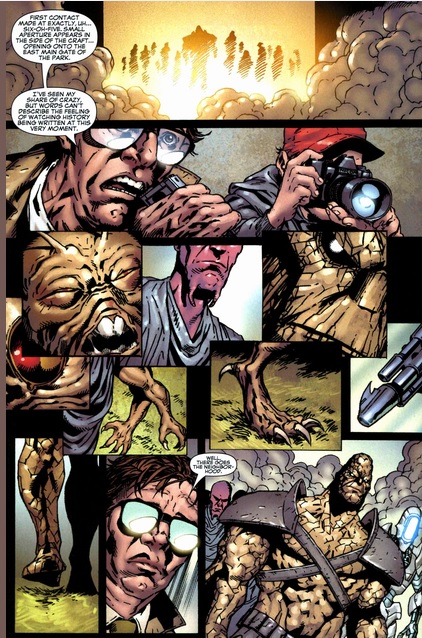 Ah, finally. I have the name of the robot Warbound.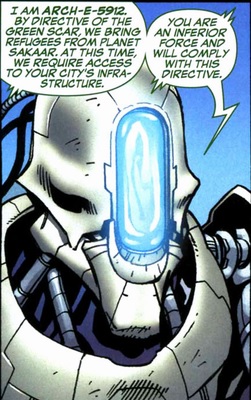 Archie.
You know who needs the after-work beer? This police officer.

His job tells him to fire his gun but everything else tells him 'no'. He wisely follows 'no'. Still, sometimes it's one of those days at work.
Jameson is reading Front Line.

Why not. He paid for it.
Comics. Entertaining and informative.

A city is the world's twenty-fifth largest economy. That's a bit sad isn't it? Considering there are one hundred eighty countries on earth; only twenty-four of them is richer than New York. One city. I don't think New York is rich, I think the rest of the planet is too poor. People from the future will look back at us the same way we look back at the Dark Ages.
Okay, the aliens have gone to the bar in what could be this issue's most amusing panel.

By now you're getting the concept behind Front Line. Marvel is taking us down to the street level; this is a lasting legacy of that legendary series Marvels. Take this fellow here.

No home. hand-to-mouth existence. Yeah, if I was like that I'd say 'bring it Hulk, you'd be doing me a favor'. Losing everything is traumatic and painful, but after that - when you've got nothing more to lose - you're fearless. Depressed, yes. Miserable, yes. But also fearless.
Yet another scene.

Beer for ray gun experience. I'd go for that myself. Of course there's this little matter of a drunken alien with a high-tech weapon.
Oh shit, they took out Archie.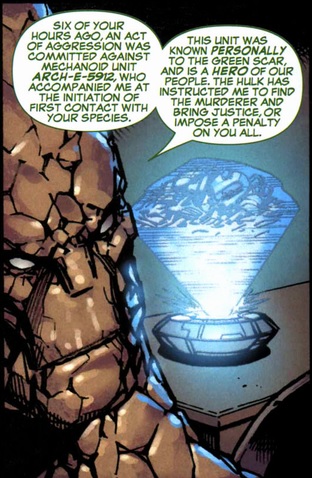 Sarah's cop boyfriend, Danny Granville, is sent to investigate.
Here's the Front Line view of the Hulk-Iron Man fight.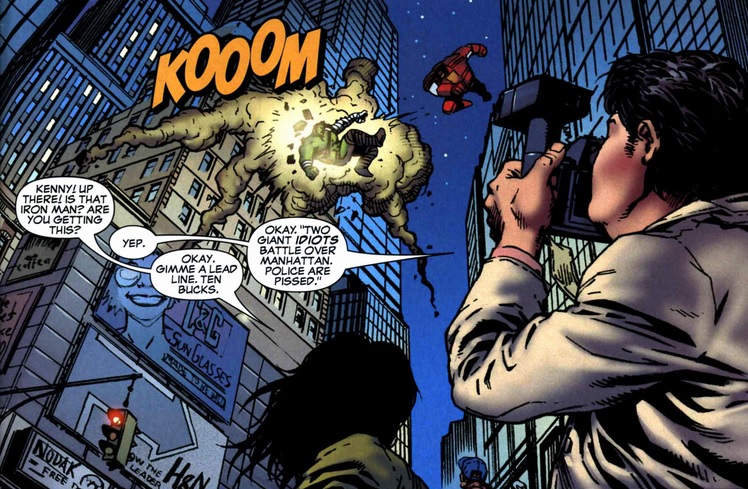 Sally Floyd is a witness of the incredible amount of damage the fight does at ground level. And with that the issue ends.
We open an issue of Avengers the Initiative
So Yellowjacket and Baron von Blitzchlag (talk about a mouthful), is doing something and the concept of that 'something' being un-American comes up.

Wonder what it is? Incidentally, 'e pluribus unim' means 'out of the many, one'. It is a motto of the United States.
Camp Hammond is a highly secure base facility, but this night there is an an armored intruder.

I find the intruder's thoughts both interesting and authentic. 'Desperate trumps stupid', so true.
The intruder finds the preserved and surgically disfigured body of MVP - an early fatality among the young Initiative traineees.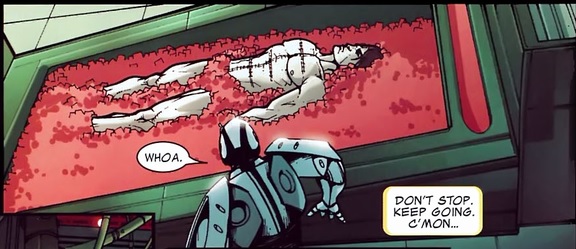 MPV got killed in a training accident. It is a terrible thing, no doubt, but what really points to something being 'off' about the Initiative is not so much that MPV died but how they're treating his remains. Not only is it being experimented upon, the manner of death is being kept secret. The old Avengers would have come out openly about what happened and given MPV the dignity of a funeral. The Avengers have strayed far from their roots at this point in the Marvel timeline.
That intruder turned out to be one of the trainees, Hardball.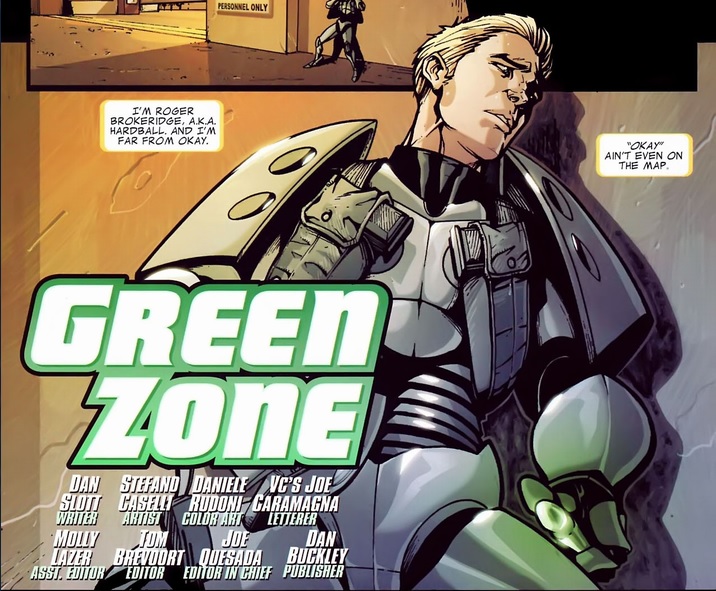 He's armored because he's dressed as a camp guard. What he stole he's holding in his hand. I have no idea what it is.
Ok so this is what's going down.

In a word: blackmail. Hardball is being forced to steal whatever that is because of his family's situation. The blackmailer here reminds me of the Penguin for some reason.
Here is Gauntlet.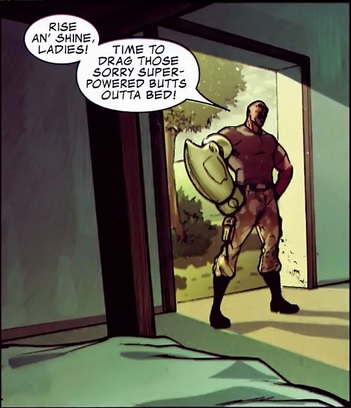 Ridiculous isn't it? An outsized robotic glove, ergo, Gauntlet.
Because of his clandestine activities Hardball did not get any sleep.

In my life I'd had one true all nighter (meaning up all night with no sleep then on to a regular day), that was at work. I felt fine, albeit slightly 'floaty' all the next day, but when night came I just fell into bed into a deep sleep.
Here are the trainees.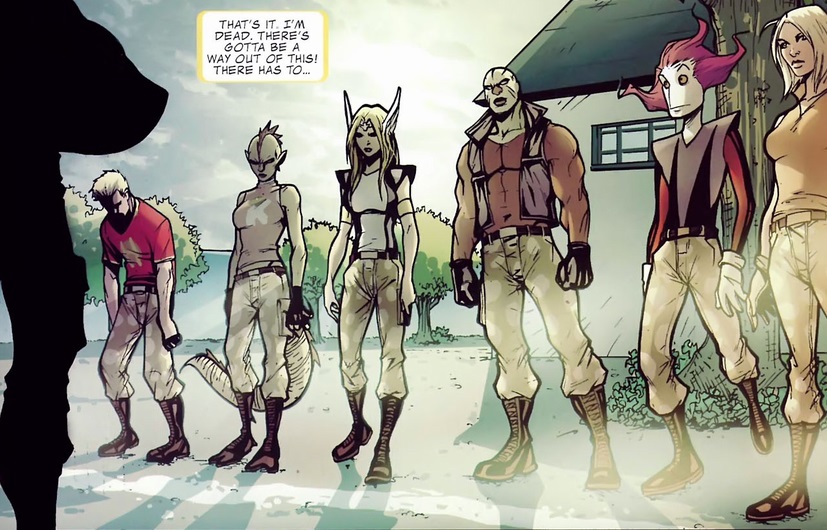 Everybody looks fine except for the second trainee from the right - Slapstick. Ohmigod! He belongs in a Disney comic. It's Jar Jar Binks in Phantom Menace all over again.
Here is another trainee, Cloud 9. She is with Justice, formerly of the New Warriors, now of the Avengers.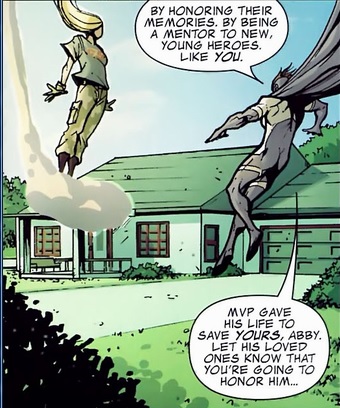 Obviously this is about the MVP training accident.
That run with the trainees, this visit that is happening here. All of this is happening shortly after first light. For the record, I hate getting up in the early morning.
Okay, it's time for the early morning wake up.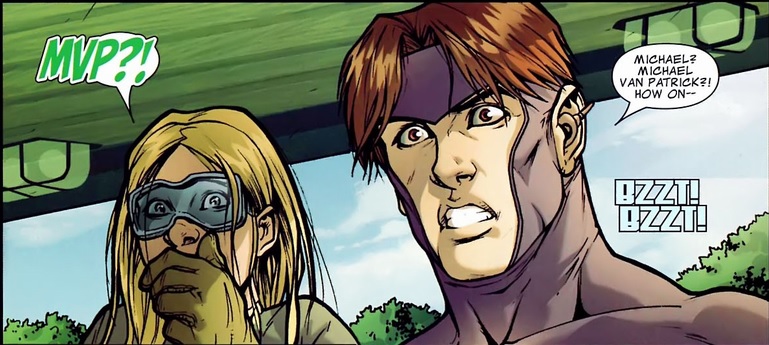 Why the surprise? Here's why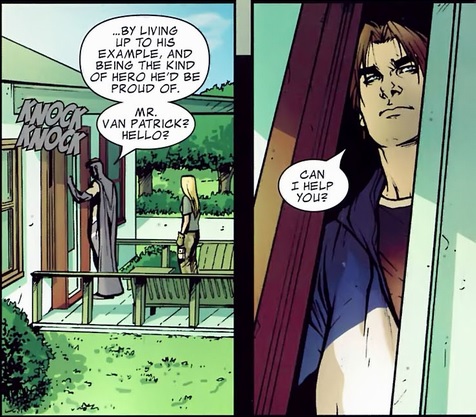 The supposedly deceased MVP just answered the door. You know what, I just noticed something: no Hulk in this 'World War Hulk' issue. At least not yet. Well, looks like I spoke just in time.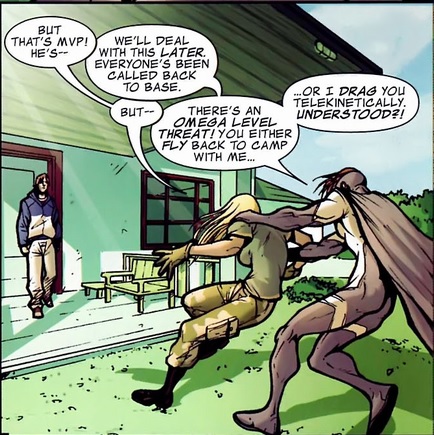 Omega level threat. That's him. It's a green alert.
By now, the Hulk is in New York telling everybody what the Illuminati did. Here's James Rhode's a.k.a. Warmachines's reaction.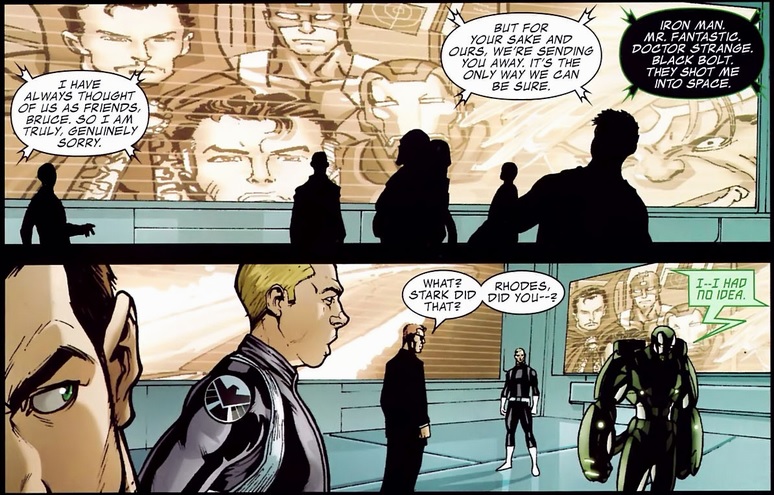 Not only is he Tony Stark's best friend. For a time, in the eighties, Rhodes was Iron Man.
For the first time, we are made aware that there is a contingency plan for the return of the Hulk: Project Achilles.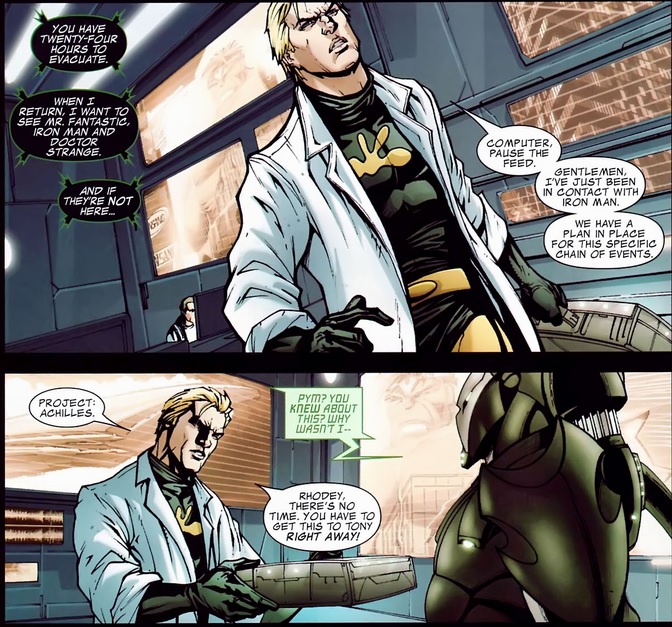 'Achilles', makes me think of 'Achilles heel'. A weakpoint - the Hulk's weakpoint. That's tough. I can't think of a Hulk weakpoint. It used to be his need for air but partway in the journey to Earth the Hulk was standing outside his starcraft.
Oh, so this is project Achilles.

The nano technology that Tony used when he hit the Hulk with the Hulkbuster spike. Well we know now that this is not going to work.
We have a great panel of Tony working on the Hulkbuster.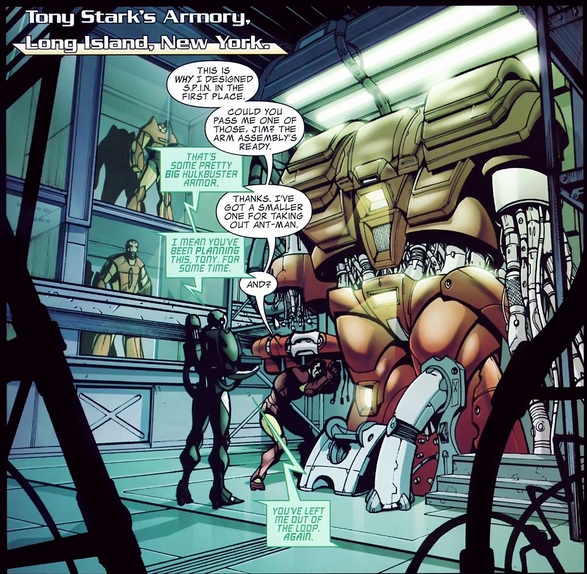 Look at this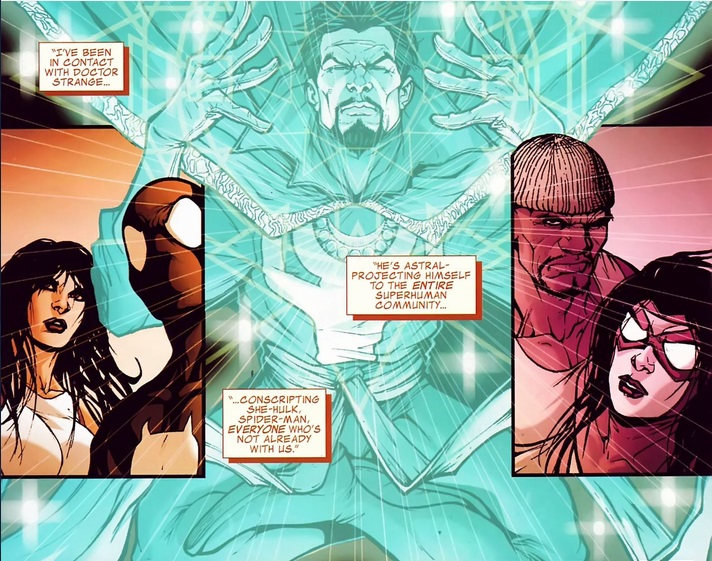 Isn't it ironic? Tony Stark, master of technology, is using the mystic arts for networking.
Can't blame Tony for searching for the silver lining.

This can only work if the Hulk was evil incarnate, which he is not. The Hulk seems to have a justifiable grievance.
Unsurprisingly, Initiative trainees don't get to face the Hulk - they're conscripted to help evacuate New York.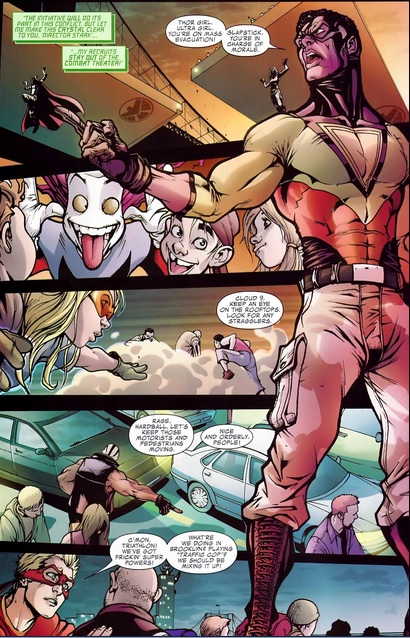 The Hulk-Iron Man fight begins. It's nice to see he has a cheering committee.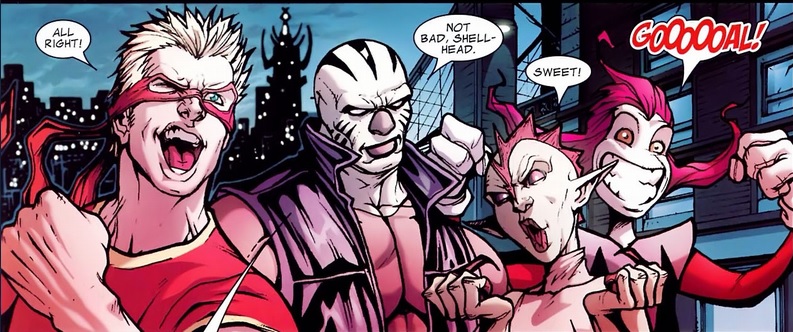 You know it just occurred to me that the reason why the nano injection a.k.a. Project Achilles will not work on the Hulk is because Hardball stole part of it. Look at him whoop it up in the panel above. You doomed it kid; you doomed it. Ha! He knows.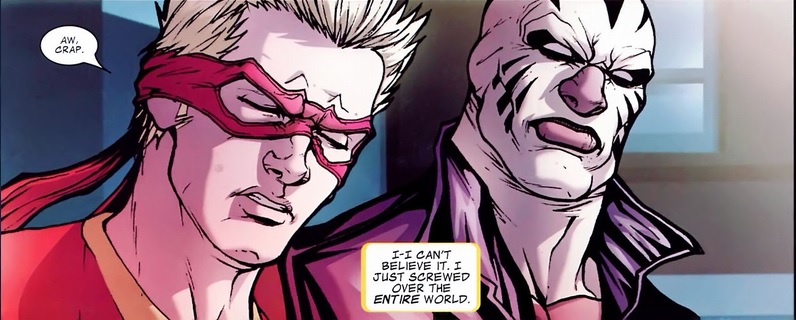 The kids see Avengers Tower go bye bye.

With that, the trainees decide to violate orders and fight the Hulk. I feel for their officer-in-charge, Triathlon.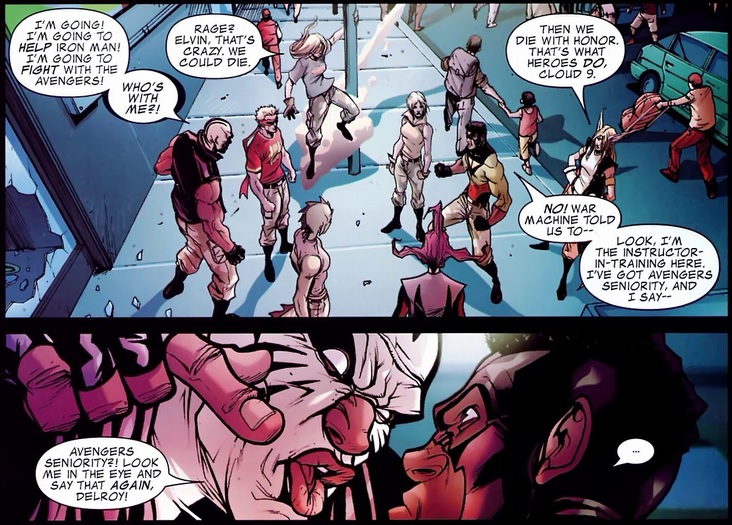 You know, being in charge of a team is hard, it really is. With team members like Rage over here, a tough job just got tougher. Basically, Triathlon feels like a failure here. The guy is just trying to do his job. I hate Rage, I hope he gets a one-on-one fight with the Hulk. Hell, Korg can take this guy out. New Warriors loser!
Henry Peter Gyrich, Marvel's original G-Man, sends some mysterious metahumans to, in a phrase, retrieve the kids.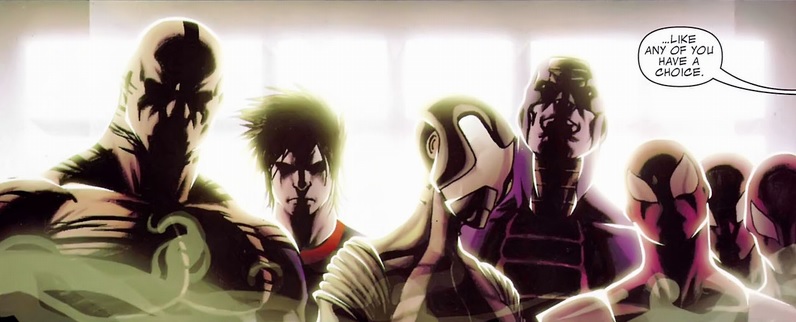 Look at this.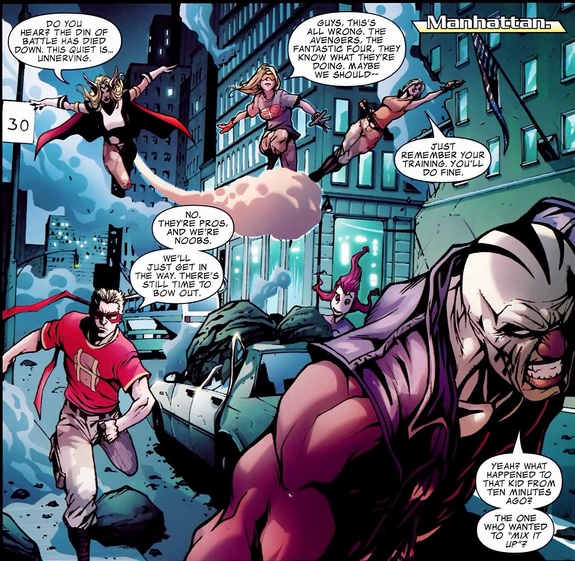 People, the New Warriors fucked up and caused the Civil War and now all of you are following a New Warrior. Time to wise up.
As the issue closes looks like the kids will be facing the consequence of their impulsiveness.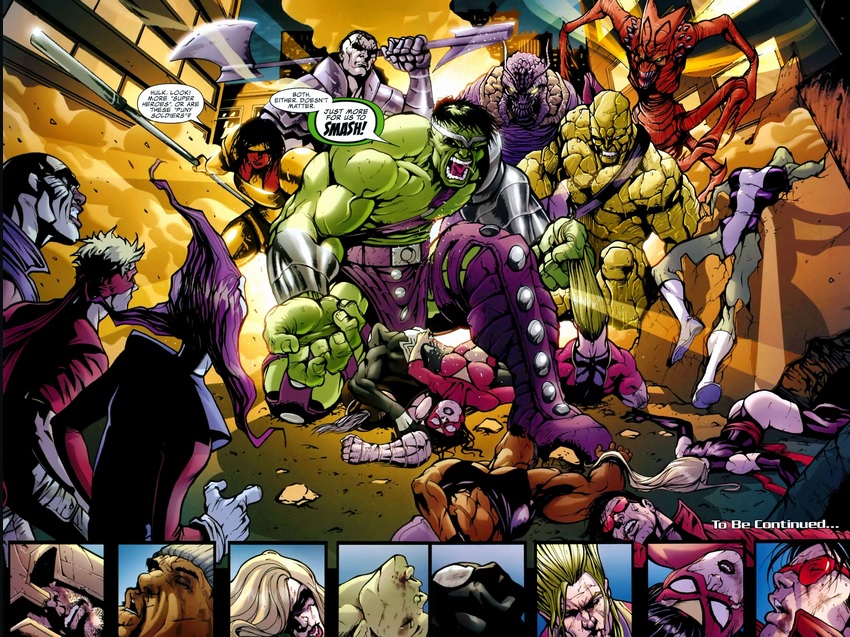 For this panel only the Hulk is back wearing purple pants.
Let's read some Ant-Man
Because Ant-Man essentially stole his suit, he's running around incognito

Yes he's calling himself Slaying Mantis and running around talking about 'going to mantis size' and it's half funny and all stupid. 'Slaying Mantis' has got to be one of the worst superhero names. Waitaminute, even a villain would not survive that name. It's one of the worst names for any metahuman. Period.
Are girls really upset by 'time of the month' statements?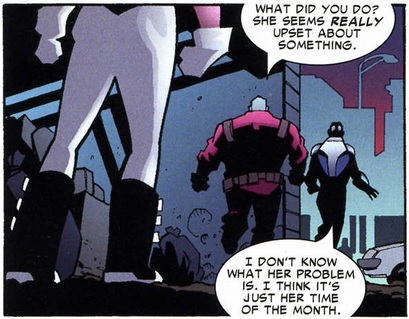 Because I know this to be a real thing.
Visioneer has something to say

Ant-Man, I mean, Slaying Mantis (snicker), you don't want to have a girlfriend who can 'see' your emotions. Everybody else have girlfriends, and wives, who think we can read their minds. That's enough trouble.
This Ant-Man can fly; doesn't need flying ants.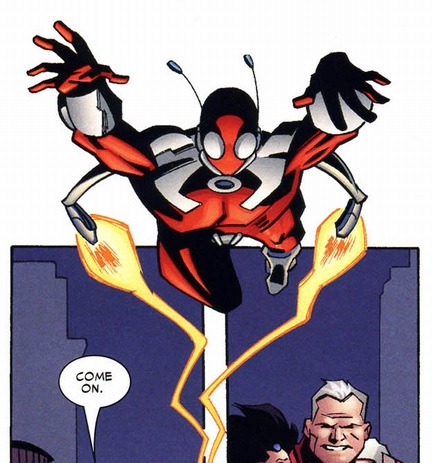 He and his crew are headed to a live viewing of the Hulk's Times Square rant.
Of all the panels we've seen so far this is the one that shows the most beaten-up (dead) Black Bolt.

Looks like he's vomiting blood. This Hulk is insane.
This small team comes to a decision
Visioneer's powers are not stupid; they're just not combat powers so her decision to vacate is the correct one. Incidentally, the guy in the red suit is Monstro and he has super-strength, which means his decision is good too.
Nice rendition of the S.H.I.E.L.D Helicarrier.

Very rarely do we see a helicarrier without propellers. It looks good. Inside the carrier . . .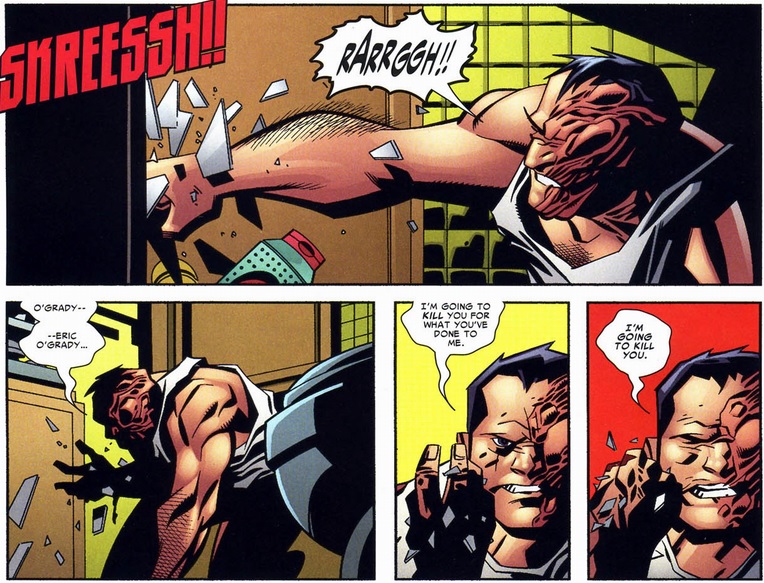 Can't blame the guy for wanting to get back at Ant-Man if Ant-Man really had a hand in disfiguring him.
This is funny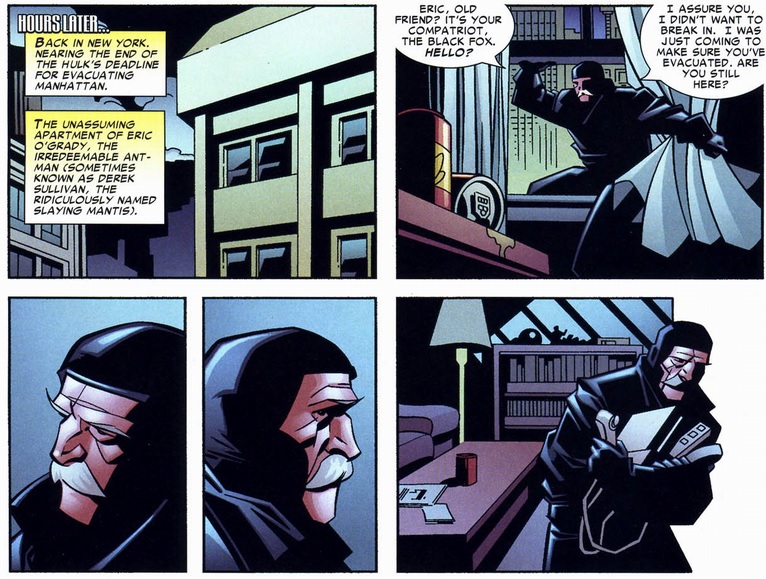 The reason this is funny is because Ant-Man let slip that he might do some looting as New York evacuates. Later on he said he was kidding but I'm not convinced. Now he's apartment is being looted. I have been the victim of a burglary, committed while I was not in my apartment. When I think about the burglar or burglars I either wish them dead, or, better, I want them to know what it's like to be a victim of theft. They say karma is real; I hope it is.
Let's give credit to Ant-Man and Monstro, they both have an exit plan for taking on the Hulk.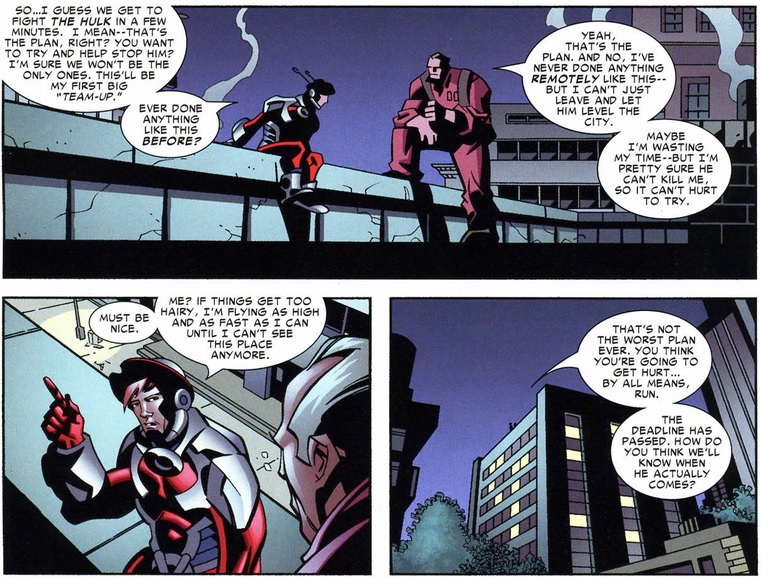 Monstro's 'he can't kill me' statement is doubtful though. Another way to put it is: This is not your grandfather's Hulk.
I knew it. Ant-Man is a thief.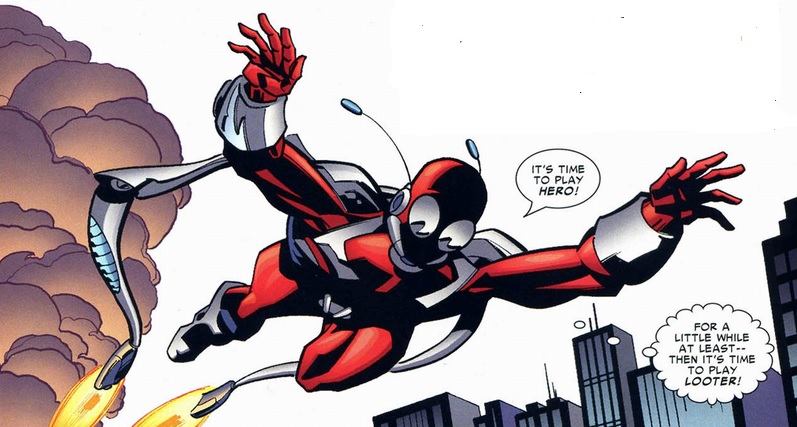 Ok, the yuck fest begins: The Ant-Man goes inside the Hulk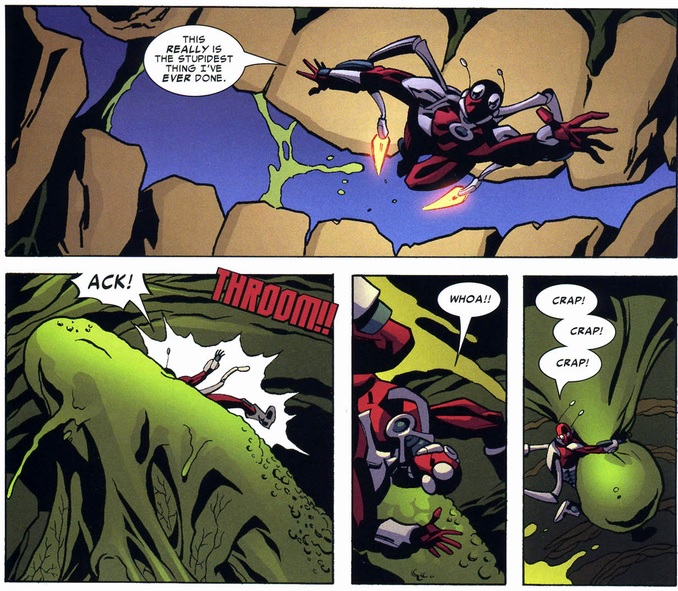 Not really surprised with this statement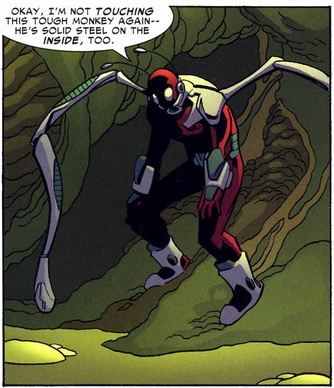 Bottom line, the Hulk is just as tough inside so Ant-Man gets out. He gets out just before the start of the Hulk-Iron Man fight. He does not get out in time and is pretty much beaten up because of the shock waves emanating from the fight.
As mentioned before, Ant-Man is a thief who stole the suit from S.H.I.E.L.D. Now S.H.I.E.L.D. has found their man.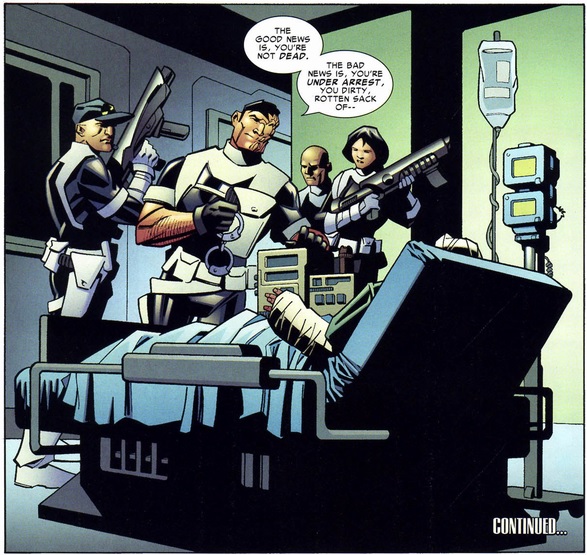 Justice for an anti-hero? In any case the tale ends with this panel. Or rather, gives us a cliffhanger ending with this panel.
Next: World War Hulk 2, Ghost Rider 13, Frontline 2