Conan and the Demons of Khitai 1
For those of you who never thought that Conan would ever see a shuriken
I'll be the first to admit that when I got my hands on issue 1 of Conan and the Demons of Khitai the first thing I did was skim the panels for any naked women. And no, I don't do that all the time to Conan comics - just, you know, most of the time. Well, no such luck. There's only one girl here and she's wearing a kimono.
I'm not too keen on the start of this issue. Conan is a monarch at the head of a bunch of Aquilonian soldiers. Apart from a few extremely excellent issues of Conan the King, I don't like seeing Conan in this role. Conan is best alone or with a small informal band at best. Having Conan with a bunch of trained soldiers is sort of like having an extra engine on a Ferrari.
The setting is Khitai, the Hyborian equivalent of Japan or China, I've seen both "flavors" of the Orient presented. In this case it's Japan. I particularly like the silent ninja lurking in the palace rafters.
Posted by Pete Albano - January 16, 2012
Did you like this post?
---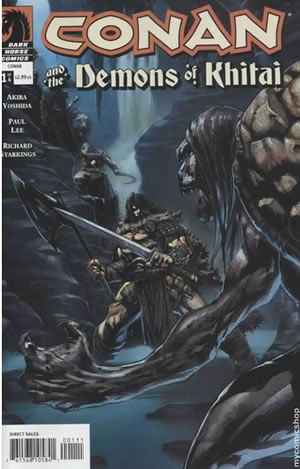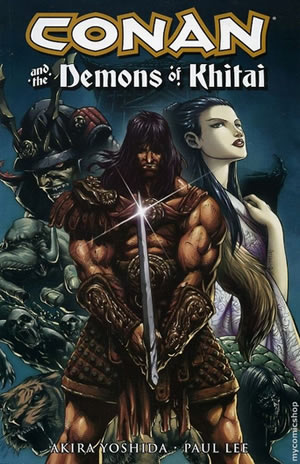 Amazon Prices
Conan And The Demons Of Khitai

My Comic Shop Prices
Conan and the Demons of Khitai comic books
Conan and the Demons of Khitai TPB
---
Other Conan and the Demons of Khitai Issues
4 : The Power of the Priestess
---