Batman Year One : Batman 405
The first costumed Batman outings begin
There are many, many, things that are brilliant about Batman 405, but this is the best, most brilliant thing of all : Batman makes a speech. I call it the "Your Feast Is Nearly Over" speech, you can't miss it if you read this issue. The way Miller and Mazzucchelli frames this speech - where it is delivered, and to whom, makes it THE Batman speech for me. It's the part of the comic that I play around with in my mind again and again. It's actually the best moment of Year One for me.
If you've ever read Gotham Central, you know how Detectives Driver, Allen, Montoya and company go about their business. Hardly a shabby group. Maybe you'd want to know how the legendary Jim Gordon stacks up to these guys? The first few pages of this issue will now give you a chance to compare. Jim Gordon was drop dead, freakin' awesome in his day.
The first bat sightings begin and Mazzucchelli frames some of these using long shots in the panels with the eerie, inky black cape on rooftops. There's also a hilarious police identification poster that looks more like the image of the Man-Bat than the Batman. We get to realize why the costume is necessary here.
Also in this issue is the first inklings of a connection between Jim Gordon and Bruce Wayne. Their integrity makes them loners in the gutter politics of Gotham but they're beginning to be aware of each other, beginning to sense that they are an army of two.
Posted by Pete Albano - February 19, 2012
Did you like this post?
---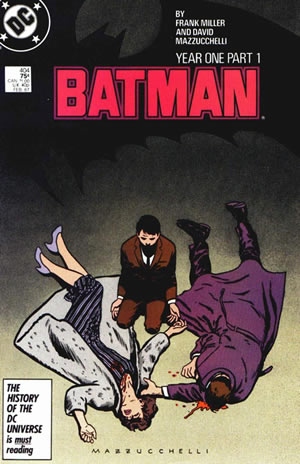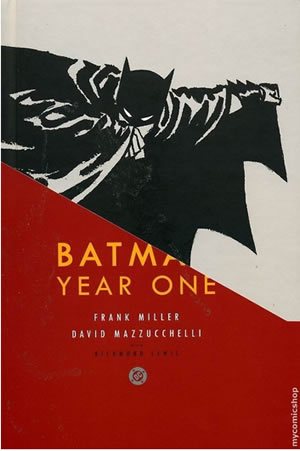 Amazon Prices
Batman: Year One

My Comic Shop Prices
Batman comic books
Batman Year One HC
Here's the Batman Year One animated movie trailer :
---
Other YEAR ONE issues
404 : Who I Am How I Come To Be
---