Batman Hush : Batman 615
Dick with Bruce is no longer a "sidekick" kind of pairing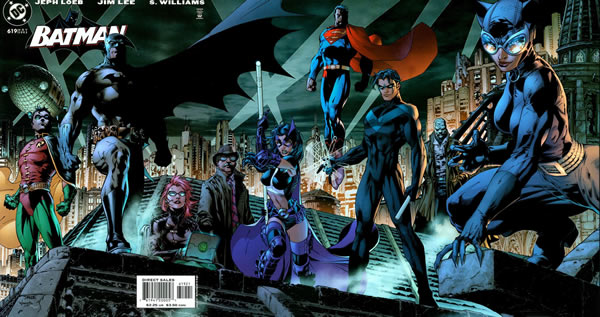 I just love Dick Grayson. Don't you? In fact, I like Dick Grayson more than I like Bruce Wayne. Even though Dick comes form tragedy like Bruce, he's less heavy about it - plus Chuck Dixon did all those great Nightwing issues and I'm a big Titan's fan. Suffice it to say, I like reading my Nightwing, that's why I'm very happy to note that issue 615 is the Nightwing issue.
Please do not miss the two page spread of the Batcave showing nearly every Batmobile ever made! They're not even parked, they're perched and suspended in high tech constructs that show them off beautifully. I was amazed by this kind of treatment when I saw it in Batman and Sons as drawn by Joe Kubert - that was great, and still is, but this Jim Lee presentation is amazing.
Later on, we see how proud Bruce is as he observes Dick in a fight. The Batman acknowledges that Nightwing is no longer a sidekick and can more than hold his own - although Dick should send Daredevil a royalty check for his billy club tactics; those are Matt Murdock originals Mr. Grayson.
As if this issue wasn't packed enough we end it with a Batman unmasking.
Posted by Pete Albano - February 8, 2012
Did you like this post?
---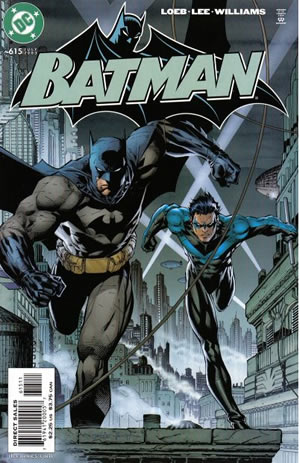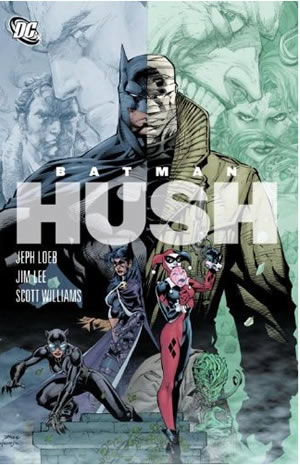 Amazon Prices
Batman: Hush

My Comic Shop Prices
Batman comic books
Batman Hush HC
A Batman Hush tribute :
---
Other HUSH issues
---