Spectacular Spider-Man 64
The First Cloak And Dagger Issue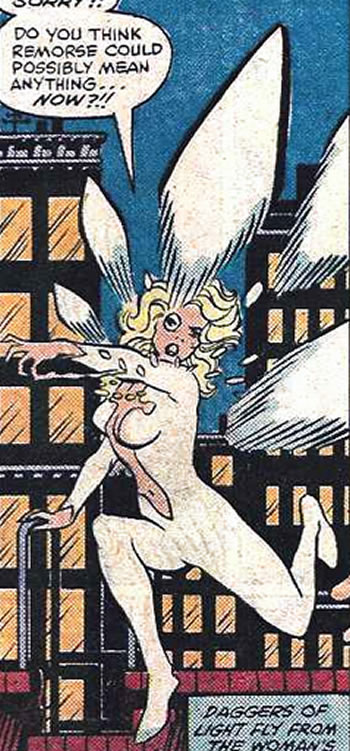 This issue begins with a fantastic cover; as you can see below. The color palette is just beautiful; the perfect green in the background contrasting with the foreground palette and the the yellow lettering on the title. The 'melted yellow' lettering is just perfect. Layout is also very attractive. Spidey right out front. Perfect. The shadowy Cloak in the rooftop in the background. Dagger on top with the trajectory lines of her light daggers forming an attractive abstract pattern. This is a definite pick-me-up cover. And you will be glad you did.
Ed Hannigan has been doing the art for Spectacular for some time now and it is getting better and better. The figure art is good but not exceptional; what really jumps out is the detailing in the background - both interior and cityscapes. What this does is it brings New York in as an actual presence in this tale - particularly effective with this Bill Mantlo story because at one point we are brought to the historic Ellis Island.
Mantlo sequences are superb. His script is wordy but full of substance. Pacing is just right and he manages to create a satisfying tale in one issue.
Posted by Pete Albano - May 7, 2011
Did you like this post?
---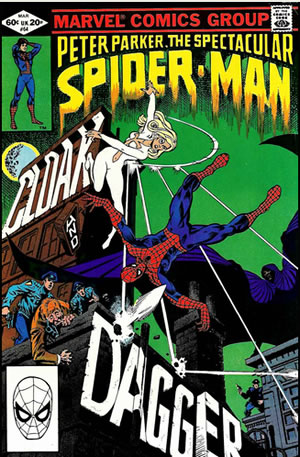 My Comic Shop Prices
Spectacular Spider-Man (1976) comic books
---
Other Spectacular SPIDER-MAN Stories
1-3 : Tarantula, Lightmaster, Kraven
7-8 : Morbius the Living Vampire
47-48 : Belladonna and the Prowler
80 : J. Jonah Jameson - Reporter
87 : Spider-Man unmasks before the Black Cat
113 : Thugs break into the Parker house
114 : The Spider-Man costume gets stolen
---